While some leagues enter a quiet stretch each offseason, the NFL remains abuzz with signings, rumors and offseason storylines. A quick roundup of some of the most newsworthy stories around the league from the week ending with June 7th, 2019.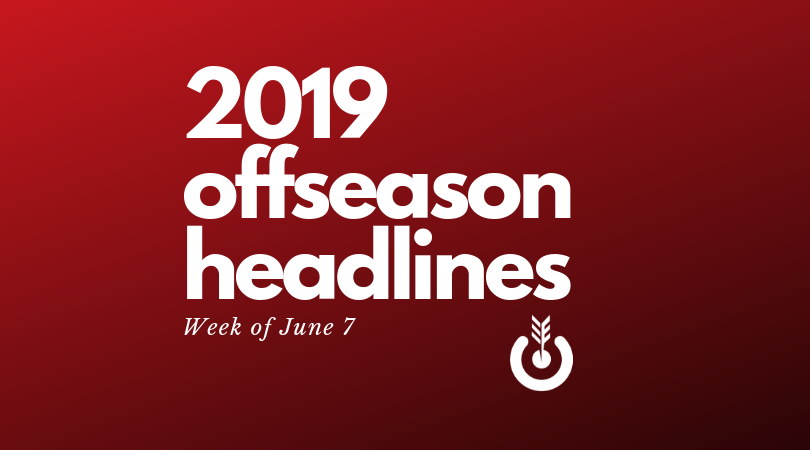 Patriots unveil Super Bowl 53 Rings: 422 diamond, 20 sapphires and more.
"After winning their sixth Lombardi Trophy in February, the New England Patriotshave commemorated their record-tying Super Bowl championship with extravagant rings.
As the team called them, they are the "greatest rings of all time"
The greatest ring of all-time. pic.twitter.com/Vv5AHmVGhS

— New England Patriots (@Patriots) June 7, 2019
Read the rest of the story from Bleacher Report's Kyle Newport
---
OBJ compliments Mayfield's arm strength; Giants head coach defends Eli
"Odell Beckham Jr. dished out compliments about the arm of his new Cleveland Brownsquarterback Baker Mayfieldon Wednesday. New York Giantscoach Pat Shurmur didn't view it as criticism of Beckham's former quarterback Eli Manning.
Manning had been the only starting quarterback Beckham had known as a professional with the Giants. Now, after being traded to the Browns this offseason. Beckham is getting used to working with Mayfield, including this week when he was present for mandatory minicamp."
Read the rest of the story from ESPN.com's Jordan Raanan
---
Le'Veon Bell gets to work at Jets OTAs
"The vintage Le'Veon Bellstop-and-hop was on full display. So was his ability to get out and glide on a pass route, smooth as almost any receiver in the game. He also looked to be in great shape, with all that hard work in Florida helping Bell shed any added weight he may have picked up in his year away from the NFL.
But what was missing from Bell's first on-field work with the New York JetsTuesday at their mandatory minicamp were a couple of things.
One being a vast knowledge of the playbook, which was evident by the way he bird-dogged the quarterbacks on every play-call, trying to learn it on the fly."
Read the rest of the story from CBS Sports' Pete Prisco
---
Carson Wentz, Eagles agree to 4-year, $128 million contract extension
"The Philadelphia Eaglesand quarterback Carson Wentzreached an agreement Thursday on a four-year contract extensionthat will keep him in Philadelphia through the 2024 season.
According to ESPN's Adam Schefter, the deal is worth $128 million, including over $107 million guaranteed. His contract is now valued at $154 million total over the next six years. Schefternoted the guaranteed total is the largest ever in the NFL, topping Seattle Seahawksquarterback Russell Wilson's extension in April."
Read the rest of the story from Bleacher Report's Tim Daniels
---

Looking for travel packages, tickets and information for Super Bowl 54, including the 2020 Players Tailgate, the #1 Super Bowl weekend event?