Just days from the 2019 NFL Draft,  the NFL announced the regular season slate for all 32 teams, highlighted by title game rematches and some big-time matchups. A look at the highlights of the 256-game schedule.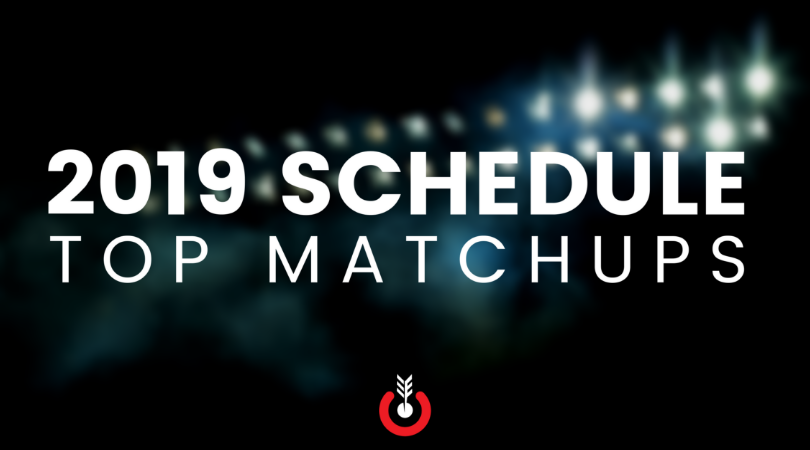 Week 1: Green Bay Packers at Chicago Bears
To kick off the 'Road to Super Bowl 54' in Miami, the NFL bucked the tradition of having the defending Super Bowl champions host the opening game, opting to instead highlight the league's 100th anniversary by showcasing one of the league's most historic rivalries.
Last season's Week 1 matchup between the Bears and Packers proved to be one of the more exciting games of the entire season, seeing Packers quarterback Aaron Rodgers tossing three second-half touchdown after an injury, leading the Pack to a 24-23 victory.
---
Week 2: New Orleans Saints at Los Angeles Rams
One of the most anticipated rematches of the last decade in the NFL, the #1 seed in the NFC last season, the New Orleans Saints, travel to LA to face off against the reigning NFC champion Rams in a rematch of the 2018 NFC Championship game.
This past offseason, the NFL expanded its use of instant replay to include missed pass interference calls, directly in response to the blatant missed call at the end of the NFC Championship game. The rematch of these two teams promises bad blood, fireworks, and offensive displays of firepower that could easily make the matchup the best game of the 2019 season.
---
Week 5: Indianapolis Colts at Kansas City Chiefs
A rematch of the 2018 divisional playoff game, the Chiefs come into the season reigning AFC West champions and easily the favorite in the AFC. The Indianapolis Colts, however, have reloaded their roster, and look to capitalize on a promising 2018 campaign, most notably adding former Chiefs pass rusher Justin Houston the an already formidable defensive front.
---
Week 14: Kansas City Chiefs at New England Patriots
Another rematch from the 2018 playoff slate, the defending Super Bowl champion New England Patriots once again welcome quarterback Patrick Mahomes and the Kansas City Chiefs into Gillette Stadium in a rematch of the 2018 AFC Championship game.
Sporting two of the more electrifying matchups from the 2018 season, both the Patriots and Chiefs remain atop the AFC's Super Bowl favorites, and it appears possible the two could be headed for an AFC title game rematch as well.

Looking for travel packages, tickets and information for Super Bowl 54, including the 2020 Players Tailgate, the #1 Super Bowl weekend event?