2019 Players Tailgate Atlanta
The Players Tailgate is rated the #1 event to attend on Super Bowl Sunday.
SOLD OUT (again) – see you in Atlanta.
You do NOT need a Super Bowl Ticket to get into the Players Tailgate
Guy Fieri is coming to Minneapolis – we're planning something special for you.
About the Tailgate:
Bullseye Event Group's exclusive Players Tailgate at the Super Bowl has earned the reputation as the best Super Bowl pre-game experience, where over 25 active NFL players, celebrities and guests eat, drink and get entertained before the big game. Described as a culinary experience in itself, The Players Tailgate features open premium bars and all-you-can-eat dining with gourmet dishes. America's most recognizable celebrity chef, Guy Fieri, returns as headliner for the 2018 Players Tailgate, helping prepare the food with the top caterer in the United States, Aaron May.
Operation BBQ Relief responds to natural disasters and other situations to help feed displaced residents and emergency personnel. The Players Tailgate is proud to partner with Operation BBQ Relief in preparing our food and bring much needed awareness to what Operation BBQ Relief does for our Country in a time of need. As the charity of our choice a portion of the proceeds will help fund Operation BBQ Relief and families when disasters hit.
Here's a quick look at last year's Players Tailgate in Houston.

The Venue: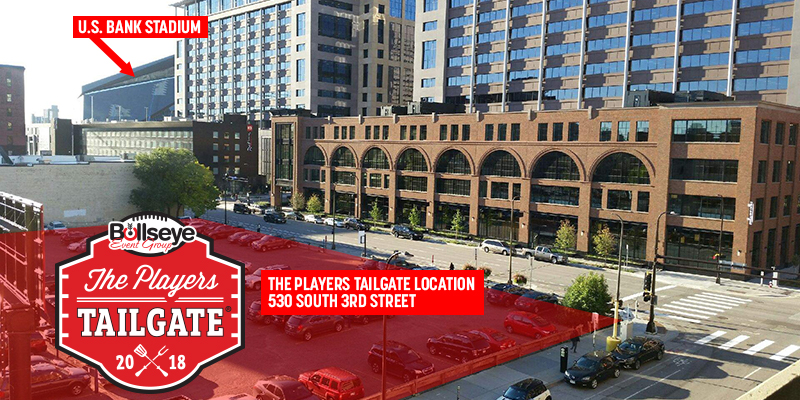 The 2018 venue for The Players Tailgate at Super Bowl 52 is THE prime location for the Super Bowl in Minneapolis. Located 1 block from the security entrance for Super Bowl and US Bank Stadium. While being located in the heart of downtown Minneapolis is fantastic, what makes our location the best of the best is its proximity to the stadium and security entrance. The Players Tailgate is located outside the security perimeter so you do NOT need a Super Bowl Ticket to attend.
The venue is a 30,000 square foot climate controlled pavilion we build. While it might be cold outside the pavilion's massive heating system and sub floor build out will maintain a 72℉ temperature inside. Lined with private tables and soft white leather furniture seating areas, guests can watch ESPN's pre- game coverage on large LED monitors and mingle with current NFL superstars. It is an amazing all-ages experience for football fans young and old!
The Chefs:
Guy Fieri, the most recognizable Chef in America, returns to bring his signature recipes and style as the headliner to an exclusive all-you-can-eat menu for The Players Tailgate attendees again in Minneapolis for the 2018 Super Bowl. This is Guy's third Players Tailgate (2016, 2017 and upcoming 2018) and each time he has upped the menu!
Guy Fieri can be seen on television almost every day on the Food Network. His shows include Diners, Drive-Ins and Dives, Guy's Big Bite, Guy Off the Hook, Dinner: Impossible, Guy's Grocery Games, Rachael vs. Guy: Celebrity Cook-Off, The Next Food Network Star, Ultimate Recipe Showdown, The Best Thing I Ever Ate and Minute to Win It, just to name a few.
2018 Chef Aaron May is a top chef in America can prepare an incredible meal for 2 to 200 people, in order to considered one of the best caterers in America you need to be able to create a meal for 2200 and have it as good as that meal for 2 to 200. That is why Aaron May is considered the BEST caterer in the US. Aaron has been part of The Players Tailgate for the last 4 years.
Chef May is classically trained in Paris at the Ecole Ritz Escoffier and is inducted into the Arizona Culinary Hall of Fame in 2010 as a "Chef Extraordinaire." He has been featured on Food Network's wildly popular Diners, Drive-Ins and Dives and TLC's Best Food Ever. His fiercely loyal fan base has recognized him with many local awards, including "Best Tapas" and "Best Speakeasy," and he has also garnered attention from national publications such as Food & Wine, Condé Nast Traveler, Sunset Magazine and USA Today.
A quick mind and a low threshold for boredom, which goes a long way toward explaining the restaurant empire he's building. Given his passion for food and irrepressible creativity, is why he is considered one of the top caterers in America.
2018 Chef Akira Back was just awarded the 2018 Michelin Star recipient.
The Michelin Star is the highest honor a chef can earn for a restaurant. The Michelin star is the most coveted award a chef can achieve and we are honored to have his greatness at the Players Tailgate
Chef Akira Back appears on Food Network's "Iron Chef America,", NBC's "The Today Show," Food Network's "Best Thing I Ever Ate," The Cooking Channel's "United Tastes of America,". Chef Akira Back is Executive Chef and Partner of the prestigious Hakkasan Group. Akira Back restaurants include Kumi Japanese Restaurant +Bar by Akira Back at Mandalay Bay and the famed Yellowtail Japanese Restaurant & Lounge at Bellagio Resort & Casino in Las Vegas, Chef Akira Back opened his namesake brand, Akira Back Restaurants in Singapore, New Delhi and Jakarta with additional locations opening in Toronto, Dubai and Bangkok, as well as DOSA in Seoul Korea.
Chef Akira Back has been awarded the title of "Rising Star" by Restaurant Hospitality (2008) and has had the distinct honor of hosting the prestigious James Beard House dinners (2008, 2010, 2011 and 2012, 2013 & 2014). Since opening Yellowtail Restaurant & Lounge in 2008, Chef Back has been named "Best Chef in Las Vegas" by Las Vegas Weekly. Chef Back has also participated in some of the culinary world's most prestigious events, including Aspen Food & Wine Festival, Pebble Beach Food & Wine Festival and Bon Appetit's Vegas Uncork'd amongst others
2018 Chef Brian Malarkey is a judge on Food Network's Guy's Grocery Games, makes regular appearances on the Today Show, and was a Top Chef finalist and a winning mentor on ABC's The Taste.
Chef Brian Malarkey has created more than a dozen wildly successful restaurants across the United States including Herb & Wood, his newest concept in San Diego's buzzing gastronomic neighborhood of Little Italy, which Zagat named one of 2016's biggest restaurant openings and has been named "the most thoughtful, exquisitely executed, stylish restaurant of the year." Malarkey's other restaurants, under the management of prestigious Hakkasan Group that include Searsucker (San Diego, Del Mar, Austin, Las Vegas) and Herringbone (La Jolla, Santa Monica, Las Vegas). He is also the partner/operator of three healthy, fast-service restaurants in San Diego named Green Acre, and Farmer & The Seahorse and chef/partner of Herb & Eatery, a market and cafe, connected to Herb & Wood.
2018 Players Tailgate Emcee:
Charissa Thompson
The 2018 Emcee is something we take great pride in selecting. When you have had Michael Strahan, Erin Andrews, Lindsey Czarniak and Jaymee Sire as your previous hosts; these are big shoes to fill. Each year we take our time, to find an Emcee that is on top of their game and one we feel our Players Tailgate guests will respond to. This year's 2018 selection is Charissa Thompson.
Charissa Thompson has been seen on and off the field. Charissa Thompson served as the permanent co-host for the Hollywood news magazine, Extra with Mario Lopez and is now the current host of FOX NFL KICKOFF and Sunday FOX NFL pregame show.
Charissa has worked countless high-profile events, including the 2010 Winter Olympics, FIFA World Cup, Super Bowl XLV and the BCS National Championship. Previous work includes hosting ESPN's Numbers Never Lie and ESPN's SportsNation before becoming the face of FOX SPORTS LIVE.
Thompson serves as FOX NFL KICKOFF's versatile ringmaster – conducting interviews, leading segments and deftly moderating discussions and is the Sunday game-break anchor for the NFL on FOX.
Previous Players Tailgate Hosts:
2018 Players Tailgate Menu
The all-you-can-eat menu for the 2018 Players Tailgate includes:
Award-Winning BBQ
Celebrity chef Guy Fieri, in conjunction with 2017 CNN Hero Finalist Operation BBQ Relief, will get together to create an incredible BBQ spread, including whole hogs, brisket, prize-winning turkey, all with Guy Fieri's famous rubs and sauces, slow-smoked by the award winning pit masters at Operation BBQ Relief.
Korean Fried Chicken
Korean fried chicken served with kimchi Korean BBQ and herbs, served on steamed buns, curated and served up by Top Chef finalist and ABC's The Taste winning mentor Brian Malarkey.
Jet Fresh Poke, Sashimi and Sushi
A delicious array of fresh-flown in poke, gourmet sashimi and sushi, created by 2018 Michelin Star award winner chef Akira Back, who can be seen on Food Network's Iron Chef America, NBC's The Today Show, and Cooking Channel's United Tastes.
Prime Time Prime Rib Sandwiches
Delicious prime rib sandwiches, garnished with truffle and gruyere on fresh baked rolls, served up by the best caterer in America, Food Network's celebrity chef Aaron May.
LoLo's Raw Bar
Served up by chef Raymond Mohan of LoLo's Seafood Shack in NYC, enjoy fresh caviar, crab legs, oysters, shrimp and lobster.
Frank's RedHot® Bullseye Brunch Bar
New at the 2018 Players Tailgate is the incredible Frank's RedHot Bullseye Brunch Bar, with delicious Frank's RedHot bloody Mary's, Sweet Chili chicken and waffles, bacon and egg sandwiches, and breakfast tater tots served with a special blend of Frank's RedHot and French's® Tomato Ketchup.
Flavortown Finale
And after all that, head over to the Flavortown Finale dessert station to dive into fresh, hot doughnuts, complete with Minnesota's biggest hot chocolate bar and plenty of assorted desserts.
Premium Bar:
Players Tailgate guests will be able to choose from the premium beer options of Bud Light, Budweiser, Michelob Ultra, Stella Artois, O'Doul's, Lime-a-Rita, and Shock Top.
2018 Players Tailgate DJ:
Official DJ of the Players Tailgate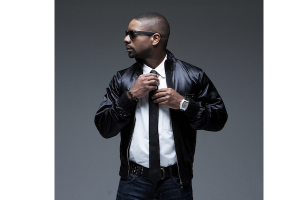 As the first professional sports franchise DJ in the United States, DJ Irie is the official DJ of some of the most iconic brands in the world, such as Carnival Cruise Lines, the Miami Heat, Target, Mountain Dew Kickstart, Evian, Jamie Foxx and more, making himself one of the most established DJ's in the industry.
At the 2017 Players Tailgate at Super Bowl LI, DJ Irie provided his world-class entertainment to help set the stage for the biggest and best pre-game tailgate in Houston before Super Bowl LI. DJ Irie will be back for the 2018 Players Tailgate in Minneapolis.