The Bullseye Colts VIP Tailgate
The Ultimate Tailgate Experience for the 2017 Colts Season
If you are a diehard Colts fan and you want a luxurious tailgating experience, you'll want to check out our very own VIP Colts Pre-Game Tailgate.
Purchase Colts VIP Tailgate Tickets
About Bullseye Event Group:
Bullseye Event Group is the Official Events and Travel Partner of the Indianapolis Colts. You can enjoy the indoor and outdoor tailgate location at The Crane Bay Event Center. Just a short walk from Lucas Oil Stadium, individual game passes are available for VIP tailgaters with a 5 star food menu including but not limited to steak filets and much more.
Colts Gameday Transportation: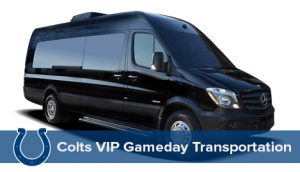 Leave the driving to us! As an upgraded VIP option, we pick your group up at your doorstep in our 14 passenger VIP Mercedes Benz Sprinter. Your group is driven by our licensed chauffer who will drive your group to the Colts VIP Tailgate! Enjoy the Colts VIP Tailgate before the Colts game. When it is time to head to the stadium, we drop you off at the front door of Lucas Oil Stadium and wait for you outside during the game.  The VIP Mercedes Benz Sprinter is available for Colts games, Indy 500, Concerts, Kentucky Derby, Brickyard and Corporate Events. Learn more about Colts VIP Gameday Transportation.
Inside the Tailgate Party:
Tailgating doesn't get better than this when its 90 degrees outside, step inside and enjoy the AC. Is it 70 degrees and sunny? No problem, enjoy the outdoor patio space. Yes it is football and it is Indianapolis 25 degrees at kick off is not unusual, we have you covered. Check the winter coat at coat check and enjoy the climate controlled Colts VIP Tailgate! The Colts VIP tailgate opens three hours before kickoff and closes at opening kickoff for every Colts home game.
Menu for 2018: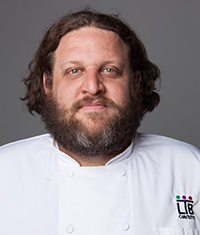 Food Network celebrity chef Aaron May has been named head chef for the Colts VIP Tailgate. Touting a brand new menu created exclusively by celebrity chef extraordinaire May, A classically-trained chef and member of the Arizona Culinary Hall of Fame, May has been featured on signature Food Network staples such as Diners, Drive-Ins and Dives, Guy's Grocery Games, Guy's Big Bite and TLC's Best Food Ever.
VIP Tailgate Features:
Premium buffet exclusively created by Food Network celebrity chef Aaron May.
Menu to include prime cut Filet Mignon, Award Winning Pulled Pork, Roasted vegetable frittata, Scottish smoked salmon , Certified Angus Beef Sliders, Artisan charcuterie meat and cheese boards, Greenmarket Salad Station, Brioche French toast, carved pork loin with cranberry orange relish and decadent chocolate fudge brownies and pecan pie bars. Minor menu changes periodically.
Open, top-shelf cocktail bar hosted by Maker's Mark.
Open beer and wine bars featuring bottled beer and bottled wine from Miller Coors and Heineken.
Refreshments from Coca-Cola.
All ages are welcome.
Visits from Colts cheerleaders, former Colts players and NFL alumni.
Climate controlled lounge seating with soft leather couches.
Live broadcast site of ESPN 1070's The Fan with JMV and Big Joe Staysniak from 10am to noon.
Pre-game HD TV coverage.
Microsoft gaming area inside the Colts VIP tailgate that has 10+ Xbox gaming stations.
VIP Game day parking available for $35.
Live auction on amazing signed Indianapolis Colts memorabilia.
Located minutes from Lucas Oil Stadium, opens three hours prior to kickoff (except for Thursday night's game).