The Colts VIP Tailgate @ the Bullseye Event Center
The Ultimate Tailgate Experience for the 2023 Colts Season
If you are a diehard Colts fan and you want a luxurious tailgating experience, you'll want to check out our very own VIP Colts Game day experience. Located at the Bullseye Event Center directly across the street from Lucas Oil Stadium.
Purchase Single Game Colts VIP Tailgate Tickets
About Bullseye Event Group:
Bullseye Event Group is the Official Events and Travel Partner of the Indianapolis Colts. In 2005, Bullseye began building the hospitality side of our business. We have always offered hospitality, but in 2005 we had the vision to begin providing once-in-a-lifetime hospitality. Bullseye Event Group staked its claim as the premier hospitality provider for sporting events all around the world. From The Colts VIP Tailgate to Gate 6 Hospitality at the Masters and The Players Tailgate at the Super Bowl we are proud to be the industry leader in hospitality.
About Bullseye Event Center:
Bullseye Event Center (B.E.C.) is 9500 square feet of fully renovated, free flowing open indoor event space with 6500 square feet of outdoor event greenspace. An industrial feel with acid washed concrete floors and exposed brick, B.E.C. features dramatic views of Lucas Oil Stadium and the entire Downtown Indianapolis skyline. The Bullseye Event Center is located directly across the street from Lucas Oil stadium. Not a few blocks, not down the street, not a short walk but literally located on the other side of the street from Lucas Oil Stadium at 723 South Capitol Avenue. Bullseye Event Group is the hospitality industry leader in the sports world. Our staff has been creating and building events from scratch for the past 28 years, our knowledge and our vision is annually recognized on the biggest national stage and now we offer that to you for weddings, trade shows, sporting events, corporate gatherings, social events, or a religious or non-profit charity events, we are bringing the next level of hospitality to Indianapolis at Bullseye Event Center.
Inside the Tailgate Party:
Tailgating doesn't get better than this when its 90 degrees outside, step inside and enjoy the AC. Is it 70 degrees and sunny? No problem, enjoy the outdoor space. Bullseye Event Center (B.E.C) is equipped with 3 retractable glass garage doors. Two on the front of the building open up to our Trex deck which gives your guests the ability to sit under the shadows of Lucas Oil Stadium. The third glass garage door opens up to 5000 square feet of custom stamped concrete with beautiful green space and dramatic views of the downtown Indianapolis skyline. Yes it is football and it is Indianapolis 25 degrees at kickoff is not unusual, we have you covered. The Colts VIP tailgate opens three hours before kickoff and closes at opening kickoff for every Colts home game.
Purchase Colts VIP Tailgate Tickets
Menu for 2023: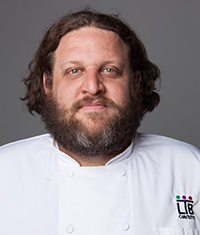 Food Network celebrity chef Aaron May has been named head chef for the Colts VIP Tailgate. Touting a brand new menu created exclusively by celebrity chef extraordinaire May, A classically-trained chef and member of the Arizona Culinary Hall of Fame, May has been featured on signature Food Network staples such as Diners, Drive-Ins and Dives, Guy's Grocery Games, Guy's Big Bite and TLC's Best Food Ever.
Music Headliner for 2023
Official Colts VIP Tailgate DJ Skidz and DJ Helicon
We welcome back DJ Skidz and DJ Helicon to the Colts VIP Tailgate. They get the party going and keeps it hopping until kickoff.
VIP Tailgate Features:
Located DIRECTLY ACROSS THE STREET from Lucas Oil Stadium @ Bullseye Event Center
Music Headliners DJ Helicon and DJ Skidz
Premium food stations exclusively created by Food Network Celebrity Chef Aaron May
Our chefs work to create exciting menus that change to feature the freshest market selections, local fare, gluten free, & vegetarian options. An example of a previous menu: Filet Station – Sliced Filet Mignon, Friseé Salad with Champagne Vinaigrette, Martins Famous potato roll, Horsey Sauce, Chimichurri sauce, Fiesta Station – Pork Carnitas, Pulled seasoned Chicken, fresh tortilla chips, shredded lettuce, Queso, Guacamole, Salsa, Jalapenos and Crema, Wings and Things – Chicken wings (two flavors), Ranch, Blue cheese, Crudité cups with green goddess dressing, Home Style Mac and Cheese, Slider Station – Cheeseburger and fried chicken sliders, Seasoned Waffle fries, Fry Sauce, Ketchup, Honey Mustard, Local Fresh Made Doughnuts, Cinnamon Sugar Churro cups with Chocolate Minor menu changes periodically.
Full Open top-shelf cocktail bar including Absolut, Jack Daniels & Avion tequila
Open premium bottled beer by Budweiser
Official Colts Collection Wine by Oliver winery
Refreshments from Coca-Cola.
All ages are welcome. Kids 8 and under are free and do not need a ticket.
Visits from Colts cheerleaders, former Colts players and NFL alumni.
Climate controlled lounge seating with soft leather couches.
ESPN broadcasts of NFL Gameday.
Microsoft gaming area inside the Colts VIP tailgate that has Xbox gaming stations.
Live silent auction on amazing signed Indianapolis Colts memorabilia.
Gameday VIP Parking Available:
Purchase a parking pass to park across the street from Lucas Oil Stadium.

Purchase Colts VIP Tailgates

$96.89/tailgate (All 9 Colts home games)

Full Season Reserved Parking Pass

$360 (All 9 Colts home games)
Jaguars vs. Colts VIP Tailgate

SUN SEP 10 | Doors open at 10:00 a.m. Instant Download PDF Tickets




$

109.00 Buy Now