The Lions VIP Tailgate
The Ultimate Tailgate Experience for the 2021 Lions Season
A unique opportunity at Comerica Park – home of the Detroit Tigers. Located @ Comerica Park directly across from Ford Field.
Purchase Lions VIP Tailgate Tickets
If you are a diehard Lions fan and you want a luxurious tailgating experience, you'll want to check out the new VIP Lions Pre-Game Tailgate.
Bullseye Event Group will obey all orders regarding occupancy in bars and restaurants
The Venue:
A unique partnership with Comerica Park home of the Detroit Tigers allows Bullseye Event Group to offer you the easiest & most luxurious Lions gameday experience out there. 90 degrees outside, no problem your inside. 25 degrees outside, no problem you are inside. Equipped with 3 bars, multiple soft leather lounge seating areas and plenty of TV's for your ESPN gameday coverage. It doesn't get any easier or more convenient than this.
Purchase Lions VIP Tailgate Tickets
VIP Tailgate Features:
Located directly across from Ford Field in Comerica Park's Tiger Club
Entrance is located at the intersection of Witherell Street & East Elizabeth Street
Music Headliner DJ Don Mecca
All food and drinks (bar) are included in price
Open three hours prior to kickoff
All you can eat premium buffet exclusively created by Food Network Celebrity Chef Aaron May
Menu to include grilled filet mignon, mac and cheese, roasted vegetables, assorted hot sauce and barbecue sauce, Bullseye 12-hour pulled pork, twice cooked chicken wings, taco and nacho fiesta, fresh doughnuts and gourmet waffle bar, hand tossed farmers market salads and passed entrees of gourmet cheeseburgers. Minor menu changes periodically.
Open, top-shelf cocktail bar
Open beer and wine bars featuring bottled beer and bottled wine from Miller Coors and Heineken.
Refreshments from Pepsi.
Reserved corporate VIP tables available with logo signage (additional expense)
All ages are welcome.
Visits from Lions cheerleaders, former Lions players and NFL alumni.
Climate controlled lounge seating with soft leather couches.
Pre-game HD TV coverage.
Microsoft gaming area inside the Lions VIP tailgate that has 10+ Xbox gaming stations.
Live auction on amazing signed Detroit Lions memorabilia.
Purchase Lions VIP Tailgate Tickets
About Bullseye Event Group:
Bullseye Event Group is the Official Events and Travel Partner of the Detroit Lions. In 2005, Bullseye began building the hospitality side of our business. We have always offered hospitality, but in 2005 we had the vision to begin providing once-in-a-lifetime hospitality. Bullseye Event Group staked its claim as the premier hospitality provider for sporting events all around the world. From The Colts VIP Tailgate to Gate 6 Hospitality at the Masters and The Players Tailgate at the Super Bowl we are proud to be the industry leader in hospitality.
Music Headliner for 2021
Official Lions VIP Tailgate DJ Don Mecca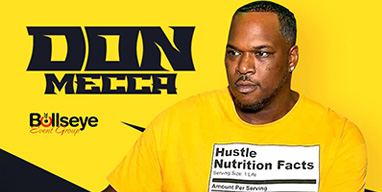 DJ Don Mecca is one of Detroit's most renowned Open Format DJs because he possesses a lethal playbook of a variety of genres. To him, music a lifestyle and a state of mind. He has always been inspired by music. From the days of sitting on the porch listening to Hip-Hop, Beatboxing and Free-Styling with childhood friends. This is what really kicked off his love affair with music. As he matured so did his relationship with music. He then began studying the mechanics of how it all came together to make it so euphoric to him. Along the way he discovered his desire to not just hear the music, but to manipulate it. This has forged his illustrious 15 year career as not only a DJ, but a producer as well with releases with LFO Records. There is not a venue in Detroit that hasn't heard his unique style.
Menu for 2021 Lions VIP Tailgate: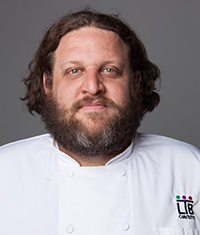 Food Network celebrity chef Aaron May has been named head chef for the Lions VIP Tailgate. Touting a brand new menu created exclusively by celebrity chef extraordinaire May, A classically-trained chef and member of the Arizona Culinary Hall of Fame, May has been featured on signature Food Network staples such as Diners, Drive-Ins and Dives, Guy's Grocery Games, Guy's Big Bite and TLC's Best Food Ever.
Tailgate Menu:

Grilled filet mignon

Mac and Cheese

Hand Tossed farmers market salads

Taco and Nacho Fiesta with house made chips and dips

Corn tortilla and potato chips
Sour cream and onion
Roasted tomato salsa
Salsa Verde
Guacamole

Creamy Cabbage slaw

Bourbon BBQ pulled pork sliders

Hawaiian rolls
Crispy onions
Pickles

Gourmet cheeseburger sliders

Comeback sauce
American cheese

Twice Cooked Chicken Wing Station

Buffalo
Barbeque
Spicy Garlic
Dry rubbed jerk chicken wing

Fudge brownie bites

Raspberries
Whipped cream
Lions VIP Tailgate tickets