Happy new league year, football fans! Now officially in the 2019-20 NFL season, teams were free to begin announcing agreed-upon trades and free agency signings—and as always, the first hours provided some of the biggest headlines of the NFL season.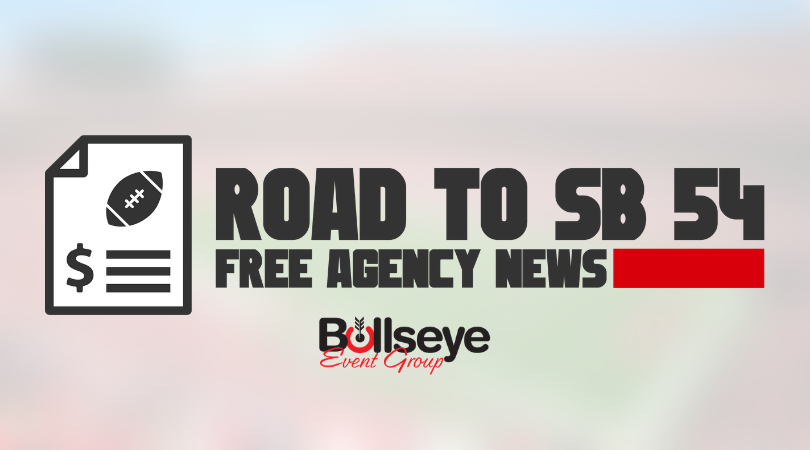 Cleveland Browns Acquire WR Odell Beckham Jr.
In one of the most surprising moves of the week, the New York Giants announced they were trading all-pro wide receiver Odell Beckham Jr. to the Cleveland Browns in exchange for draft picks and safety Jabrill Peppers, launching the Browns, for the first time in decades, into the Super Bowl conversation.
"I know Odell's very, very passionate," Browns general manager John Dorsey said. "He's competitive. I know he can help this football team. If you get a chance to acquire a guy like that, take a shot… you can't have enough talented football players."

Raiders Go Wide (out)
After sending a 3rd- and 5th round pick to the Pittsburgh Steelers for Pro Bowl wide receiver Antonio Brown, the Raiders continued to add more weapons for quarterback Derek Carr, signing Chargers standout WR Tyrell Williams to a four-year, $44 million contract.
"Seeing AB come here, seeing some of the things they're doing on the offensive side of the ball, it's exciting," Williams said, via NBC Sports Bay Area. "I've gone against the Raiders the past four years, so it's an easy transition for me."

Jaguars Land Foles
Quarterback Nick Foles is finally out in Philadelphia, and the Super Bowl LI MVP has chosen Jacksonville as his new full-time starting gig.
"The Jacksonville Jaguars may have a long-term solution at quarterback—the most important position in the NFL. A competent signal-caller and backup-level passer could mean the difference between a playoff squad and a top-10 spot in the draft order. There's a reason this team has the No. 7 overall pick. Jacksonville acquired a top talent at a make-or-break position." — Maurice Moton, Bleacher Report

Ravens Reload
After officially committing to the Lamar Jackson era by trading quarterback Joe Flacco, and letting veterans like linebackers Terrell Suggs and C.J. Mosley and safety Eric Weddle walk, it became increasingly clear the Ravens were in the midst of renewing their identity, signing former Saints running back Mark Ingram and standout "Legion of Boom" safety Earl Thomas.
"I don't like giving big deals to running backs, but this one makes sense. Ingram on a deal averaging $5-million per season is a good deal. Ingram fits the Ravens style of offense, too, a guy who puts his foot in the ground and goes. Baltimore is better off paying Ingram $5 million per year than breaking the bank for Le'Veon Bell."
"Thomas has been a great player, but he turns 30 in May and he's had some injury issues. Yet the Ravens are giving him a reported $32-million in guaranteed money on a four-year deal. They probably wanted to get faster than what they had in veteran Eric Weddle, but Weddle brought a lot of special qualities to the defense. I am not a big fan of this move." — Pete Prisco, CBS Sports

Trades Completed
Several trades that had been announced earlier in the offseason were officially completed on Wednesday, including: the Baltimore Ravens trading QB Joe Flacco to the Denver Broncos, the Broncos trading QB Case Keenum to the Redskins, and of course, the Steelers trading Brown to the Raiders.
---

Looking for travel packages, tickets and information for Super Bowl 54, including the 2020 Players Tailgate, the #1 Super Bowl weekend event?