With the 2019-20 season officially behind us and the 2020 Combine officially underway, the next step on the Road to Super Bowl 55 in Tampa in 2021 is the beginning of the new league year, and the free agency season. What players are most likely to cash in on new contracts 2020, and what teams might they be playing for?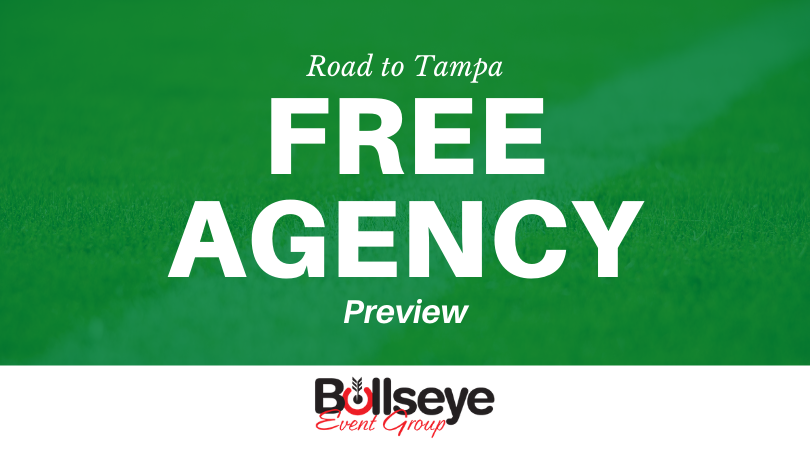 QB Drew Brees — New Orleans Saints
"The 41-year-old signal-caller announced on social media that he isn't retiring just yet and said to "Who Dat Nation" that they were going to make another run at it. In other words, he isn't going anywhere. In the 14 years of PFF's existence, Brees has far and away been the most valuable player in the NFL by total WAR. On top of that, Brees has never produced an overall single-season grade lower than 81.0 nor a single-season grade rank among quarterbacks that was below the 75th percentile. He was second to only Russell Wilson in PFF overall grade this past season and was the most accurate quarterback on a throw-for-throw basis via PFF's ball-charting process. Brees isn't washed up, and with him under center, the Saints are contenders." — Pro Football Focus
QB Tom Brady — New England Patriots
"Brees and Brady, who rank first and second on the all-time passing touchdowns list, will both have the last two years of their current deals void on the eve of the new league year. But they're the two oldest position players in pro football, and new contracts in New Orleans and New England are likely." — Bleacher Report
WR Amari Cooper — Dallas Cowboys
"Cooper is the most promising receiving available this offseason but the cost will be steep. While he is one of the better receivers in the league, I don't think he's quite in that elite class, and his short-term ceiling might be lower than Green's if the 32-year-old does, in fact, make it back to full health." — USA Today
DL Chris Jones — Kansas City Chiefs
"With just $13.7 million in cap space and Super Bowl MVP Patrick Mahomes still needing an extension, the Chiefs have to be careful with who they sign this offseason to sustain long-term success. Chris Jones is one of the best 3-techniques in the entire NFL. If it weren't for Aaron Donald's dominance, Jones would own the highest pass-rush grade at 3-tech over the past four years. As our own Eric Eager broke down earlier this week, a likely scenario for the Chiefs is to apply the franchise tag to Jones and trade him for draft compensation. Indianapolis is a candidate for this type of deal, as they own two second-round picks and are desperate for pass-rush help, particularly on the interior where they ranked 29th of 32 teams in pressure rate generated." — Pro Football Focus
RB Derrick Henry — Tennessee Titans
"None of the league's nine highest-paid running backs will participate in this year's NFL playoffs. The position has been severely devalued for a reason, but this offseason's free-agent class still looks quite special.
It of course starts with Henry, who led the league in rushing yards, was tied for the NFL lead with 16 rushing touchdowns and ranked secondamong all backs who had at least 150 carries with an average of 5.1 yards per attempt. He finished strong, too, and there should be plenty of tread left on his soon-to-be 26-year-old tires because this was really his first season as a workhorse." — Bleacher Report
DE Jadaveon Clowney — Seattle Seahawks
"Box score watchers may not appreciate Clowney's game, but he's established himself as one of the league's dominant edge defenders. Despite seeing a high number of double teams during the 2019 season, Clowney still managed to put pressure on opposing quarterbacks, finishing seventh in ESPN's Pass Block Win Rate metric. So why is Clowney so low on this list? Well, the rest of the NFL knows how good he is, and the bidding way will inflate his contract value." — USA Today
---

Looking for travel packages, tickets and information for Super Bowl 55, including the 2021 Players Tailgate, the #1 Super Bowl weekend event?