2018 Super Bowl Countdown: Super Bowl VI
August 9th, 2017 by Bullseye Event Group
In the 1971-72 NFL season, the Miami Dolphins began what would be the first of many dominant seasons, culminating in a Super Bowl VI matchup against the Dallas Cowboys. The Road to Super Bowl LII in Minneapolis rolls on, stopping in New Orleans for Super Bowl VI.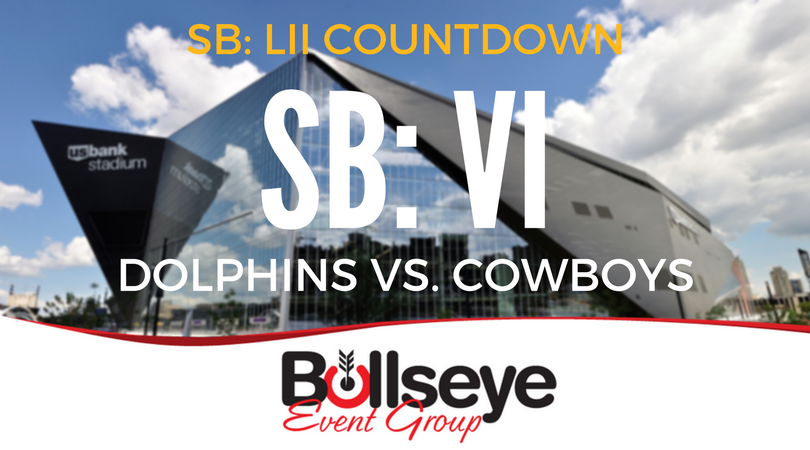 January 16, 1972
Just over 81,000 fans from all over the country were in attendance at Tulane Stadium in New Orleans, Louisiana, for Super Bowl VI. Played between the Dolphins and "America's Team," the Dallas Cowboys, Super Bowl VI proved to be one of the more exciting Super Bowls to date, resulting in a 24-3 victory by the Dallas Cowboys.
Interestingly enough, the Dallas Cowboys had quite an interesting reputation heading into Super Bowl VI. There were fans and analysts alike who did not expect the Cowboys to have a fighting chance in this game, let alone a chance to win. A lot of this perceived reputation came from Dallas' Super Bowl V loss to the Baltimore Colts. However, the Cowboys more than dominated Super Bowl VI and continued to set record after record.
To this day, the 1971-72 Dallas Cowboys team remains as the only team to prevent their opponents from scoring a touchdown during the Super Bowl. The MVP of Super Bowl VI was none other than Roger Staubach, quarterback for the Dallas Cowboys, who completed 12 of his 19 pass attempts for 119 yards and two touchdowns.
The halftime show for Super Bowl VI was a salute to Louis Armstrong, performed by Carol Channing and Ella Fitzgerald, who were accompanied by the U.S. Marine Corps Drill team.
---