2018 Super Bowl Countdown: Super Bowl V
August 2nd, 2017 by Bullseye Event Group
As we continue to gear up for the start of the 2017 NFL season, we're also hard at work preparing for Super Bowl LII in Minneapolis. Next up in our Countdown to Super Bowl LII, we've got the Baltimore Colts capturing their first Super Bowl trophy of the AFL-NFL merger era, facing off against "America's Team."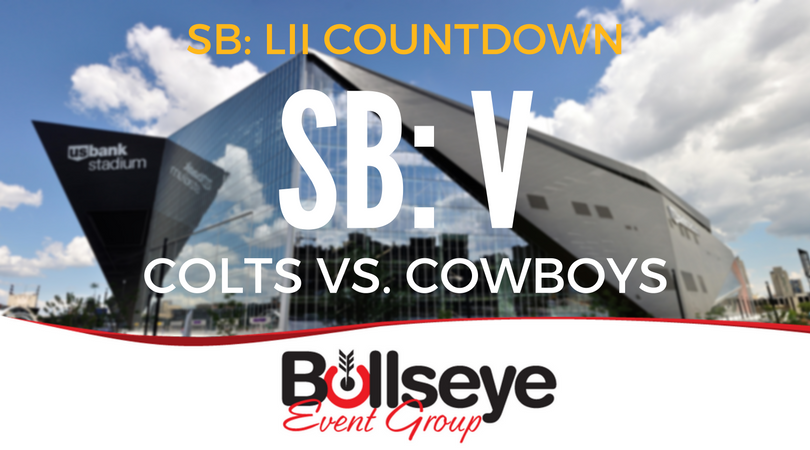 January 17, 1971
Played once again in Miami, Florida at the Orange Bowl, Super Bowl V between the Baltimore Colts and Dallas Cowboys took place in front of over 79,000 fans. Though this wasn't the largest crowd in Super Bowl history, it ranked up there and was an impressive crowd nonetheless.
The Baltimore Colts would come out of Super Bowl V with their first ever championship, defeating "America's Team," the Dallas Cowboys, 16-13. One interesting fact about this particular Super Bowl is that this was the first to be played on artificial turf. Whether it be because of the teams or the turf, this game was dubbed the "Stupor Bowl," where the Dallas Cowboys would go on to set a Super Bowl record for penalties with 10. The Colts would win this Super Bowl despite the fact they would lose legendary quarterback Johnny Unitas in the 2nd quarter due to injury.
Super Bowl V continues to live on as the only Super Bowl in which the MVP was awarded to a player on the losing team. Chuck Howley, linebacker for the Dallas Cowboys, would go on to take Super Bowl MVP honors in his team's losing efforts, intercepting two passes in the game. He was also the first player who was not a quarterback to win the award. It's also rumored that Baltimore Colts defensive end Bubba Smith later said he would "not wear" his Super Bowl V ring because of the Colts' "sloppy" play in the victory.
---