Another day closer to Super Bowl LII in Minneapolis, we're taking a looking at Super Bowl IV between the Minnesota Vikings and Kansas City Chiefs.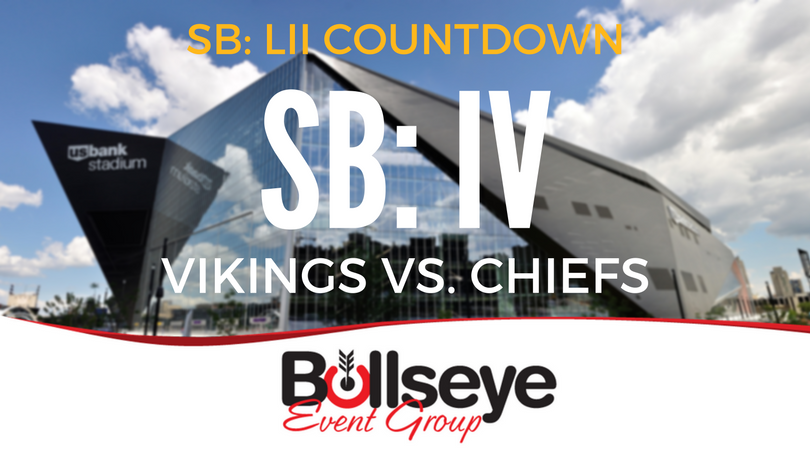 January 11, 1970
In the fourth installment of the Super Bowl, the Minnesota Vikings and Kansas City Chiefs squared off in what would go on to become an unforgettable championship. Played in New Orleans, Louisiana at Tulane Stadium, a very rainy yet exciting Super Bowl would take place in front of nearly 81,000 fans from all over the country.
Most experts went into this game predicting a victory by the NFL side of the Super Bowl, however the AFL member Kansas City Chiefs would prove them wrong, capturing a Super Bowl IV victory 23-7 over the Vikings. Kansas City's stifling defense held the Vikings to just 67 total rushing yards in the entire game, and quarterback Len Dawson would be named Super Bowl MVP, completing 12 of his 17 pass attempts for 142 yards and one touchdown.
Super Bowl IV would also mark a monumental and very different time for the Super Bowl halftime show, with actress and singer Carol Channing taking center stage. Normally, a band from a university or college would perform the halftime duties. The announcers for Super Bowl IV were Jack Buck (father of FOX Sports staple Joe Buck) and legendary broadcaster Pat Summerall, which made for an attention-grabbing Super Bowl broadcast.
---