The Road to Super Bowl LII continues to march on toward Minneapolis, as teams begin to prepare for the start of training camps league wide. A look back at Super Bowls past on the road to Minnesota in 2018, this week reaching Super Bowl III, between the Baltimore Colts and the New York Jets.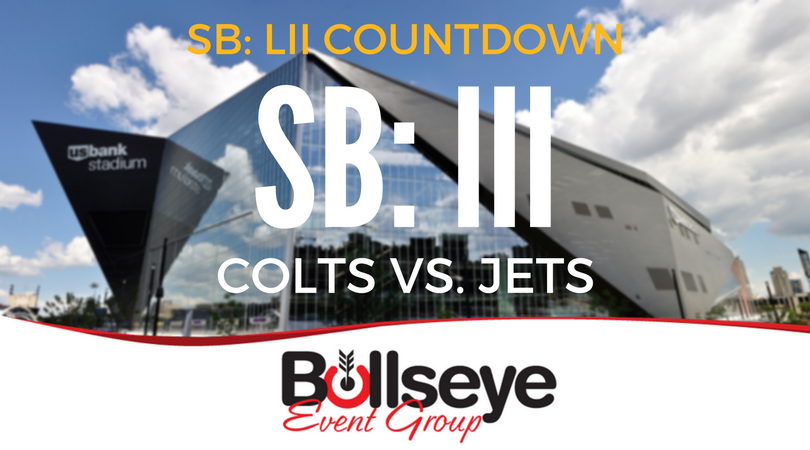 Super Bowl III between the Jets and the Colts was actually the first AFL-NFL championship game to officially wear the 'Super Bowl' name tag. This game was played on January 12, 1969 at the historic Miami Orange Bowl in Miami, Florida, one of the Super Bowl's favorite destinations. More than 75,000 fans were in attendance in Miami, the largest Super Bowl crowd to date.
The physical game itself was one of the lower scoring Super Bowl games in history, but that didn't mean it wasn't still competitive and exciting to fans from all areas. Super Bowl III is famous for rumors that Jets quarterback Joe Namath "guaranteed" a victory just days before the game. Namath would finish Super Bowl III completing 17 of his 28 pass attempts for 206 yards, leading his team (and the first ever AFL victory over the NFL) to a 16-7 victory, and would go on to be named Super Bowl III MVP.
For halftime, Super Bowl III brought some entertainment for the first time that didn't consist of just a college or university marching band. Famous comedic icon Bob Hope led a program that honored the Apollo Astronauts, accompanied by the Florida A&M University marching band. Unfortunately, the Jets and the Colts would not go on to meet again in a Super Bowl as formatting changes as a result of the AFL-NFL merger in 1970 would pit both teams in the same conference.
---