Bullseye Event Group is excited to announce the location and venue for the 2018 Players Tailgate party at Super Bowl LII in Minneapolis, Minnesota, on Sunday, February 4, 2018!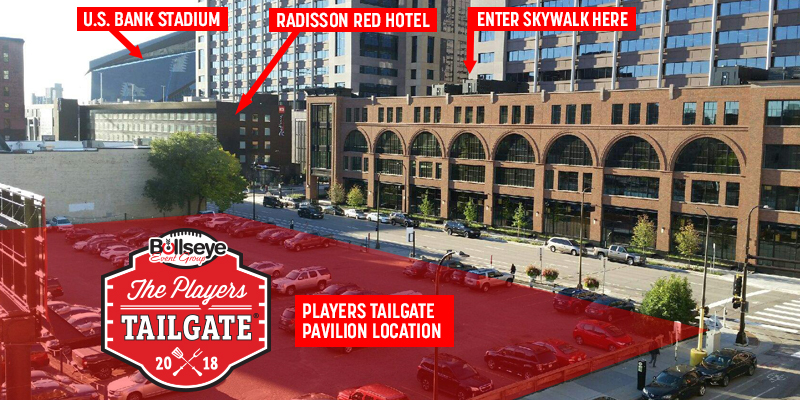 Click Here for More Info on 2018 Super Bowl Travel Packages!
The venue, a 30,000 square foot, climate-controlled pavilion located on the corner of Portland and S 3rd St in downtown Minneapolis, is located directly across the street to an entrance to the Minneapolis Skywalk, allowing VIP guests the opportunity to enjoy a warm, indoor walk to Super Bowl host U.S. Bank Stadium, located just two blocks away.
"Every year, we try to go bigger and better than the Players Tailgate at the previous Super Bowl, and this year, our location is once again the prime spot for a pre-game Super Bowl party," Bullseye Event Group CEO Kyle Kinnett said. "Being able to enjoy this incredible culinary experience, and walk across the street and enjoy a warm walk to the big game? That's just part of what sets our Players Tailgate VIP experience apart from the rest."
With over 40 active NFL players and some of the world's biggest celebrities, Bullseye's 2018 Players Tailgate, rated the #1 event Super Bowl weekend in Houston in 2017, promises to be the biggest and best pre-game event in Minneapolis ahead of Super Bowl LII in 2018. America's favorite chef, Guy Fieri, returns to create the VIP menu, joined by the greatest caterer in America, chef Aaron May, and a team of celebrity chefs hand-selected by Fieri himself.
In recent years, the Players Tailgate party at the Super Bowl has earned a reputation of hosting some of the biggest celebrities in the industry, including 2016 emcee Erin Andrews, Victoria's Secret model Adriana Lima, world-renowned tennis pro Caroline Wozniacki, and Super Bowl champions and perennial Pro Bowl players of the past and present.
Returning for the 2018 Players Tailgate is Operation BBQ Relief. Utilizing their expertise in cooking and catering quality barbecue, Operation BBQ Relief responds to natural disasters and other situations across the United States to help feed displaced residents and emergency responders a warm meal, as well as lend a helping hand. Since they were founded in May of 2011, Operation BBQ Relief has served nearly 1.7 million meals in over 23 states and 43 communities. Most recently, Operation BBQ Relief has traveled and served thousands affected by hurricanes Harvey and Irma, as well as the California wildfires.
A portion of all Players Tailgate ticket proceeds will help fund Operation BBQ Relief's efforts in future disasters and situations as they may arise. To learn more about Operation BBQ Relief and how you can help, visit OperationBBQRelief.org.
Tickets to the 2018 Players Tailgate at Super Bowl LII in Minneapolis can be purchased directly from BullseyeEventGroup.com, or are included in all of Bullseye's Super Bowl LII Travel Packages.
Bullseye Event Group's Super Bowl LII Travel Packages offer fans the chance to cross the NFL's biggest game off their bucket list, without handling any of the logistics! A VIP experience throughout Super Bowl weekend in Minneapolis includes some of the most luxurious hotels in the Minneapolis area! Super Bowl LII travel packages also include entrance into a Super Bowl welcome reception (featuring food, a premium open bar and a live DJ), a ticket to Super Bowl LII, private motor coach transportation to and from the stadium on game day and entrance into Bullseye's 2018 Players Tailgate at Super Bowl LII.
Call Bullseye Event Group today at 317-800-5820 for pricing and insider information regarding the Super Bowl LII Travel Packages and the 2018 Players Tailgate at Super Bowl LII!
---