Once again returning to the city of New Orleans, our 2018 Super Bowl Countdown to Minneapolis features a brotherly matchup in Super Bowl XLVII between the Baltimore Ravens and San Francisco 49ers.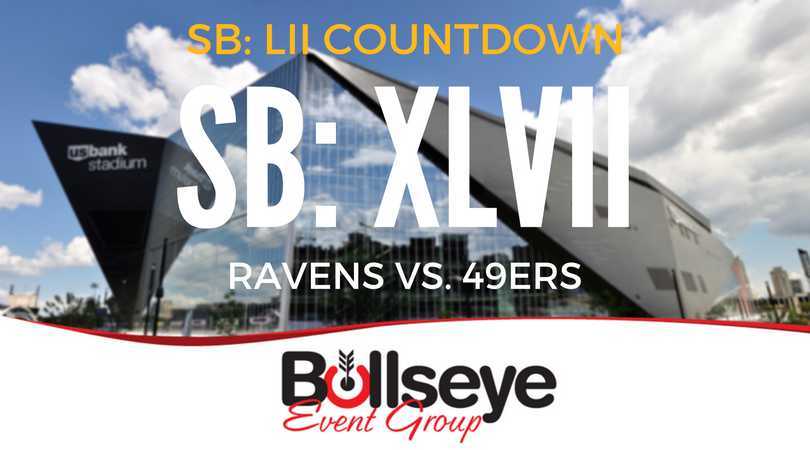 February 3, 2013
For the very first time in Super Bowl history, two brothers would go head to head as head coaches of their respective teams, as Super Bowl XLVII would become known as the "Harbaugh Bowl," with brothers Jim (49ers) and John (Ravens) Harbaugh as the opposing head coaches. The Baltimore Ravens would send the legendary linebacker Ray Lewis riding off into retirement with a Super Bowl victory, a 34-31 win over the 49ers, in a game played in front of over 71,000 fans at the Mercedes-Benz Superdome in New Orleans, Louisiana.
Ravens quarterback Joe Flacco would walk away with Super Bowl MVP honors in an effort that say him complete 22 of his 33 pass attempts for 287 yards and three touchdowns, the fourth QB in a row to win the award.
The National Anthem would be performed by Alicia Keys, and Super Bowl XLVII halftime would be performed by none other than the incomparable Beyonce. Broadcasters Jim Nantz and Phil Simms would handle the game, broadcast on CBS, with the cost of a 30-second commercial coming in at $4 million, the highest in Super Bowl history.
---