While some leagues enter a quiet stretch each offseason, the NFL remains abuzz with signings, rumors and offseason storylines. A quick roundup of some of the most newsworthy stories around the league from the week ending with June 14th, 2019.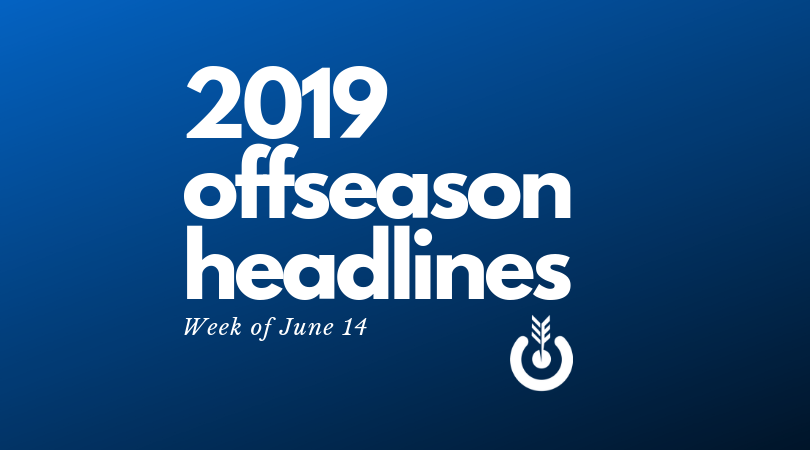 New-look Raiders to be featured on HBO's "Hard Knocks"
"What is supposed to be their final training camp as the Oakland Raiders before next year's planned move to Las Vegas will be documented like never before, as the team announced Tuesday that it will star in HBO's "Hard Knocks" come August.
While owner Mark Davis and coach Jon Gruden have aired their displeasure at the notion of cameras peering into their privacy — Davis jokingly told ESPN in March that he would rather fire Gruden than subject the team to the voyeuristic show — both put up resigned faces."
Read the rest of the story from ESPN's Paul Gutierrez
New England Patriots file tampering charges against Houston Texans
"The Texans want to hire Bill Belichick's right-hand man, Nick Caserio, as their new general manager after surprisingly firing Brian Gaine last week. The Patriots do not want to lose Caserio, their director of player personnel who operates as their de facto general manager.
The Texans' interest in Caserio and the Patriots' desire to keep Caserio officially clashed on Wednesday evening when the Patriots accused the Texans of breaking league tampering rules in their pursuit of Caserio."
Read the rest of the story from CBS Sports' Sean Wagner-McGough
Saints extend defensive pass rusher Cameron Jordan
"Cameron Jordan got an early 30th birthday present from the New Orleans Saints. On Tuesday afternoon, it was announced by ESPN's Adam Schefter that the superstar defensive end was receiving a three-year, $52.5 million extension that would make him a Saint through 2023. The contract reportedly carries a maximum value of $55.5 million, with $42 million guaranteed.
Jordan, who won't turn 30 until July 10, was quick to downplay the situation and jokingly say that nothing was theoretically signed during a post-practice press conference on the first day the team's mandatory three-day minicamp. That's Cam Jordan, in a nutshell, a box full of charisma."
Read the rest of the story from Forbes' John Hendrix
Jaguars, DB Ramsey won't reach deal in 2019
"Jacksonville Jaguars cornerback Jalen Ramsey has been seeking an extension, but he has been told he won't be getting one this offseason.
"I'm not down about it or anything like that," Ramsey told reporters of the team's decision Tuesday, according to Eugene Frenette of 930 The Game. "I'm blessed."
He added, per The Athletic's Daniel Popper: "The money is always there, my guy."
Read the rest of the story from Bleacher Report's Kyle Newport
---

Looking for travel packages, tickets and information for Super Bowl 54, including the 2020 Players Tailgate, the #1 Super Bowl weekend event?