Congratulations on breaking the NFL record for the most touchdown passes in a single season.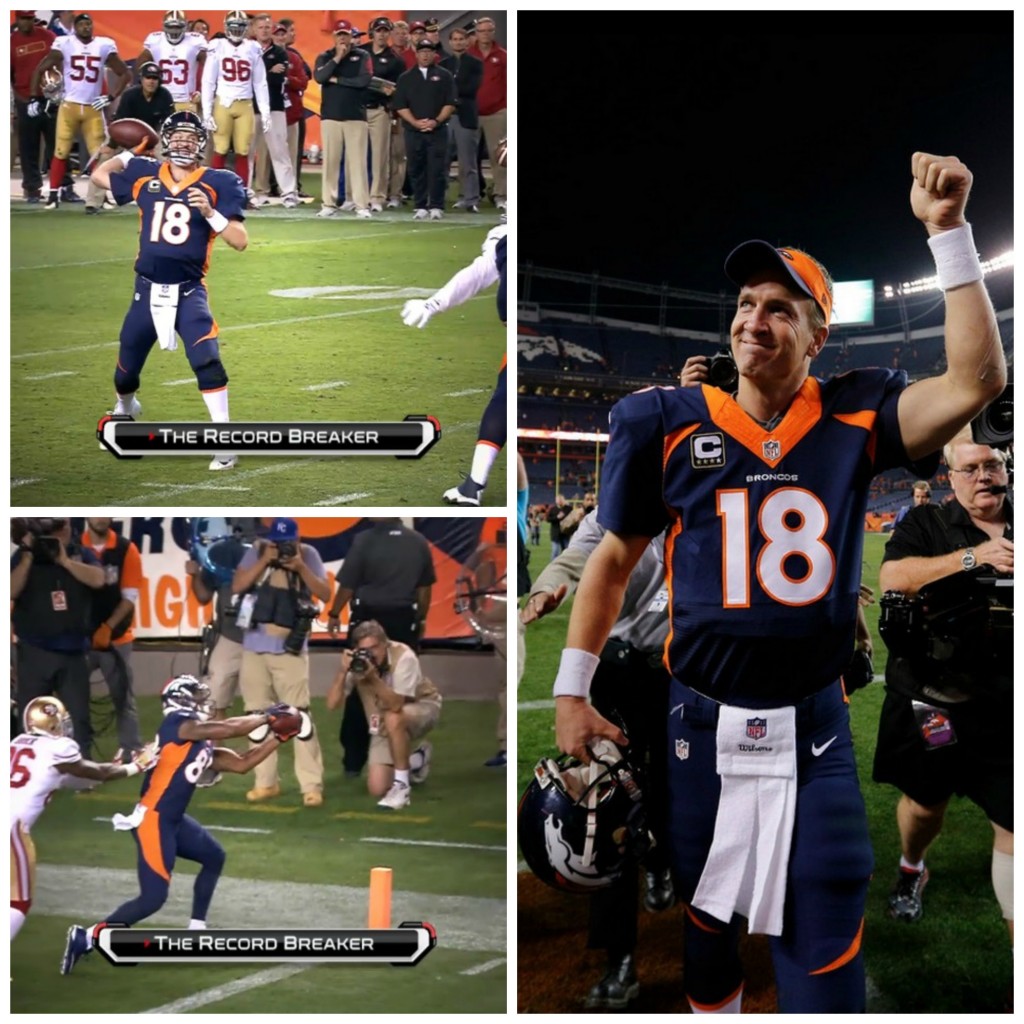 We want to take a few moments and congratulate one of our favorite former Indianapolis Colts, Peyton Manning. Unless you've been in a cave for the last few weeks, you surely haven't missed the news of the legendary quarterback surpassing Brett Favre for the most touchdown passes in a single season.
Favre previously held this record with 508 career touchdown passes in his final season as a Green Bay Packer, which was shattered during Week 7's 49ers – Broncos matchup at home, when Peyton threw his 509th touchdown pass to wide receiver Demaryius Thomas …
Boom!
Afterwards, as the actual football was carefully whisked off the field on its way to the Pro Football Hall of Fame, Peyton and a couple of his fellow teammates played to the cameras with a game of "keep-the-ball-away-from-Peyton," garnering smiles all the way around.
Perhaps what's most remarkable – just three years ago Peyton was recovering from spinal fusion surgery, unable to throw a football 20 feet, let alone the little 8-yarder to the right front corner of the end zone, which put him on top. The record-breaking pass is also Peyton's career record, and he's showing no signs of slowing down. We salute you, Peyton!
Your Connection For NFL Tickets & Super Bowl XLIX
Got a hankering to see Peyton in action? Bullseye's got your tickets for the remaining Broncos games of the season.
Meanwhile … With our beloved Colts holding strong in the AFC South, and Peyton's Broncos doing the same in the AFC West, there's a good chance one of these teams could be on the field at University of Phoenix Stadium for the Super Bowl in 2015. There's an even greater chance that many of our favorite players will be on the same field for the Pro Bowl, which kicks off Super Bowl Week in Phoenix on January 25. If you haven't purchased your Super Bowl XLIX Travel Package, it's not too late to get great deals at top-of-the-line hotels with Bullseye Event Group, your all-access pass to the biggest and best sporting events of the year.
About Bullseye Event Group
Bullseye Event Group is the Official Events and Travel Partner of the Indianapolis Colts. As one of the nation's leading Sports Travel package provider and event ticket companies, Bullseye Event Group is a secure, official source for travel, hotel, pregame parties and tickets, and a direct, dependable source for The Colts VIP Tailgate, Super Bowl XLIX packages, The Players Super Bowl Tailgate, The Masters and event tickets, delivering unforgettable experiences to fans nationwide. Contact us by posting a comment below or by calling 888-900-6564.
photos: NFL.com