Verizon Super Bowl Central (VSBC) will transform downtown Phoenix into the epicenter of Super Bowl activities for one million visitors expected to attend.
THE hub of fan, media and sponsor activity for Super Bowl XLIX, Verizon Super Bowl Central is an outdoor fan campus that links key streets and venues in downtown Phoenix, creating a unique, football-themed experience. Located adjacent to the NFL Experience engineered by GMC and the Super Bowl Media Center presented by Microsoft, the 12-city block, free, pedestrian- and family-friendly,campus will be the epicenter of Super Bowl XLIX activities and events that takes over Wednesday, January 28 through Sunday, February 1, 2015.
Daily Fan Activities:
Outdoor concerts by national recording artists and local musicians
Iconic Super Bowl XLIX Roman Numerals
Super-sized Arizona-themed fan attraction
20 ft. Super-sized football
Beer Gardens
Autograph Stage
Interactive photo opportunities
Network Broadcast Headquarters
Sponsor Activity Zones
Interactive and experiential activities
Nightly Fireworks Show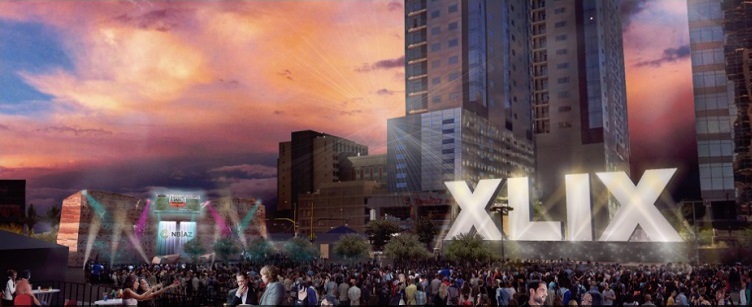 Verizon is not only the title sponsor of Super Bowl Central, it is also the "Official Wireless Service and Solutions Provider" of the Arizona Super Bowl Host Committee and a major sponsor of the National Football League and Super Bowl XLIX.
"The fan experience is one of the most important parts of Super Bowl week, and together with the Host Committee, we are delighted to make it even better," Jay Jaffin, Vice President of Marketing Communications for Verizon Wireless, says. "Verizon has a long history with both the NFL and Arizona, so this was a natural step to deliver not only great wireless service, but super-fun activities for everyone coming to enjoy the game."
And we all know what those selfies, tweets and texts will mean to Super Bowl fans everywhere. Thanks, Verizon – we'll be there! Will you?
About Bullseye Event Group
Bullseye Event Group is the Official Events and Travel Partner of the Indianapolis Colts. As one of the nation's leading Sports Travel package provider and event ticket companies, Bullseye Event Group is a secure, official source for travel, hotel, pregame parties and tickets, and a direct, dependable source for The Colts VIP Tailgate, Super Bowl XLIX packages, The Players Super Bowl Tailgate, The Masters and event tickets, delivering unforgettable experiences to fans nationwide. Contact us by posting a comment below or by calling 888-900-6564.