Bullseye Event Group announced today their new partnership with the official NFL Alumni Association; as well as announcing their spectacular line-up of celebrities, chefs and sports stars attending and hosting the 2020 The Players Tailgate on Sunday, February 2 in Miami for the Super Bowl.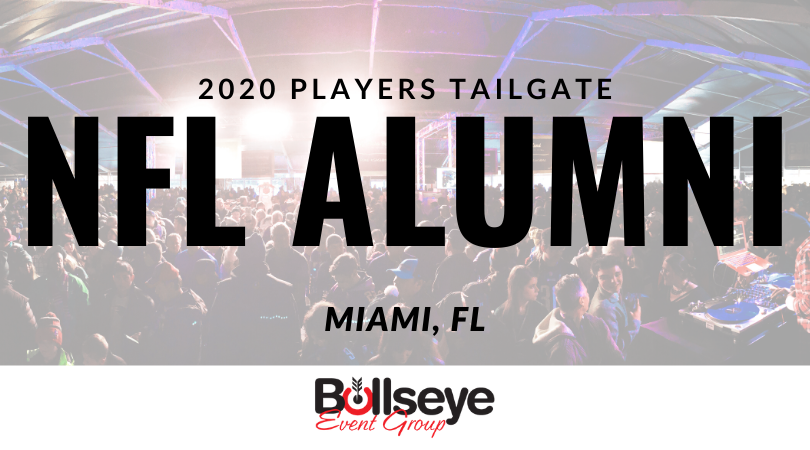 Described as an immersive culinary experience in itself – The Players Tailgate is catered by America's most recognizable celebrity chef, Guy Fieri, who returns to host for the 2020 The Players Tailgate, alongside Aaron May, award winning chef and renown as one of the best caterers in the United States, as well as other culinary titans including Todd English (James Beard Award Winning Chef), Antonia Lofasa (Top Chef, Iron Chef America), Ken Oringer (James Beard Award Winning Chef), Jamie Bissonnette (James Beard Award Winning Chef), Richard Hales (Food Network's All-Star Chef DDD Tournament Winner), Scot Craig (Certified Master Chef and International Culinary Olympic gold medalist) and Akira Back (Global Restaurateur & Professional Snowboarder).
This annual sell-out event is recognized as the best pre-game tailgate experience each year, where over 30 active NFL players, celebrities, culinary stars and guests eat, drink and mingle before the big game — all in an elegant 30,000 square foot clear span tent turned into an in-door/outdoor premiere tailgate venue.
For year 2020, which is the landmark 100 Years of the NFL, The Players Tailgate has officially partnered with the NFL Alumni. "The NFL Alumni players paved the way for the current players to receive the contracts they do laid a foundation for the sport of football to be what it is today. To take the games hottest active players and NFL Alumni and put them all under one roof so those athletes get to meet each other is something we are proud to do," says Bullseye Event Group CEO Kyle Kinnett.
Luxury automobile maker, Acura, who returns as a proud strategic sponsor of The Players Tailgate, will be showcasing new models of their new NSX as well as other luxury Acura models. This will allow guests to step into one of these amazing machines. Acura also will be offering their popular MDX SUVs to shuttle players, chefs and Bullseye Event Group VIP's around South Florida.
Diageo's Crown Royal Blended Canadian Whisky and their Purple Bag Project is also an exclusive sponsor of The Players Tailgate. For close to a decade, Crown Royal has worked with 'Packages From Home' as a national charity partner supporting their purpose of sending thanks to troops overseas. The Purple Bag Project is Crown Royal's commitment to deliver 1 million care packages to U.S. armed forces personnel and victims of natural disasters.
Also new to The Players Tailgate this year, Wise Financial, a firm of Northwestern Mutual, is teaming up with Bullseye Event Group to be the official financial partner of all of Bullseye's Events in 2020. "There is a definitive need for guidance for these 22+ year old young athletes making millions of dollars. There are more unqualified people guiding these athletes' financial well-being than there are qualified. Bullseye Event Group's relationships with active NFL Players and active NBA Players is wide reaching," says Bullseye Event Group CEO Kyle Kinnett.
"After over four years of vetting many different financial and money managers, Bullseye is comfortable and proud to announce Mark Wise and Wise Financial, a Northwestern Mutual company, as our financial partner. Our main objective is to bridge the gap for our athletes and financial security," adds Bullseye Event Group CEO Kyle Kinnett.
Proceeds from tickets support an important give back to long-time charitable partners Operation BBQ Relief and the Irie Foundation. Operation BBQ Relief http://www.operationbbqrelief.org responds to natural disasters and other situations to help feed displaced residents and emergency personnel. The Irie Foundation works year-round to improve and create a positive impact on the lives of South Florida's at-risk youth. http://www.iriefoundation.org/
Adding to the superstar lineup is a new partnership with future NFL Hall of Famer, Charles Woodson and his new wine collection 'Intercept'. The Charles Woodson Intercept Wines collection has been named the official wine of the 2020 Players Tailgate. Charles will be on hand to mingle with fans and media while serving up his Cabernet Sauvignon, Red Blend, Pinot Noir and Chardonnay varietals from Paso Robles and Monterey County.
For further details of The Players Tailgate and to purchase tickets, guests can go to: https://bullseyeeventgroup.com/super-bowl-54-in-miami/2020-players-tailgate-miami/.
THE PLAYERS TAILGATE
When: Sunday, February 2nd, 2020 | 2:00 pm – 5:00 pm EST
Where: Hard Rock Stadium, Miami. A glass structure will be constructed along with decking to transform 2.5 acres into a once-in-a-lifetime tailgating experience. The backdrop of the tailgate will be Hard Rock Stadium and will be a short 4-block walk to the security perimeter. 19261 NW 27th Avenue, Miami Gardens, FL 33056
About Bullseye Event Group:
Bullseye Event Group works in an official capacity with multiple NFL teams, NBA Teams and Universities as the official events and travel partner, the hospitality partner or tailgate partner. The Indianapolis Colts, New Orleans Saints, Detroit Lions, New Orleans Pelicans, Northwestern University, Indiana University and the Ohio State University. Bullseye Event Group has earned a reputation as being an industry leader in event hospitality prior to some of the biggest sporting events in the United States. Best described as "culinary events," Bullseye's official VIP events offer the opportunity to both see and be seen by some of the biggest names in the entertainment and sporting industries.
Bullseye Event Group offers fans VIP experiences as a secure, official source of travel, hotel, pre-game parties and game tickets. Bullseye is a direct and dependable source for tickets to the Colts VIP Tailgate presented by Hays + Sons, the Saints VIP Tailgate, Super Bowl 54 Travel Packages, the 2020 Players Tailgate at Super Bowl 54 in Miami, Gate 6 Hospitality at The Masters and more. To learn more about Bullseye Event Group, visit BullseyeEventGroup.com [BullseyeEventGroup.com __title__ ] or call 317-800-5820.
About NFL Alumni:
NFL Alumni was founded in 1967 and is the oldest and most recognizable national organization of retired professional athletes. NFL Alumni consists of former NFL players, coaches, executives, spouses, cheerleaders, and associate members. NFL Alumni's mission "Caring for our Own" is to serve, assist and inform its members and their families. NFL Alumni also has a traditional mission of "Caring for Kids" across the country. Player alumni give back in their local communities by raising funds for youth-related charities through their 35 regional chapters. To accomplish our mission & vision, we have established the NFL Alumni Foundation which is a 501 (c)(3) non-profit organization. For more information, please visit http://www.nflalumni.org.
About the Irie Foundation:
The Irie Foundation works year-round to improve and create a positive impact on the lives of South Florida's at-risk youth. Through a number of proactive initiatives, they are committed to helping kids get on the right track and strive for successful futures. Currently in the process of building the all new Irie Rhythms Academy, a state-of-the-art music and technology center where children will have the opportunity to take part in music lessons, learn the art of photography, radio broadcasting, film, and the structure and processes of a professional recording studio at no cost to them.
---

Looking for travel packages, tickets and information for Super Bowl 54, including the 2020 Players Tailgate, the #1 Super Bowl weekend event?