Get ready for the ultimate tailgating experience on Super Sunday at Super Bowl 54 in Miami!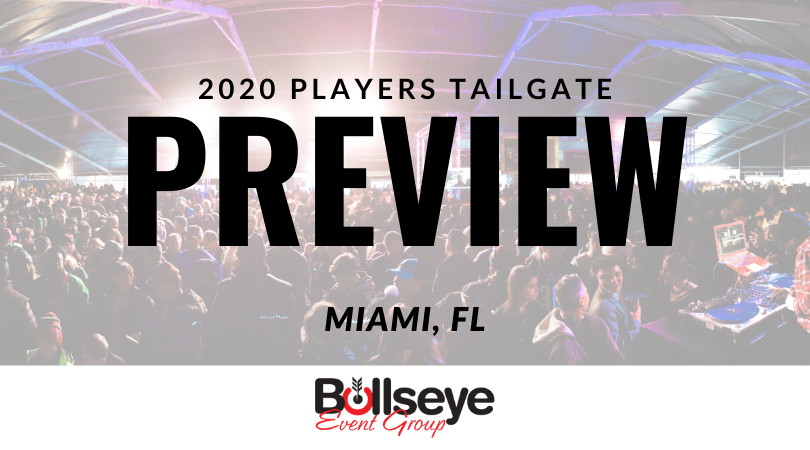 About the Tailgate:
With over 40 active players and some of the world's biggest celebrities, Bullseye's 2020 Players Tailgate, rated the #1 event Super Bowl weekend in Houston (2017), Minneapolis (2018) and Atlanta (2019), promises to be the biggest and best pre-game event in Miami ahead of Super Bowl 54 in 2020.
In recent years, the Players Tailgate party at the Super Bowl has earned a reputation of hosting some of the biggest celebrities in the industry, including 2016 emcee Erin Andrews, 2018 emcee Charissa Thompson, Victoria's Secret model Adriana Lima, world-renowned tennis pro Caroline Wozniacki, the Zac Brown Band, professional gamer Ninja and Super Bowl champions and perennial Pro Bowl players of the past and present.
The Chefs:
Celebrity chef Guy Fieri returns once again as host to help with the creation of an exclusive VIP menu, and will be on-hand to not only provide this culinary experience of a lifetime, but to hang out and meet all VIP guests at the 2020 Players Tailgate. The most recognizable chef in America, Fieri can be seen almost every day on Food Network, featuring shows such as Diners, Drive-Ins and Dives, Guy's Grocery Games, Guy's Big Project, Guy's Big Bite and more.
Celebrity chef Aaron May, known widely as one of the greatest event caterer's in all of the United States, returns once again with Bullseye Event Group, to help Fieri and others create a once-in-a-lifetime menu. May, a member of the Arizona Culinary Hall of Fame, can be seen in Food Network's Guy's Big Bite, Guy's Grocery Games, Diners, Drive-ins and Dives, and more.
Chefs Fieri and May headline the team of award-winning chefs, which also includes chefs Todd English, Antonia Lofasa, Richard Hales, Ken Oringer, Jamie Bissonnette, Akira Back, Operation BBQ Relief and Scot Craig.
The Menu:
Chef Guy Fieri:
Flavortown chicken guy crispy chicken tender sandwiches
Chef Aaron May:
Artisan charcuterie and cheese board
Meat District burgers, short rib, chuck and brisket on a martins potato roll
Chef Ken Orringer:
Little Donkey raw bar featuring lobster, Stone crab and caviar
Chef Danny Vargas:
Teriyaki wings with carrot slaw, ranch and blue cheese
Mango habanero wings with celery carrot, ranch and blue cheese
Chef Todd English:
Duck shawarma with cherry riata and foie gras espuma
Chef Todd English:
Crisp potato with raclette cheese
Chef Antonia Lofaso:
Meatball hero with burrata, arugula and parmesan
Chef Richard Hales:
Black Brick world famous dumpling
Chef Scot Craig:
New Orleans crawfish beignets from Nola's staple Katies restaurant
Chef Adam Allison & Chef Jeff Krause:
Nacho and Taco Fiesta
Operation BBQ Relief:
Memphis Style slow smoked baby back ribs
Ice cream novelties and treats
The Emcee:
One of ESPN's most popular and respected personalities, Sage Steele is currently serving as the anchor for the 6 p.m. ET SportsCenter with her co-anchor Kevin Negandhi. Steele also serves as the lead host for SportsCenter on the Road, which includes on-site, day-long and pre-event coverage for the biggest sports events of the year, including the NBA Finals, the Super Bowl, World Series, the Masters, the College Football National Championship and many more.
The DJ:
The world-renowned DJ Irie returns in 2020 for the Players Tailgate! As the first professional sports franchise DJ in the United States, DJ Irie is the official DJ of some of the most iconic brands in the world, such as Carnival Cruise Lines, the Miami Heat, Target, Mountain Dew Kickstart, Evian, Jamie Foxx and more. Founder of the Irie Foundation and Irie Weekend, DJ Irie has become one of the most established DJ's in the industry.
The Venue:
The 2020 venue for The Players Tailgate, as always, is in a prime game day location. A glass structure will be constructed along with decking to transform 2.5 acres into a once-in-a-lifetime tailgating experience. The backdrop of the tailgate will be Hard Rock Stadium and will be a short 4 block walk to the security perimeter.
The entrance of the 2020 Players Tailgate is at Northwest 27th Avenue & 191st Street next to the 24 Hour Fitness. You do NOT need a Super Bowl Ticket to attend and all ages are welcome.
Help the Cause:
Returning for the 2020 Players Tailgate is Operation BBQ Relief. Utilizing their expertise in cooking and catering quality barbecue, Operation BBQ Relief responds to natural disasters and other situations across the United States to help feed displaced residents and emergency responders a warm meal, as well as lend a helping hand. Since they were founded in May of 2011, Operation BBQ Relief has served nearly 1.7 million meals in over 23 states and 43 communities. Most recently, Operation BBQ Relief has traveled and served thousands affected by hurricanes Harvey and Irma, as well as the California wildfires.
A portion of all Players Tailgate ticket proceeds will help fund Operation BBQ Relief's efforts in future disasters and situations as they may arise. To learn more about Operation BBQ Relief and how you can help, visit OperationBBQRelief.org.
About Bullseye Event Group:
Bullseye Event Group works in an official capacity with multiple NFL teams, NBA Teams and Universities as the official events and travel partner, the hospitality partner or the tailgate partner. The Indianapolis Colts, New Orleans Saints, Detroit Lions, New Orleans Pelicans, Northwestern University, Indiana University and Ohio State University.
Bullseye Event Group has earned a reputation as being an industry leader in event hospitality prior to some of the biggest sporting events in the United States. Best described as "culinary events," Bullseye's official VIP events offer the opportunity to both see and be seen by some of the biggest names in the entertainment and sporting industries.
Bullseye Event Group offers fans VIP experiences as a secure, official source of travel, hotel, pre-game parties and game tickets. Bullseye is a direct and dependable source for tickets to the Colts VIP Tailgate presented by Hays + Sons, the Saints VIP Tailgate, the Lions VIP Tailgate, Super Bowl 54 Travel Packages, the 2020 Players Tailgate at Super Bowl 54 in Miami, Gate 6 Hospitality at The Masters and more. To learn more about Bullseye Event Group, visit BullseyeEventGroup.com or call 317-800-5820.
---

Looking for travel packages, tickets and information for Super Bowl 54, including the 2020 Players Tailgate, the #1 Super Bowl weekend event?