As teams begin to shift their focus toward the 2019 NFL Draft, we're looking back at the free agency winners and losers on the Road to Super Bowl 54 in Miami.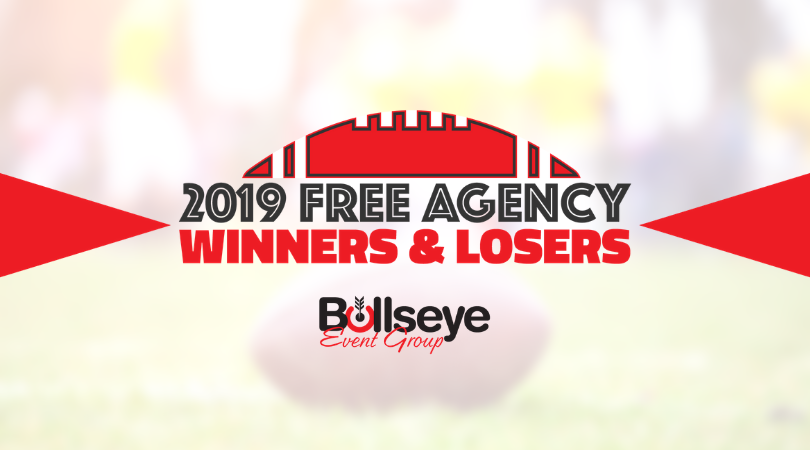 Winners
Cleveland Browns
"The Browns are building a powerhouse. Believe it. Those are words that don't seem to go together, but General Manager John Dorsey continues to push the right buttons. He gave up plenty to the New York Giants in the trade for wide receiver Odell Beckham Jr., but it was well worth it. The Browns get perhaps the game's most dynamic player.
They'll have to deal with expectations, for a change, and they'll have a rookie head coach in Freddie Kitchens. But having expectations is a good problem to have." — Mark Maske, Washington Post
Green Bay Packers
"The Packers ranked 22nd in points allowed, 22nd in rushing yards allowed, 19th in turnover differential and just weren't able to get enough key stops on defense when it mattered most. As a result, we saw a rare strategy from Green Bay: spend big in free agency.
The Packers added linebackers Preston Smith (four years, $52 million) and Za'Darius Smith (four years, $66 million), as well as safety Adrian Amos (four years, $37 million) to help fix a mediocre to below-average defense. Amos' addition also hurts the Packers' biggest rival and top competitor in the NFC North division, the Chicago Bears." — Nick Goss, NBC Sports
Indianapolis Colts
"Selective and patient. Colts general manager Chris Ballard didn't let last season's 10-6 record and playoff appearance dictate how he would attack the offseason. He has been selective in how he has used the NFL's most salary-cap space by signing just two outside free agents — defensive end Justin Houston and receiver Devin Funchess. He has remained patient and is committed to continuing to build the roster through the draft. The Colts currently have nine picks later this month." — Mike Wells, ESPN.com
New York Jets
"Winning free agency in March rarely translates into winning games between September and December. But the Jets, like the Raiders, were in desperate need of upgrading the roster, and they have taken positive steps by adding running back Le'Veon Bell, wide receiver Jamison Crowder and linebacker C.J. Mosley.
On offense, it's all about aiding the development of young quarterback Sam Darnold. And the arrivals of Bell and Crowder help greatly in that regard." — Mark Maske, Washington Post
---
Losers
New York Giants
"If the best organizations follow a clear vision, what can we say about the Giants?
The Giants now have one of the NFL's least-talented rosters, and hope for improving it is limited by their decision to let Collins walk away (rather than making a trade) and settling for a modest return in the Beckham trade. They don't seem to be following a linear plan and are years late on initiating a succession plan at quarterback. It is as though the Giants — and general manager Dave Gettleman in particular — are operating in a long-discarded era of NFL team building." — Kevin Seifert, ESPN.com
Pittsburgh Steelers
"The Steelers acquired just third- and fifth-round draft picks, as well as no salary cap relief, from the Raiders in exchange for Antonio Brown (arguably the league's top wide receiver). Pittsburgh also wasn't able to re-sign star running back Le'Veon Bell, and there are no running backs on the free agent market capable of adequately replacing him. The Steelers haven't added any key pieces to a defense that was mediocre last season, either.
Could we finally be seeing the end of the Steelers' run as a top contender in the AFC? It sure looks like it." — Nick Goss, NBC Sports
Tennessee Titans
"The Titans were one of the most active teams in the NFL, making three major deals by signing offensive lineman Rodger Saffold, receiver Adam Humphries and defensive end Cameron Wake while also re-signing Vaccaro at safety. I'm just not certain what to make of it.
On the one hand, giving Wake $10 million guaranteed at age 37 seems excessively hopeful. But on the other, giving relatively inaccurate quarterback Marcus Mariota a productive slot receiver in Humphries seems like a good idea. Saffold, assuming he is healthy, fits the smashmouth run style the Titans are expected to pursue.
I understand the Titans' incentive after they were in the AFC South division race until Week 17 last season. But will this eclectic haul do anything to push them past the Texans and Colts?" — Kevin Seifert, ESPN.com
Washington Redskins
"[Safety Landon] Collins is an excellent player who will help the defense. But $84 million to a safety? Some in and around the league were baffled about that." — Mark Maske, Washington Post
---

Looking for travel packages, tickets and information for Super Bowl 54, including the 2020 Players Tailgate, the #1 Super Bowl weekend event?