A gi-normous football that's 2,000% larger than a regulation game ball welcomes visitors to Super Bowl Central.
Over 20 feet tall, the monstrous monument is made of 7,000 pounds of steel, wood and foam, with a girth of 32 feet – and stands for "the fun and lasting memories in store for fans, and for the heightened profile and lasting benefits for Arizona as we welcome our third Super Bowl in 19 years," according to Jay Parry, President and CEO of the Arizona Super Bowl Host Committee.
Take Selfies Here!
The football towers over the corner of Washington and Central Avenue, a starting point of Super Bowl Central, the week-long pre-game celebration extravaganza that's expected to draw over one million visitors from January 28 thru February 1, 2015. What starts with this giant, street-corner football will eventually turn into an enormous celebration in honor of the biggest sporting event of 2015.
"Super Bowl Central is a postcard from downtown Phoenix to the world," says Win Holden, chair of Visit Phoenix. "This super-sized football not only marks the epicenter of downtown Phoenix's fan experience, but it's destined to star in scores of selfies and social-media posts." Fans are invited to take photos in front of the Super Football and share them on social media using #SB49.
What's in store for fans at Super Bowl Central?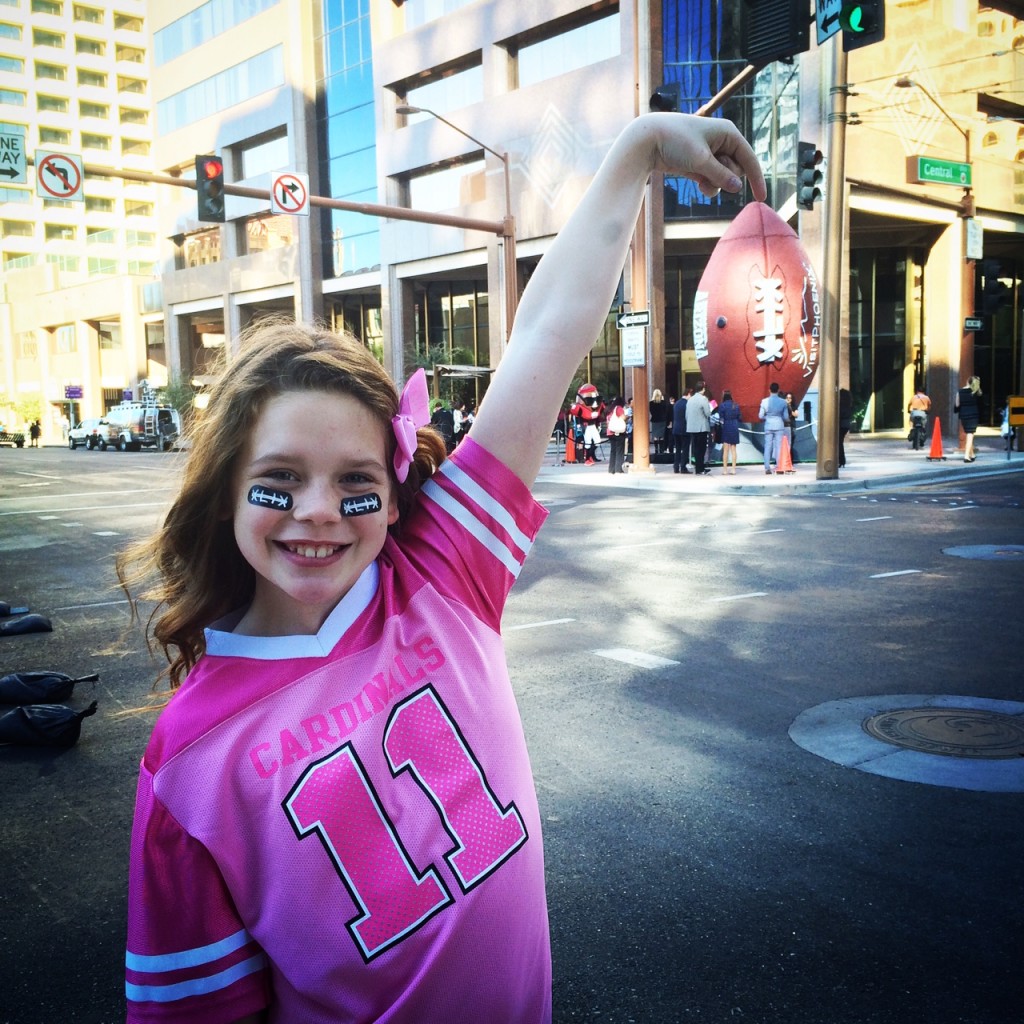 Bullseye's exclusive Super Bowl XLIX travel package guests and fans the world over may experience the best Super Bowl Week ever, which kicks off with the NFL Pro Bowl on Sunday, January 25, 2015 at University of Phoenix Stadium. Then Super Bowl Central opens up and features:
The NFL Experience: Filling the North building of the Phoenix Convention Center, the NFL Experience includes autograph sessions with Pro-footballers, signed memorabilia, live television events, the NFL Shop, games and interactive stations for adults and children, and much more
Concert Stage: Star-studded concerts every day and night of the event
Street Entertainment: Streets are lined with merchants, vendors, food trucks, beer and wine gardens, entertainment, games and then some – the most "family-friendly" Super Bowl celebration ever
Nightly Fireworks Shows: Just when visitors think the fun is wrapping up, sky-filling fireworks put an exclamation point on a most enjoyable time
Get tickets for the NFL Pro Bowl and Super Bowl XLIX from Bullseye – it's not too late to book one of our luxury Super Bowl XLIX Travel Packages, either. Just give us a call -we're ready to show you the football!
About Bullseye Event Group
Bullseye Event Group is the Official Events and Travel Partner of the Indianapolis Colts. As one of the nation's leading Sports Travel package provider and event ticket companies, Bullseye Event Group is a secure, official source for travel, hotel, pregame parties and tickets, and a direct, dependable source for The Colts VIP Tailgate, Super Bowl XLIX packages, The Players Super Bowl Tailgate, The Masters and event tickets, delivering unforgettable experiences to fans nationwide. Contact us by posting a comment below or by calling 888-900-6564.