Three years ago this week at the NFL Owners' meetings in Ft. Lauderdale, Florida, Super Bowl XLIX was awarded to the State of Arizona, beating out Tampa Bay, Florida for arguably one the world's biggest single-day sporting events of 2015.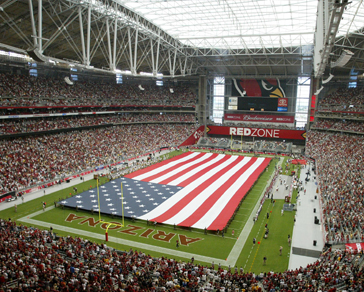 "Being awarded Super Bowl XLIX is a testament to Arizona's outstanding effort in hosting Super Bowl XLII," Arizona Super Bowl Host Committee Chairman Mike Kennedy said at the time, "and a reflection of the NFL's faith in us to put on a first-class event."
Triple Repeat Win
With Super Bowl XLIX on February 1, 2015, a Super Bowl will be played at University of Phoenix Stadium in Glendale for the second time in seven years. The stadium also hosted Super Bowl XLII on February 3, 2008 – when the underdog New York Giants upset the then-unbeaten New England Patriots 17-14. Super Bowl XXX -Arizona's first- was held at Arizona State University's Sun Devil Stadium in 1996, when the Dallas Cowboys outscored the Pittsburgh Steelers 27-17. A three-peat – quite a winning record!
Welcome Return to the Valley of the Sun
It seems the traditional outdoor, cold-weather sport –and football fans themselves- simply love being part of a Super Bowl in Arizona! Perhaps it's because the average temperature in February is 60 degrees, perfect football weather, or maybe it's University of Phoenix Stadium's reputation for welcoming incoming teams – or the fact that Super Bowls are usually played in warm climes or climate-controlled stadiums, so the weather isn't a factor in the game's outcome. Certainly, the entire Phoenix area is an exciting winter destination, offering museums, botanical gardens, a variety of other sporting events, world-class golf, casinos, luxury shopping, outdoor activities and plenty of live entertainment –as our 2015 Super Bowl Travel Packages can attest to (check them out!). And if you haven't seen an event at the University of Phoenix Stadium, you're in for an incredible experience!
Cool Facts About University of Phoenix Stadium
University of Phoenix Stadium opened August 1, 2006 as Cardinals Stadium.
It is the first stadium in the country with a retractable roof and field.
The 180×240 foot panels of the roof move out of the way in under 12 minutes.
The entire natural grass field moves in and out of the stadium on giant steel beams, leaving it outdoors except on game days -a beautiful alternative to Astroturf fields.
The stadium is home to the Arizona Cardinals, employs over 2,500 people during home games and can expand to hold as many as 72,000 fans.
The entire stadium project cost the city of Phoenix and the University of Phoenix approximately $455 million to build.
The University of Phoenix, in exchange for naming rights, contributed $154.5 million from 2006-2026 towards the cost of the stadium.
Since construction was completed, over 3,500 jobs have been added to the area, and over $400 million has been put back into the local economy.
Wanna go to University of Phoenix Stadium for Super Bowl XLIX?
Tickets are on sale now at Bullseye Event Group!
About Bullseye Event Group
Bullseye Event Group is the Official Events and Travel Partner of the Indianapolis Colts. As one of the nation's leading Sports Travel package provider and event ticket companies, Bullseye Event Group is a secure, official source for travel, hotel, pregame parties and tickets, and a direct, dependable source for The Colts VIP Tailgate, Super Bowl XLIX packages, The Players Super Bowl Tailgate, The Masters and event tickets, delivering unforgettable experiences to fans nationwide. Contact us by posting a comment below or by calling 888-900-6564.