With the busiest part of the NFL's offseason behind us, we enter the home stretch of the quiet summer months before we open for training camps. A quick roundup of some of the most newsworthy stories around the league from the week ending with June 21st, 2019.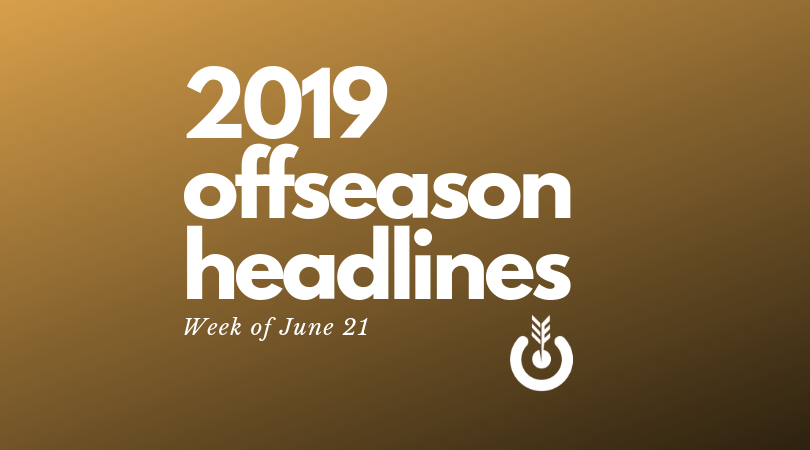 Broncos to honor late owner Pat Bowlen
"The Denver Broncos are planning several ways to honor team owner Pat Bowlen , who died last week at 75 after a long battle with Alzheimer's just two months shy of his enshrinement into the Pro Football Hall of Fame."
Read the rest of the story from ESPN.com
Falcons confident Julio Jones contract extension coming before training camp
"The Atlanta Falcons reportedly plan on keeping wide receiver Julio Jonesfor the foreseeable future.
According to ESPN's Dianna Russini, the Falcons "are confident that they will agree to a long-term contract extension" with the Alabama product prior to the start of training camp. Jones would become an unrestricted free agent following the 2020 campaign under his current contract.
While Jones is 30 years old and may be on the back end of his prime, he has given the Falcons every reason to commit to him for more than just the two seasons left on his deal."
Read the rest of the story from Bleacher Report's Scott Polacek
Favre says Instagram account was hacked
"Matthew Stafford started 16 games in 2018. It was the eighth straight season he had done so but it was the first time he had thrown for fewer than 4,000 yards. And his 21 touchdowns was his second-lowest total during that stretch (he had 20 in 2012). Advanced metrics painted a similar picture; Stafford ranked 20th in total value and 21st in value per play among all quarterbacks, according to Football Outsiders.
We may now have a reasonable explanation as to why: "He had a broken back last year," Mike O'Hara, who writes for the Lions' team site, said during a recent episode of his podcast with WJR's Ken Brown (via MLive.com). "Broken bones in his back."
NFL.com's Ian Rapoport described the injury as "tiny fractures in his back."
Read the rest of the story from CBS Sports' Ryan Wilson
Jaguars, DB Ramsey won't reach deal in 2019
"Is your favorite team in need of a veteran quarterback to fill out the roster? Are you looking for a champion and league MVP to add an experienced voice in your quarterback room?
Then, boy, do we have the quarterback for you!
Ladies and gentlemen, we present to you Brett Favre, the 49-year-old Hall of Famer who last played an NFL game in the 2010 season. This offseason, he could come to a team near you!
Favre later deleted the post and told TMZ Sports that he was hacked, so everybody can settle down.
The oldest player to ever appear in an NFL game was Hall of Fame quarterback George Blanda, who played until he was 48. If Favre attempted a comeback and actually made a team and played in a game—which obviously was never in the cards, but bear with us—he would be the oldest player in NFL history."
Read the rest of the story from Bleacher Report's Timothy Rapp
---

Looking for travel packages, tickets and information for Super Bowl 54, including the 2020 Players Tailgate, the #1 Super Bowl weekend event?