While some leagues enter a quiet stretch each offseason, the NFL remains abuzz with signings, rumors and offseason storylines. A quick roundup of some of the most newsworthy stories around the league from the week of May 27th, 2019.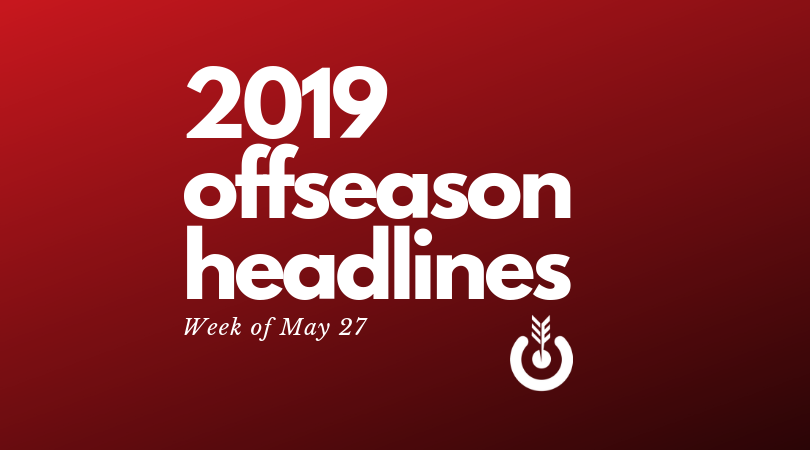 Cowboys' Jason Witten "anxious to go prove" he can still play
"Having spent a year away from the game in the Monday Night Football analyst chair, Dallas Cowboys tight end Jason Witten knows there are questions about his ability to continue to play at a high level.
"Look, it's a show-me game and you've got to be able to find ways to get open and you've got to be able to find ways to play at the point of attack, and I'd want to see it from him," Witten said. "I would want to see if they can do that … A lot of older players, as they got older, you hear them say, 'This is the best I've felt.' I think the year off helped me. I learned a lot. Also, I think I come back with a different perspective."
Read the rest of the story from ESPN.com's Todd Archer
---
Jets begin General Manager interviews
"Two weeks after firing Mike Maccagnan as general manager, the New York Jets are poised to begin the interview process for a replacement.
The Jets are expected to meet in the coming days with Seattle Seahawks co-director of player personnel Scott Fitterer, Chicago Bears assistant director of player personnel Champ Kelly and Philadelphia Eagles vice president of player personnel Joe Douglas, starting Thursday with Fitterer."
Read the rest of the story from ESPN.com's Rich Cimini
---
Free agent Gerald McCoy reportedly deciding between two teams, visiting a third
"Longtime Tampa Bay Buccaneers defensive tackle Gerald McCoy, who was cut by the only team he's ever played for earlier in May, has been taking free-agent visits this week. According to a report from NFL Network's Ian Rapoport, McCoy wrapped up his visit with the Baltimore Ravens on Wednesday, and will now decide whether to sign with the Ravens or Cleveland Browns — unless neither team offers him an agreeable contract."
Read the rest of the story from CBS Sports' Jared Dubin
---
Jacksonville Jaguars quarterback Nick Foles, wife Tori reveal family's devastating news
"Tori Foles, wife of Jacksonville Jaguars quarterback Nick Foles, announced in an emotional Instagram post Wednesday that the couple had miscarried.
Foles said that she went into "sudden labor" on Sunday while being only 15 weeks pregnant with the couple's second child. She explained that she had been feeling ill and later learned she had contracted an infection of pneumonia in the blood.
"Not long after we learned we had miscarried our baby boy," she wrote. "To fully labor and deliver and even see our baby boy was a pretty devastating process."
Read the rest of the story from NBC News' Doha Madani
---

Looking for travel packages, tickets and information for Super Bowl 54, including the 2020 Players Tailgate, the #1 Super Bowl weekend event?