Road to Super Bowl 53: Best Matchups of the 2018 NFL Season
May 21st, 2018 by Bullseye Event Group
With the 2018 NFL Offseason approaching the quiet summer months, we're looking ahead on the Road to Super Bowl 53 in Atlanta to the 2018 NFL regular season. What are some of the most anticipated matchups on the schedule?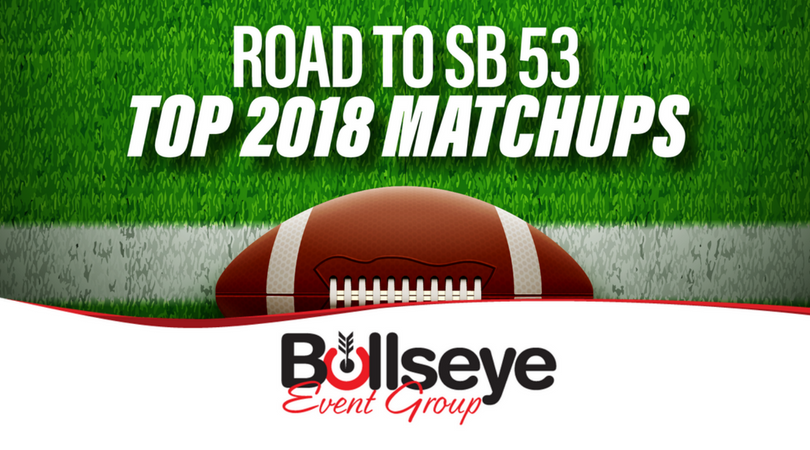 Week 1 (Thurs, 9/6): Atlanta Falcons @ Philadelphia Eagles
A signature of the beginning of every NFL season, the Super Bowl champion Philadelphia Eagles will play host to the Atlanta Falcons on Thursday, September 6th. Two familiar foes, the Falcons and Eagles squared off in the divisional round of the 2017 NFL Playoffs, which of course the Eagles would go on to win, 15-10. Two of the frontrunners in the NFC once again in 2018, the game promises to be an exciting battle of elite quarterbacks.
---
Week 1 (Mon, 9/10): Los Angeles Rams @ Oakland Raiders
New (and old) Oakland Raiders head coach Jon Gruden will make his 2018 debut at home against the NFC West champion Los Angeles Rams in Week 1, with Gruden's first game on the sidelines coming on Monday Night Football, where he was previously a color analyst in previous seasons. Aside from the intrigue of Gruden coaching on MNF, fans on both sides have plenty of questions; will Gruden's coaching style be the same as in the past? Can the high-flying Rams offense duplicate its successes from the 2017 season?
---
Week 2 (Thurs, 9/13): New England Patriots @ Jacksonville Jaguars
Any game featuring the New England Patriots could be circled as a must-watch game in 2018, but Week 2 might be circled for fans of the Jacksonville Jaguars. The Jaguars will play host to the Patriots on Thursday Night Football, a rematch of the 2017 AFC Championship Game. Just one win away from the Super Bowl, there's no doubt the Jaguars will be looking to their bolstered defense to once again be the recipe for success in 2017.
---
Week 5 (Thurs, 10/4): Indianapolis Colts @ New England Patriots
First there was the bitter Manning-Brady rivalry, then came 'Deflategate,' and since then, the rivalry between the Indianapolis Colts and New England Patriots has never been the same. That is, until the 2018 offseason.
The Colts had agreed to terms with Patriots offense coordinator Josh McDaniels before McDaniels reneged on his word and decided to stay in New England, leaving the Colts in panic mode trying to set their coaching staff for the 2018 season and beyond. This will be the first time McDaniels will have to face the team he spurned, a team that he reportedly hasn't even spoken to since backing out of the deal. Just another chapter and storyline in the long, illustrious history of this rivalry.
---

Looking for travel packages, tickets and information for Super Bowl 53, including the 2019 Players Tailgate, the #1 Super Bowl weekend event?