Road to Super Bowl 53: AFC South Preview
June 28th, 2018 by Bullseye Event Group
The 'Road to Super Bowl 53' is just under a month from officially kicking off for teams heading to training camp. Could 2018 be the year of the AFC South's rise?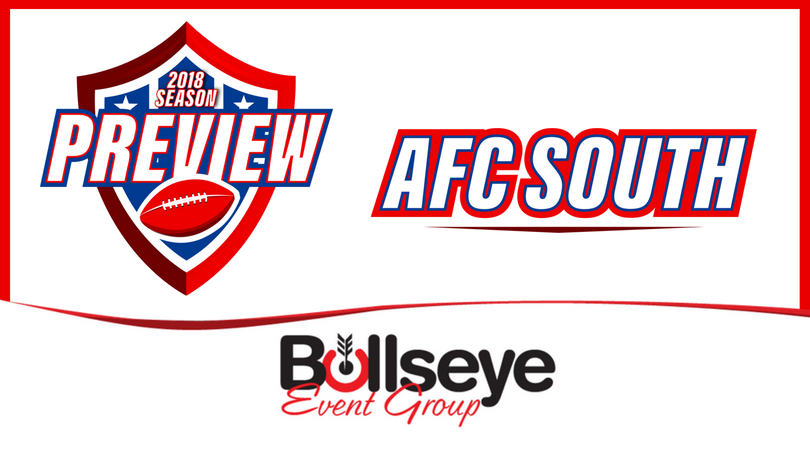 Jacksonville Jaguars
2017 Record: 10-6, AFC South Champions
One of the biggest surprises of the 2017 NFL season, the Jacksonville Jaguars not only won the AFC South, but were runners-up in the AFC Championship, facing off against the New England Patriots.
When you rise to a 10-6 record and one-win away from the Super Bowl, you don't mess with the formula too much. That's why the Jacksonville Jaguars had what could be considered a relatively-quiet offseason. The team did choose to move on from wide receiver Allen Robinson, instead signing former Colts wide receiver Donte Moncrief, and getting what many considered the best offensive lineman in free agency in former Panthers tackle Andrew Norwell.
---
Tennessee Titans
2017 Record: 9-7
An injury to quarterback Marcus Mariota left the Titans struggling to keep up with the Jaguars in 2017, but that didn't stop the team from reloading in the 2018 offseason.
The team signed a pair of prized former Patriots in running back Dion Lewis and defensive back Malcom Butler, pairing well with new head coach (and former Patriot) Mike Vrabel. Tennessee did let plenty of nana players walk, most notably running back DeMarco Murray and wide receiver Eric Decker, but that doesn't seem to be a major concern for fans about the future, considering both players' production has dropped off in recent seasons.
---
Indianapolis Colts
2017 Record: 4-12
The Colts are hoping they will finally have their quarterback. After season of "will he, won't he," quarterback Andrew Luck finally appears to be ready to hit the field, and he'll have a brand new coaching staff and revamped roster to do so with.
After hiring Super Bowl champion offensive coordinator Frank Reich as their new head coach, the Colts underwent something of a transformation in the 2018 offseason, reverting back to the 4-3 defensive scheme and bringing in players to fit that. First priority, however, was protecting Luck, bringing in offensive linemen Quenton Nelson (1st-round draft pick), Austin Howard (Raiders) and Matt Slauson (LAC). On the defensive side, the Colts also signed former Raiders standout Denico Autry, and drafted plenty of young defensive talent.
---
Houston Texans
2017 Record: 4-12
A mid-season knee injury to quarterback Deshaun Watson left the Texans to struggle in the AFC South, but that wouldn't stop the team from reloading around him in the offseason.
Houston brought in plenty of talent on both sides of the ball in 2018, most notably the "honey badger," safety Tyrann Mathieu, and defensive backs Johnson Bademosi and Aaron Colvin, helping shore up the team's defensive pass attack. Watson looks to return in 2018 at full strength, and will return the majority of his offensive receiving core and offensive line in the process.
---

Looking for travel packages, tickets and information for Super Bowl 53, including the 2019 Players Tailgate, the #1 Super Bowl weekend event?