Road to Super Bowl 53: AFC East Preview
June 25th, 2018 by Bullseye Event Group
Previewing every division in the NFL ahead of the 'Road to Super Bowl 53' in Atlanta, Georgia. Next up; the AFC East.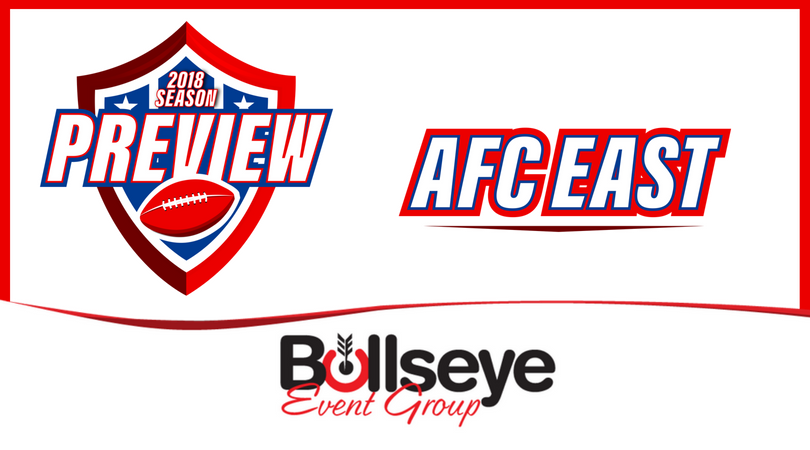 New England Patriots
2017 Record: 13-3, AFC Champions
Not surprisingly, the New England Patriots were the AFC East and AFC champions in 2017, coming up short to the Philadelphia Eagles in Super Bowl LII.
An offseason of change is sweeping over New England, amidst rumors of tension, trades and retirements. Wide receivers Brandin Cooks (traded to Los Angeles Rams) and Danny Amendola (signed with Miami Dolphins), as well as running back Dion Lewis (signed with Tennessee Titans) are gone, leaving quarterback Tom Brady with plenty of new faces on offense. Alongside first round draft pick running back Sony Michel out of the University of Georgia,  wide receiver Jordan Matthews and running backs Jeremy Hill and Rex Burkhead will look to be a featured faces on the offense.
---
Buffalo Bills
2017 Record: 9-7
A team that finished ahead of their expectations in 2017, the Buffalo Bills themselves featured an offseason of change. The team traded quarterback Tyrod Taylor to the Cleveland Browns, instead opting to draft the young-and-talented quarterback Josh Allen out of Wyoming.
On the defensive side of the ball, a relatively stingy defense got even better with the addition of players like defensive back Vontae Davis and defensive tackle Star Lotulelei.
---
Miami Dolphins
2017 Record: 6-10
After a disappointing 2017 campaign that say quarterback Ryan Tannehill sitting out due to injury, a temporary solution in former Bears quarterback Jay Cutler and the mid-season trade of running back Jay Ajayi to the Super Bowl champion Philadelphia Eagles, the Dolphins are looking to start over in 2018.
The Dolphins have been active on both the trade and free agency markets in the 2018 offseason, most notably trading for former Rams defensive end Robert Quinn, former Lions linebacker Akeem Spence, and signing the likes of wide receiver Danny Amendola away from the division-rival Patriots, hoping to give their defense the talent it lacks while giving a hopefully-healthy Tannehill some offensive weapons.
---
New York Jets
2017 Record: 5-11
Despite a 5-11 campaign in the 2017 NFL season, the New York Jets were actually one of the surprises, finishing with more wins than many expected. That didn't stop the team, however, from undergoing a complete makeover in the offseason.
The Jets not only signed quarterback Josh McCown to a one-year extension, the team also opted to draft former USC quarterback Sam Darnold and sign former Minnesota Viking Teddy Bridgewater. Aside from the QB position, the Jets brought in plenty of talent on both sides of the ball, re-signing wide receiver Quincy Enunwa, bringing in former Redskins and Browns WR Terrelle Pryor, former Browns running back Isaiah Crowell, and plenty of other key positional players.
---

Looking for travel packages, tickets and information for Super Bowl 53, including the 2019 Players Tailgate, the #1 Super Bowl weekend event?