With Week 13 of the 2018 NFL season kicking off with the New Orleans Saints taking on "America's Team," the Dallas Cowboys on Thursday Night Football, it's time to take a look at the current Playoff Picture on the Road to Super Bowl 53.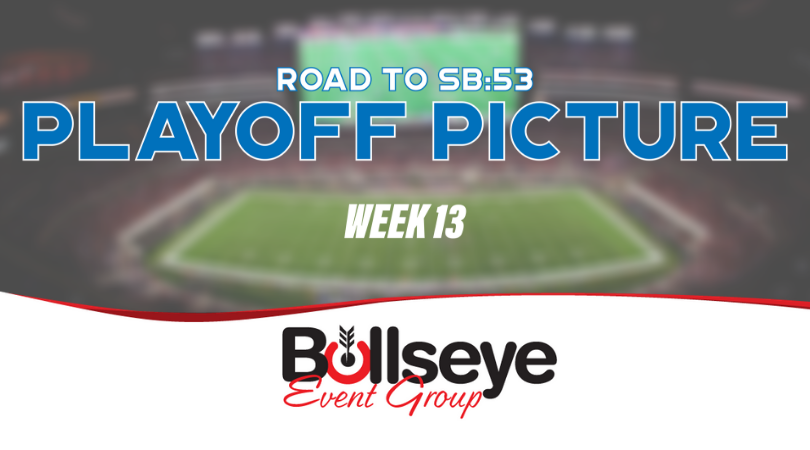 NFC: #1 New Orleans Saints (10-1), #2 Los Angeles Rams (10-1), #3 Chicago Bears (8-3), #4 Dallas Cowboys (6-5)
|

Wild Card: Minnesota Vikings (6-4-1), Washington Redskins (6-5)

|

In the Hunt: Seattle Seahawks, Carolina Panthers (6-5), Philadelphia Eagles (5-6)

Clearly the better of the two conferences thus far in the season, the NFC showcases from strong Super Bowl contenders from the top-down in the standings. From the powerhouse favorites such as the New Orleans Saints and Los Angeles Rams (both one-win from clinching playoff berths), down to the dark-horse Seattle Seahawks and Carolina Panthers, who are on the outside looking in.

With crucial matchups awaiting in Week 13, such as the Saints vs. Cowboys, Panthers vs. Buccaneers and Redskins vs. Eagles on Monday Night Football, the NFC's Playoff Picture could look very much different come Week 14.
AFC:

#1 Kansas City Chiefs (9-2), #2 New England Patriots (8-3), #3 Houston Texans (8-3), #4 Pittsburgh Steelers (7-3-1)
|

Wild Card: Los Angeles Chargers (8-3), Baltimore Ravens (6-5)

|

In the Hunt: Indianapolis Colts (6-5), Miami Dolphins, Cincinnati Bengals, Denver Broncos, Tennessee Titans (5-6)

The league-sensation of the 2018 NFL season, the Kansas City Chiefs remain in prime position to retain home field advantage throughout the Road to Super Bowl 53 in the AFC. Close behind, the Houston Texans, Pittsburgh Steelers and New England Patriots all are in a tight race for that second Wild Card bye week and #2 overall seed, the Patriots currently holding the head-to-head tiebreakers.

Down toward the Wild Card positions, a tight race continues as there are currently SIX teams that are in the hunt for that final Wild Card position. The Ravens, Colts, Dolphins, Bengals, Broncos and Titans all remain within one-game of that #6 and final playoff spot.
---

Looking for travel packages, tickets and information for Super Bowl 53, including the 2019 Players Tailgate, the #1 Super Bowl weekend event?