Nearly three weeks following the New England Patriots' victory in Super Bowl LIII, we're all eyes on Miami for Super Bowl LIV in 2020. As the league begins to transition into the new league year, a quick look at some of the key offseason dates for the 2019 NFL offseason to be following.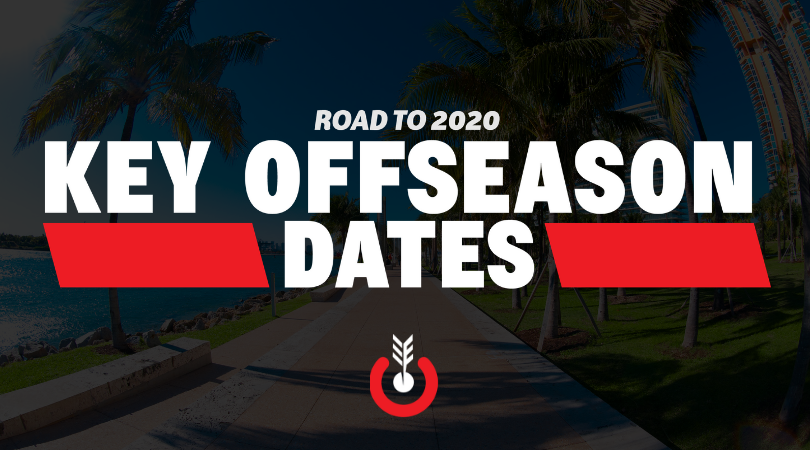 February 19 — Franchise / Transition Period
The first key date to know—Tuesday, February 19th. Every NFL team is now officially free to use either the franchise or transition tag on one pending free agent to be sure that at the very least, the first right of refusal should the player choose to sign an offer sheet with another team.
---
February 26-March 4 — NFL Combine in Indianapolis
Once again at Lucas Oil Stadium in Indianapolis, Indiana, the annual NFL Combine gives scouts and fans alike their first look at some of the upcoming rookie prospects from the 2019 NFL Draft.
---
March 11-13 — Free Agency "Negotiation Period"
Known by some as "legal tampering," teams are free to begin negotiating with pending free agents, but deals cannot yet be officially signed or announced.
---
March 13 — NFL "New Year"
Happy New Year! March 13th marks the official beginning of "open season" on the NFL's free agency class, with players and teams officially allowed to sign contracts and announce signings as of 4 p.m. ET. Pending trades agreed to before then are also now able to be completed and announced.
---
April 1 — Offseason Workouts Begin*
The first offseason workouts are now able to be held at team facilities. For teams with new head coaches, they can begin working out on April 1st—for the 24 others, they must wait until April 15th.
---
April 25-27 — 2019 NFL Draft
Welcome to Nashville, Tennessee for the 2019 NFL Draft! The Arizona Cardinals currently hold the #1 overall draft pick in what is considered by man as a defensive-heavy draft class.
---
May 3-6, 10-13 — Rookie Minicamps
Teams are now allowed to host a three-day minicamp one of these two weeks, hosting draft picks, undrafted rookies, tryout players and select first-year players.
---
July 15 — Franchise Tag Deal Deadline
Teams and franchise-tagged players have until 4 p.m. on July 15 to reach agreements on multi-year extensions, otherwise the player will play the 2019 season under the designated one-year terms of the tag.
---
Mid-July — Training Camps Open
We're almost there! Under the current collective bargaining agreement (CBA), teams are able to begin holding training camp up to 15 days before their first preseason game.
---
August 1 — Hall of Fame Game
Football is BACK! The Hall of Fame Game, the first preseason game of the season, is played between teams selected by the NFL at a later date in Canton, Ohio.
---

Looking for travel packages, tickets and information for Super Bowl 54, including the 2020 Players Tailgate, the #1 Super Bowl weekend event?