Bullseye Event Group's Colts VIP Tailgate pre-game parties are the biggest and best in downtown Indianapolis, and you have seven more chances to be part of this luxe experience!
Starting about three hours before each home game, the Colts VIP Tailgate takes tailgating to the next level, with a full open bar, all-you-can-eat catered food, celebrity sightings, up-to-the-minute pre-game coverage, an exclusive silent auction and then some.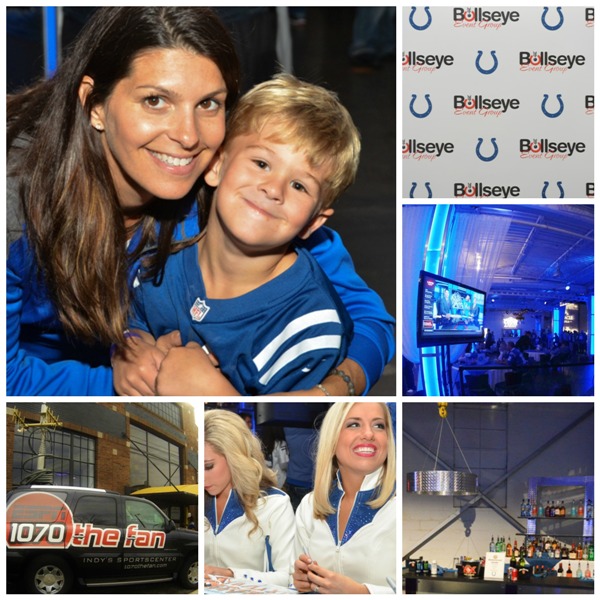 As the Official Events and Travel Partner of the Indianapolis Colts, we make sure you, your family and friends are treated like the diehard Colts fans you are, with an upscale food buffet that features signature dishes from Ruth's Chris Steakhouse and Another Broken Egg Cafe, an Indianapolis favorite. We make sure your drink orders are covered, too – from a huge selection of bottled beers and wines from Coors, Miller and Heineken to a full selection of premium, top-shelf liquor courtesy of Jim Beam.
Here's how 600+ Colts fans kicked off the Colts 2014 season:
Colts Cheerleaders!! Several of the cheerleaders from the squad stopped by the party to take pictures, sign autographs and share some drinks with guests.
Celebrity Appearances – From radio personalities to NFL greats, fans get lots of selfie opportunities.
Live Radio Show – Get the chance to be live on the air with ESPN 1070's The Fan with JMV and Big Joe Staysniak while you're at the party!
Partying indoors and outdoors – at the Crane Bay Events Center, blocks away from Lucas Oil Stadium.
Silent Bidding – on amazing signed memorabilia from past and present NFL greats!
Now's Your Chance – Don't Miss It! Join Bullseye Event Group for the next Colts VIP Tailgate before the Colts take on the Tennessee Titans, Sunday September 28. While you're at it, book your seats for the game, too! At Bullseye Event Group's discount ticket microsite – we have the best deals on tickets, plus no hidden fees or charges when you make your purchase!
You don't want to miss this football rivalry, and you certainly don't want to miss the pre-game party at the Crane Bay Events Center!
About Bullseye Event Group
Bullseye Event Group is the Official Events and Travel Partner of the Indianapolis Colts. As one of the nation's leading Sports Travel package provider and event ticket companies, Bullseye Event Group is a secure, official source for travel, hotel, pre-game parties and tickets, and a direct, dependable source for The Colts VIP Tailgate, Super Bowl XLIX packages, The Players Super Bowl Tailgate, The Masters and event tickets, delivering unforgettable experiences to fans nationwide. Contact us by posting a comment below or by calling 888-900-6564.