After a disappointing Week 1 performance in Los Angeles, the Indianapolis Colts headed home to take on the Arizona Cardinals in their 2017 home opener at Lucas Oil Stadium in Week 2.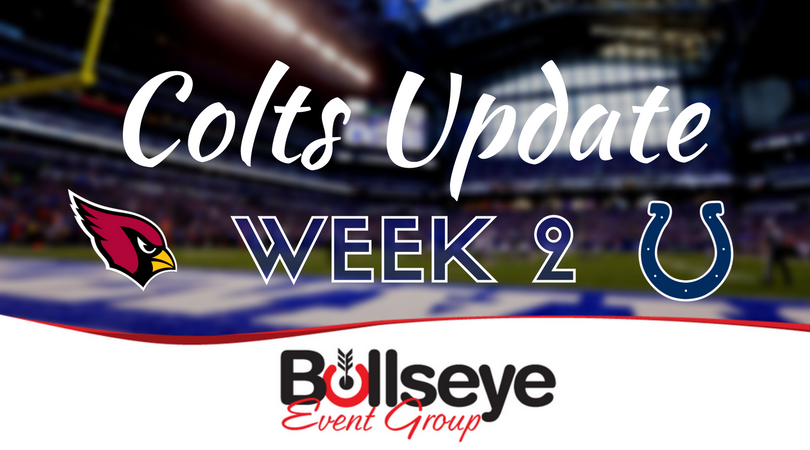 Purchase Colts VIP Tailgate Tickets
Defense Wins the Day
Despite a 16-13 overtime loss to the Cardinals, this Week 2 matchup featured plenty of positive takeaways and "moral victories." The youthful, new-look defense, assembled by new general manager Chris Ballard, showed flashes of greatness early in this game, and eventually it just seemed the inexperience ran the defense out of gas late.
Safety Malik Hooker, the 2017 first round draft pick out of Ohio State, recorded his first interception, picking off Cardinals quarterback Carson Palmer in the red zone on a play where Hooker seemed to fool the veteran QB. Rookie cornerbacks Quincy Wilson and Nate Hairston shined, with Hairston recording a sack off a corner blitz late in the game. The Colts defense was able to adequately pressure Palmer, getting to the quarterback four times, sacks by Hairston, linebacker John Simon, and defensive tackles Al Woods and Hassan Ridgeway.
Jacoby Brissett is the Real Deal
When the Colts traded former first round pick Phillip Dorsett late in the preseason to the New England Patriots for quarterback Jacoby Brissett, it was becoming clear the team was solidifying Andrew Luck's backup position for the long term. In the short term, Brissett proved he has what it takes to give this team an opportunity to compete while the team awaits Luck's rehabilitation from offseason shoulder surgery.
Brissett completed 20 of his 37 passes for 216 yards on Sunday, far and above the best QB performance for the Colts thus far in this young season. And despite throwing an overtime interception that would lead to Arizona's game-winning field goal, Brissett put the team in a position to not only compete, but win.. something the Colts have been looking for in an adequate backup QB since Matt Hasselbeck.
Looking Forward
The Colts stay home for Week 3, with the Cleveland Browns (0-2) heading into town. Quarterback Andrew Luck has once again been ruled out for this week's upcoming game, still working with trainers and doctors to get cleared for practice. The Browns look to be without the #1 overall pick in the 2017 NFL Draft, Myles Garrett, as Garrett is recovering from an ankle sprain.
---

The Colts VIP Tailgates are BACK for the 2017 Indianapolis Colts season! With a new general manager and a re-shaped roster, the Colts look to start anew and make a triumphant return to the NFL Playoffs. Don't leave your pre-game plans up to the Indiana weather. Get your 2017 Colts VIP Tailgate tickets today! 
Purchase Colts VIP Tailgate Tickets