Added alongside Bullseye's official partnership with the Indianapolis Colts, Bullseye is excited to announce an official events and hospitality partnership with the New Orleans Pelicans, one of the most popular franchises in the NBA.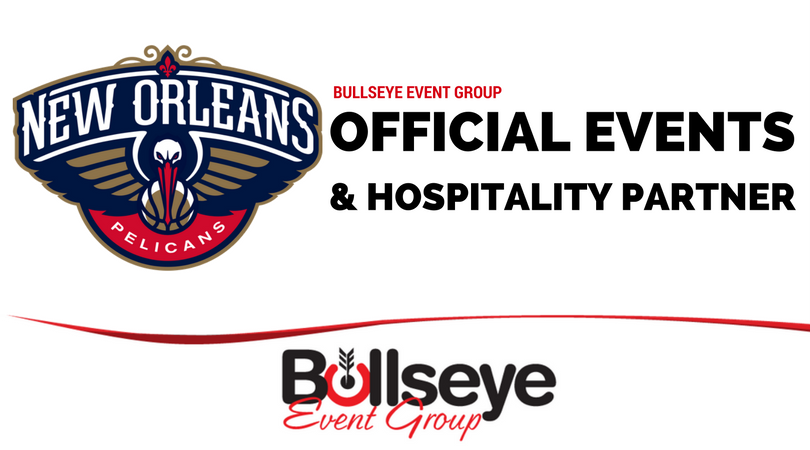 "We are thrilled to partner with the New Orleans Pelicans and expand the hospitality side of our business with a popular NBA franchise," said Bullseye Event Group CEO Kyle Kinnett.
Bullseye's events are described as a culinary experience with an entertainment component. Celebrity Chefs, celebrities, entertainment atmosphere, and premium beverages are staples of a Bullseye Event.
Bullseye Event Group will also be integrated into highly visible team platforms including:
· Digital Signage
· Team web app
· TV Visible Signage
· Scoreboard and in-stadium promotion
· Radio advertisement
Bullseye's partnership with the New Orleans Pelicans adds to the company's VIP event and hospitality portfolio, which includes partnerships with the Indianapolis Colts and recent addition StubHub. In addition, Bullseye has ongoing hospitality events before every Colts home games with the Colts VIP Tailgate, each day at the Masters in Augusta with Gate 6 Hospitality, the #1 rated game day event at the Super Bowl with the Players Tailgate and the Derby Launch Party in Louisville for the Kentucky Derby.
About Bullseye Event Group
The official events and travel partner of the Indianapolis Colts and New Orleans Pelicans, Bullseye Event Group offers fans VIP experiences as a secure, official source for travel, hotel, pre-game parties, hospitality and game tickets. Bullseye is a direct and dependable source for tickets to the Colts VIP Tailgate, Super Bowl travel packages, the Players Tailgate at Super Bowl LII, Gate 6 Hospitality at the Masters and more. To learn more about Bullseye Event Group, click here.