The Bullseye Event Center, located at 723 South Capitol Avenue, is located directly across from Lucas Oil Stadium, offering breathtaking views of the Indianapolis city skyline and Lucas Oil Stadium.


In 2005, Bullseye Event Group The "Official Event and Travel Company of the Indianapolis Colts" began building out their hospitality business, providing once in a lifetime experiences at some of the world's biggest events, including
The Colts VIP Tailgate
presented by Hays + Sons, and
The Players Tailgate at the Super Bowl
. Now considered an industry leader in the sports hospitality world, Bullseye has broadened its scope far beyond the sports world, including the acclaimed Miami Food and Wine Festival with head chef and Food Network star Aaron May.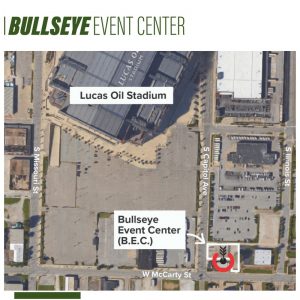 "The vision was to introduce the sports world to the world of food and Celebrity Chefs," said Kyle Kinnett, CEO of Bullseye Event Group. "We always knew that an event was only as good as its food, so we began building events that revolved around getting the best food to our guests and having amazing experiences around that."
Aligning themselves with some of the best chefs in America, such as aligned Bullseye head chef and Food Network star Aaron May, Guy Fieri, Marcus Samuelsson, Akira Back, Brian Malarkey, Eddie Jackson, Douglas Rodriguez, G Garvin, Beau MacMillan and more, Bullseye has created a one-of-a-kind bridge between the worlds of sports hospitality and culinary expertise.
The same vision that propelled Bullseye to the top of the hospitality industry on a national level is once again at work here in Indianapolis. "We recognize Indianapolis as a city that is catching on to the food scene. I look around and I see local chefs doing amazing things and the rest of America is paying attention to Indianapolis for it," Kinnett added. "We recognize Indianapolis as a city that is annually ranked as the top convention city in the US. We recognize Indianapolis as a city that is ripe for us to take that Celebrity Chef and offer it up to events right here in our own backyard."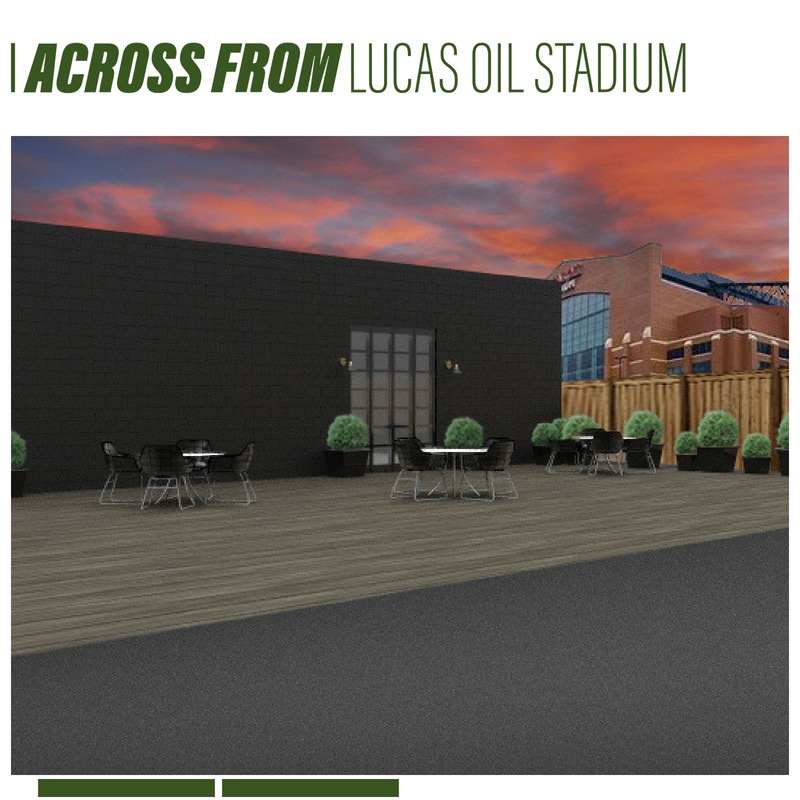 Bullseye Event Center (B.E.C.) will be 9500 square feet of fully remodeled, free flowing open event space, with a building capacity ranging from 750-1000 people. An industrial feel with acid washed concrete floors and exposed brick, B.E.C. features dramatic views of Lucas Oil Stadium and the entire Downtown Indianapolis skyline. While the building is bold in its black design we have also put a touch of Indiana History into it. Bullseye teamed up with Hoosier Reclaimed Timber out of Southern Indiana to use reclaimed wood that came from old barns from right here in Indiana. B.E.C is equipped with 3 retractable glass garage doors.
Two on the front of the building open up to a Trex deck that has been framed out with Indiana history in the reclaimed barnwood which gives our guests the ability to sit under the shadows of Lucas Oil Stadium and feel something special. The third glass garage door opens up to 5000 square feet of beautiful green space which is hard to find in a downtown setting.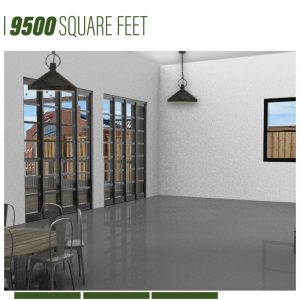 "We no longer have to go outside of Indianapolis to create amazing events, we are going to do it right here and offer it up to our fellow Hoosiers. You take a burgeoning food scene pair that with an Incredible venue, an incredible location, Food Network Chefs and an award winning staff is why Bullseye Event Center (B.E.C) is diving into the event industry here in Indianapolis," Kinnett concluded.
The South Side of Downtown Indianapolis has long been anchored by Shapiro's deli. The downtown of Indianapolis as a whole is seeing growth but the South Side is where the explosion is going to happen said Kinnett. The presence of corporate heavyweights Eli Lilly and Co, Anthem and Rolls-Royce Corp and the obvious Lucas Oil Stadium  draw attention but the addition of TownePlace Suites by Marriott and Tru Hotel by Hilton will further speed the growth on the South Side of Downtown . I believe it's only a matter of time before the Post Office is relocated and that land will be home to something that will change the landscape of Indianapolis entirely. Our Bullseye Event Center (BEC) property at 723 South Capitol  Borders the Post Office and when that happens we will have seen a vision come true.
B.E.C is different than any other event center in Indiana  – our in-house Bullseye Catering Group is led by Food Network Celebrity Chef Aaron May.  A top chef in America can prepare an incredible meal for 2 – 200 people, but in order to be considered one of the best you need to be able to create a meal for 2,200, and have it be just as good as that meal for 2. That is why Aaron May is considered one of the BEST caterers in the U.S. Chef May trained in Paris at the Ecole Ritz Escoffier and was inducted into the Arizona Culinary Hall of Fame in 2010 as a "Chef Extraordinaire." He is often featured on Food Network's wildly popular Guy Fieri's Diners, Drive-Ins and Dives, Guy Fieri's Grocery Games and TLC's Best Food Ever.
---

Plan your event and create your menu side by side with a Food Network Star, that is what we are bringing to Indianapolis.