With the 2019 NFL Combine officially behind us, the next step on the Road to Super Bowl 54 in Miami in 2020 is the beginning of the new league year, and the free agency season. What teams are positioned to be buyers and sellers, and what players might command the most attention as the new year begins on March 13th at 4:00 p.m. ET?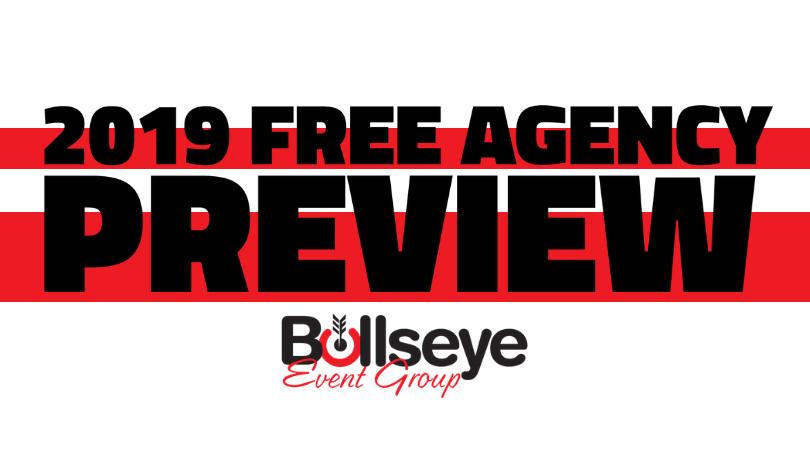 Top Teams
While many people generally see teams with open cap space and teams that struggled the previous season as one in the same, the Indianapolis Colts, after a surprising 11-5 season that saw the team make the divisional round of the playoffs, hold the most cap space with $105.8 million in free money.
While many peg the team to make a big splash acquisition like former Steelers teammates, running back Le'Veon Bell and/or wide receiver Antonio Brown, there are plenty of other players commanding far less attention/money that fit the team's style nicely.
Other top teams with cap space: New York Jets ($99 million), Houston Texans ($83.3 million), Buffalo Bills ($77.3 million) and Cleveland Browns ($77.2 million)
---
Top Free Agents
Le'Veon Bell, RB, Pittsburgh Steelers — 2017*: 321 RUSH, 1,291 YDS, 9 TD | 85 REC, 655 YDS, 2 TD
One of the most talked about names in the free agency market for a handful of years now, former Steelers running back Le'Veon Bell, after holding out the entire 2018 season, is officially a free agent. Potential suitors for Bell have been mentioned as possibly being the New York Jets, Indianapolis Colts and Houston Texans, among others.

Trey Flowers, DE, New England Patriots — 2018: 57 TKL, 7.5 SACKS, 3 FF
The 25-year-old Super Bowl champion defensive pass rusher, coming off a career year in 2018, is due for one of the biggest paydays of the open market. With potential free agent defensive pass rushers like Jadeveon Clowney and Grady Jarrett being franchise tagged, the market thinned early, meaning don't be surprised if Flowers brings in a massive deal with a new team.

Landon Collins, S, New York Giants — 2018: 96 TKL, 5 TFL, 1 FF
A 25-year-old three-time Pro Bowler, safety Landon Collins is the type of versatile defensive back that can completely re-shape a team's secondary identity. Though he's slightly struggled in the past few seasons (hampered by an injury in 2018), Collins was in the NFL Defensive Player of the Year conversation in 2016, and will be a big prize for some lucky team in free agency.

C.J. Mosley, LB, Baltimore Ravens — 2018: 105 TKL, 6 TFL, 0.5 SACK, 1 INT
After not receiving a franchise tag from the Ravens, four-time Pro Bowl selection C.J. Mosley is poised to hit the open market as one of the premier linebackers available. Granted, inside linebackers don't sport the flash they used to, but three-down playmakers like Mosley pose a valuable threat to any defense looking to take their unit to the next level.

Earl Thomas, S, Seattle Seahawks — 2018**:22 TKL, 3 INT
Thomas can be considered as nothing less than one of the most prolific safeties of this generation of defense. His unique abilities have allowed the Seahawks to be very aggressive on defense, knowing that Thomas was deep in the secondary to clean up any mistakes over the top. Coming off a season-ending leg injury, and at 30 years old, Thomas is hard to count out and will be a soldi defensive addition to any secondary looking for veteran leadership.

Tevin Coleman, RB, Atlanta Falcons — 2018: 167 RUSH, 800 YDS, 4 TD | 32 REC, 276 YDS, 5 TD
One of the more interesting names on the thin running back market, Coleman has been a solid contributor out of the Falcons backfield, especially in 2018 with start Devonta Freeman missing most of the season. It's unclear whether Coleman has the ability to be a team's workhorse, three-down back, but will be a solid addition to any teams backfield and offensive showcase.

Nick Foles, QB, Philadelphia Eagles — 2018**: 72.3% COMP, 1,413 YDS, 7 TD, 4 INT
The most intriguing name to hit the market, Super Bowl LII MVP quarterback Nick Foles is finally free of Philadelphia and looking for a starting gig—reportedly heading to the Jacksonville Jaguars at the opening of free agency. Foles and Jacksonville are a perfect fit, as the Jaguars are looking to move on from Blake Bortles, and Foles is looking for a reliable starting gig and a team to lead.
*  — Missed 2018 season | ** — Didn't play entire 2018 season
---

Looking for travel packages, tickets and information for Super Bowl 54, including the 2020 Players Tailgate, the #1 Super Bowl weekend event?