The day before the 2017 NFL Draft, find out who experts believe will go #26-32, rounding out the first round on Thursday night.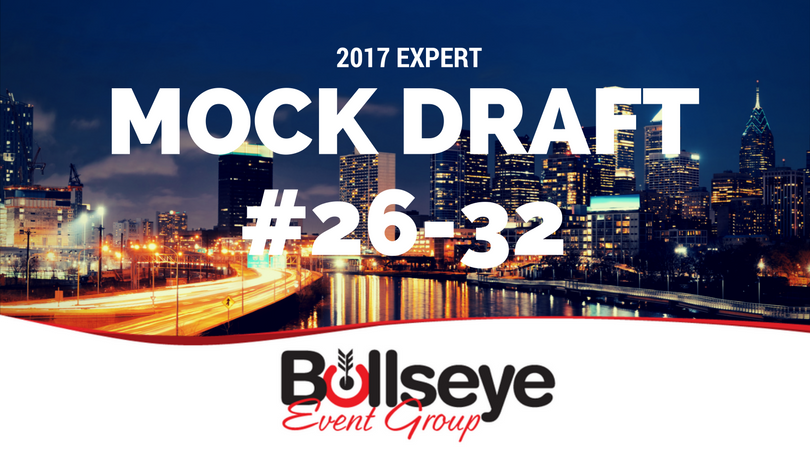 #26: Seattle Seahawks
CBS Sports: Quincy Wilson, CB, Florida | Bleacher Report, MMQB: Ryan Ramczyk, OT, Wiscosin | 
"Ryan Ramczyk is am[sic] intriguing option, given his tools and tape, but he started just one season at Wisconsin and is dealing with a torn labrum that's limiting his pre-draft workouts. The tools are there when you watch him in Big Ten tape, but you're betting on his continued development on a small sample size." – Matt Miller, Bleacher Report
#27: Kansas City Chiefs
CBS Sports: Raekwon McMillan, LB, Ohio State | Bleacher Report: Patrick Mahomes, QB, Texas Tech | MMQB: Reuben Foster, LB, Alabama
"With Derrick Johnson set to turn 35 next season, McMillian is an athletic playmaker who could provide a smooth transition once Johnson calls it a career. Vanderbilt's Zach Cunningham is also an option here, but a lackluster combine could have personnel types revisiting his game tape." – Ryan Wilson, CBS Sports
#28: Dallas Cowboys
CBS Sports: Carl Lawson, DE, Auburn | Bleacher Report: Derek Barnett, DE, Tennessee | MMQB: David Njoku, TE, Miami
"The classic "excellent veteran is aging, so let's find him a replacement" scenario surfaces yet again. Here, Jerry Jones finds a successor for Jason Witten. Njoku, one of the youngest players in this year's draft (he turns 21 in July) has a high ceiling, as he has only been playing tight end for two years. A core featuring Njoku, Dak Prescott (23-years-old) and Ezekiel Elliott (21)? That will keep Dallas front-running in the NFC East for years to come." – Emily Kaplan, MMQB
#29: Green Bay Packers
CBS Sports: T.J. Watt, LB, Wisconsin | Bleacher Report: Forrest Lamp, OG, Western Kentucky | MMQB: Christian McCaffrey, RB, Stanford
"The Packers are in the market for pass rushers. And what's better than having one Clay Matthews? Having two — Watt (yep, he's J.J.'s younger brother) has drawn comparisons to Matthews. Measuring 6-5, 243, Watt ran a 4.69 40 at the combine, and finished last season with 11.5 sacks and 15.5 tackles for loss." – Ryan Wilson, CBS Sports
#30: Pittsburgh Steelers
CBS Sports: Derek Rivers, DE, Youngstown State | Bleacher Report: Takkarist McKinley, EDGE, UCLA | MMQB: T.J. Watt, LB, Wisconsin
"Takkarist McKinley is tailor-made for the 3-4 pass-rusher role the Steelers need. He's long, physical, fast and has the production on tape to warrant a first-round selection. He is undergoing shoulder surgery as I'm writing this for a torn labrum, but will be back in time for minicamp. After an impressive showing in Indianapolis, McKinley should be a first-rounder." –Matt Miller, Bleacher Report
#31: Atlanta Falcons
CBS Sports, MMQB: Charles Harris, DE, Missouri | Bleacher Report: Montravius Adams, DL, Auburn | 
"The Falcons could use pass-rushers. The going rule in today's NFL is that you need three good ones to be successful. Pair Harris with the Clemson crew (Vic Beasley and Grady Jarrett, coming off a breakout Super Bowl performance), and Atlanta has a trio to harass quarterbacks of the NFC South for a very long time." – Emily Kaplan, MMQB
#32: New England Patriots
CBS Sports: David Njoku, TE, Miami | Bleacher Report: Christian McCaffrey, RB, Stanford | MMQB: Tim Williams, LB, Alabama
"McCaffrey is a dynamic running back, a versatile offensive weapon and a top-notch athlete. Whether he's in New England, Kansas City or Green Bay (my ideal fits) he'll be a threat as a runner, receiver and return man. However you can get him touches, he'll respond with yards and points." –Matt Miller, Bleacher Report
Full 2017 NFL Draft 1st-Round Mock Drafts.
For Ryan Wilson's CBS Sports mock draft, click here.
For Matt Miller's Bleacher Report mock draft, click here.
For Emily Kaplan's MMQB mock draft, click here.
Tickets for the 2017 Indianapolis Colts VIP Tailgates are officially available! With a new general manager and a re-shaped roster, the Colts look to start anew after their disappointing 2016 campaign. Get your 2017 Colts VIP Tailgate tickets today!