Bullseye Event Group, is an active members of IIVA (Indiana Independent Venue Alliance)
"The artist is the creator of beautiful things." wrote Oscar Wilde
An artist has one clear purpose: to use his or her talents to bring a vision into concretion. All artists are visionaries, the blank canvas that an artist uses as a medium varies from music, to painting, to food; however, that medium is always used to evoke and stimulate one or more of the senses.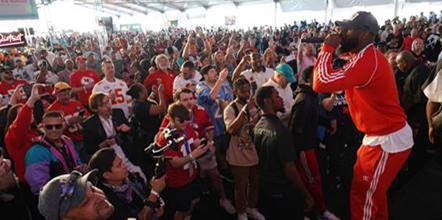 The power of music is an incredibly important and unique form of art that aids the human experience. When added to a social gathering where people from all walks of life have come to celebrate this art together, it becomes a force unparalleled to anything else.
To be an artist with food, a chef must take all of the foundation kitchen techniques, and combine those with a progressive mindset that is willing to take risks hence the term "culinary art".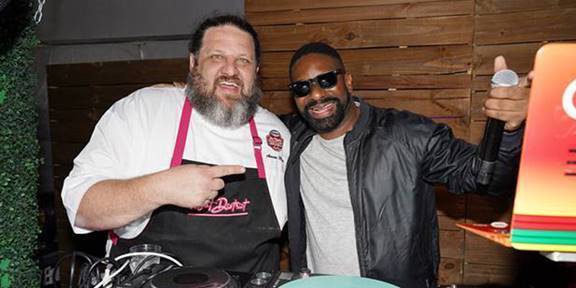 The most accomplished chefs of the modern era, all found a way to blaze a trail through new approaches to familiar ingredients. Food, as an art form, is unique in many ways. While painting appeals to sight, and music appears to the sense of sound, food, when created at its highest form, appeals to all five senses at once. Textures, flavors, colors and aromas all have to play a role in a successful dish.
Bullseye Event Group is the visionary in the event industry. In our venues we collide live music and culinary art to create the highest level of entertainment available to the general public. We work in an official capacity with professional sports teams as the official event & hospitality provider.
ALL Bullseye Event Group events include:
Bullseye Event Group does all of our own promotion and do all of our own ticketing to our events. We are the primary ticket source. All events are produced and managed by our own Bullseye Event Group employees. Our staff members are like family and most have been with Bullseye since the day we started while picking up talent along the way.
Bullseye Event Center has hosted and Bullseye Event Group has managed concerts with live performances from Country music sensations Big & Rich, Rap mega star Roddy Rich and many EDM concerts. Our venues and our events have no boundaries or walls when it comes to the genre of music.
Bullseye Event Group manages and promotes 100% of our own online ticket sales. Bullseye Event Group manages its own box office for entry, we scan and authenticate every ticket we sell to ensure no tickets are duplicated and all our attendees are met with hospitality from the time your feet hit our floor.
100% of our promotion is done in house. Marketing and promotion is our expertise, Bullseye has been very careful in building our brand. Bullseye Event Group's brand can be seen side by side with NBA teams, NFL teams and the NFL alumni. We strategically use those franchises to promote our events and venues in their online media and in stadium signage. Bullseye Event Groups events can be easily found online thru all search engines from our aggressive promotion we do annually promoting our events and building the Bullseye brand and our iconic events.
All Bullseye events include live music & live Nationally recognized DJ's. We don't and wont do an event without music. What we have found is music sets the tone for any and all events. You can have a great venue, great food with bad music and you have a bad event. You can have an average venue, average food with great music and you have a great event BUT when have a great venue, great food with great music  you then have a memorable lifetime experience.
On our stages:
New Orleans venue for Saints Tailgates with 8000 tickets sold annually
Meet official Saints VIP Tailgate DJ Digital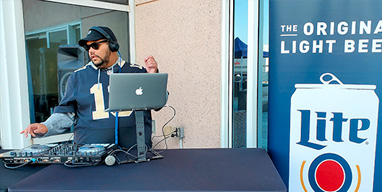 With over 20 years of mixing under his belt, DJ Digital is an artist fully immersed in his craft. He's respected as one of the top Open Format DJs in the industry, host of XXL Higher Level Radio, a nationally-syndicated radio program that airs five nights a week from coast to coast for one of the biggest hip hop brands in the world. DJ Digital's résumé matches the range of his sound. He's performed alongside artists like Pharrell, Snoop Dogg, Tiesto, Lil Wayne, George Clinton, Questlove, A-Trak, and Jazzy Jeff — just to name a few — gaining respect through his technical blending and professionalism
Indianapolis venue for Colts VIP Tailgates with 10,000 tickets sold annually
Meet official Colts VIP Tailgate DJ Indiana Jones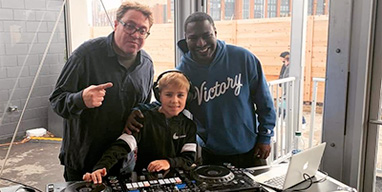 This year we lost a Bullseye music family member to a heart attack. Ron Miner (DJ Indiana Jones) A pillar in the music scene working at Pendulum Records, EMI records. DJ Indiana Jones has spun records in the most iconic NYC clubs, LIFE, The Tunnel, ReBar, and Jet Lounge. DJ Indiana Jones has also been On Air with RadioNow, 100.9 in Indianapolis. DJ Indiana Jones, he has spun alongside Mark Ronson, A Trak, Cosmo Baker, Richie Hawtin, Grandmaster Flash, Mick Boogie, The Rub and has opened for acts ranging from Run D.M.C. and Sean Paul to Sting and Destiny's  Child. DJ Indiana Jones has been voted "Best Club DJ" by the Readers of Indianapolis in more than 5 magazines. Ron was our 1st DJ and was instrumental in Bullseye Growing its roots with music in our events.
Meet official Colts VIP Tailgate DJ Skidz
DJ Skidz, felt a need to spin records at an early age and quickly realized that music was a way of life for him. Deejaying his first house party at 13 — when disco was still cool, he was bitten by music. During his high school and college years, DJ Skidz was the go-to DJ in Central Indiana and could be heard on the North Central radio station WJEL, one of the first high school radio stations in Indianapolis. DJ Skidz has been seen on stage for major opening acts and has had two residencies. DJ Skidz is the Official DJ of the Indianapolis Colts VIP Tailgate. Currently, you can hear DJ Skidz on the #JMVtakeover on B105.7 Indianapolis and soon to be syndicated where he is the on-air mixer.
Detroit venue for Lions Tailgates with 5000 tickets sold annually
Meet official Lions VIP Tailgate DJ Don Mecca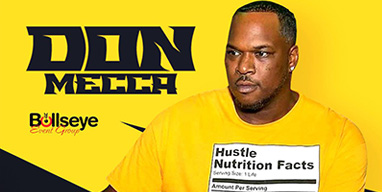 DJ Don Mecca is one of Detroit's most renowned Open Format DJs because he possesses a lethal playbook of a variety of genres. To him, music a lifestyle and a state of mind. He has always been inspired by music. From the days of sitting on the porch listening to Hip-Hop, Beatboxing and Free-Styling with childhood friends. This is what really kicked off his love affair with music. As he matured so did his relationship with music. He then began studying the mechanics of how it all came together to make it so euphoric to him. Along the way he discovered his desire to not just hear the music, but to manipulate it. This has forged his illustrious 15 year career as not only a DJ, but a producer as well with releases with LFO Records. There is not a venue in Detroit that hasn't heard his unique style.
Venue for Super Bowl Tailgates with 2500 tickets sold annually
Meet official Players Tailgate DJ Irie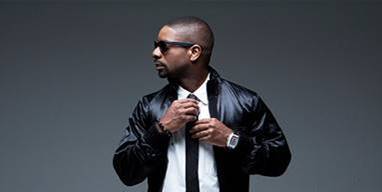 As the first professional sports franchise DJ in the United States, DJ Irie is the official DJ of some of the most iconic brands in the world, such as Carnival Cruise Lines, the Miami Heat, Target, Mountain Dew Kickstart, Evian, Jamie Foxx and more, making himself one of the most established DJ's in the industry. In 2017 DJ Irie was donned "The Official DJ" of the Players Tailgate and has been setting the vibe for this iconic event ever since. DJ Irie has performed side by side withGrammy award winning artis Drake, Jamie Foxx, Jay-Z , Snoop Dogg, T.I., Diddy, Pitbull.
Bullseye Event Group is the leader in the industry as we are currently the only promotion / event company that 100%  operates, promotes, produces, manages, & hosts live music coupled with food and hired celebrity chefs on hand to entertain. We have paired live music and live food prep to provide live entertainment.
On our stages:
You will see the most recognizable celebrity chefs in America on our stages. These chefs can be seen on Food Network every day but we bring them front and center and put them on display and on stage for you to watch and interact with. These Celebrity chefs include Chef Guy Fieri, Chef Aaron May, Chef Todd English, Chef Antonia Lofasa, Chef Scot Craig to name only a few.
Come to one of our venues and you will see the same Bullseye Sound engineers managing our own Mixing equipment, our own public address systems, our own lighting & rigs. We believe in consistency and quality and our business is built around this mentality with our staff. Our Bullseye Event Center venue displays  boasts 3 110″ video walls, high definition audio and unique 4-sided LED programmable columns. These columns offer top of the line in motion lighting that make any concert or event over the top.
Marketing Athlete Relationships and Representation:
95% of all corporate endorsements for professional athletes are done by the top 3% of Business's in the U.S. There is a huge untapped market for professional athletes with small to mid size business's in the athletes local markets. Bullseye Event Group clients who purchase these iconic events are those small to mid size business's as well as Fortune 500 companies. Bullseye works side by side in a collaborative effort with athletes to represent them and other NFL players at our Players Tailgate. Corporate endorsements and speaking engagements often result from our representation. Bullseye's reach and exposure is massive in NFL markets for athletes.
Security and personnel:
While security is something you hope you never need security is something we need in our venues with hundreds if not thousands in attendance.
Meet Head of Security Marques Johnson
Marques Johnson Head of Security for Bullseye Event Group from 2002 until present
Marques and our staff of security place an emphasis on integrity, relationships, loyalty and protection.  Marques Johnson supervises a team of Security Personnel that provide first-line management to the operational shift to confirm that all duties are carried out properly.  Our security ensures that a venue is a safe and pleasant environment for our customers at all times. "Ques" as he is known to us assigns and oversees personal detailed security provided to Celebrities, and Professional Athletes during event at our venues. Regular walks throughout a shift to ensure the smooth running of security operations. Detecting, resolving, and responding to any security breaches. Prior to joining Bullseye Marques ran security for Snoop Dogg, Tupac, Nat Dogg, Michele', Dogg Pound and the Outlaws.
Our team: