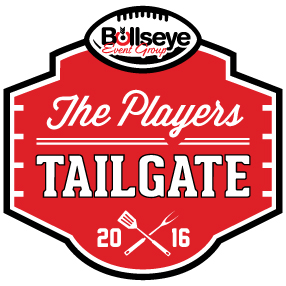 We're not far away from Super Bowl 50. That means we're only a few days away from the best pre-game tailgate party of the year, the Players Super Bowl Tailgate!
Here's what you need to know:
The Players Super Bowl Tailgate is on Super Bowl Sunday, February 7th. The Tailgate starts at 10:30 a.m. PST and we will close our doors at 3:30 p.m. once kickoff starts for Super Bowl 50. The Players Tailgate is located on the corner of Tasman Dr. and Great American Parkway. The event is located three blocks away from the game. It's only a five minute walk from the Players Tailgate to Levi's Stadium.
For the Players Tailgate, we will be constructing a 14,000 sqft pavilion along with utilizing 20,000 sqft of outdoor space to create the best venue for Super Bowl tailgating. The indoor and outdoor hospitality lounge will be lined with tables, couches and other areas where you can watch ESPN's pre-game coverage broadcast on large tv screens. Our custom high-end hospitality center will be filled with private party areas, high top tables and soft leather furniture. The atmosphere will be one of a luxurious lounge made especially for our kind of VIP tailgating.  What's more, we park our corporate buses close by, so transportation to the Super Bowl will be fast and easy along with a police escort to and from the tailgate! Here's how far away the stadium is from the tailgating space.
The Players Super Bowl Tailgate features an open, premium bar with a five-star, all-you-can-eat menu prepared by the headliner Chef Guy Fieri. Joining Guy Fieri at the tailgate will be celebrity chefs Beau MacMillan, G Garvin and Aaron May who will complete our roster of great Super Bowl chefs. His menu features a super steak sandwich station, a whole hog throwdown, low country jambalaya, mac daddy mac and cheese bar, a live nacho bar, and more!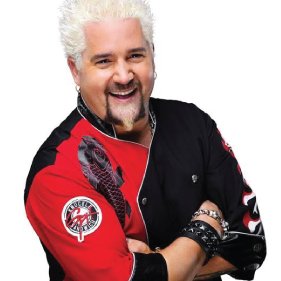 We're delighted to have Erin Andrews as the official host and emcee of the 2016 Players Super Bowl Tailgate. We're getting pretty excited to welcome 25+ active and current NFL players, celebrities and guests who will eat, drink and get entertained before the Super Bowl Championship game. The NFL players we host are previous Super Bowl Champions, Pro Bowlers and the games hottest rookies.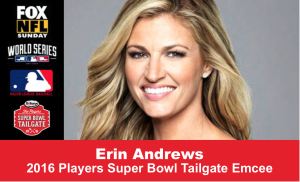 We'd love to see you there! Call Bullseye Event Group at 317-800-5820 for pricing and more information about the 2016 Players Super Bowl Tailgate and Super Bowl weekend packages. Tickets for the Players Super Bowl Tailgate are still available.
Watch what last year's Players Super Bowl Tailgate looked like: