Gate 6 Hospitality is officially underway at the 2016 Masters in Augusta, Georgia! Let's preview the greatest hospitality event available for golf fans enjoying the "tradition unlike any other."

The Venue
The venue for the 2016 Gate 6 Hospitality at the Masters, just blocks away from the entrance to Augusta National, defines luxury and accommodation.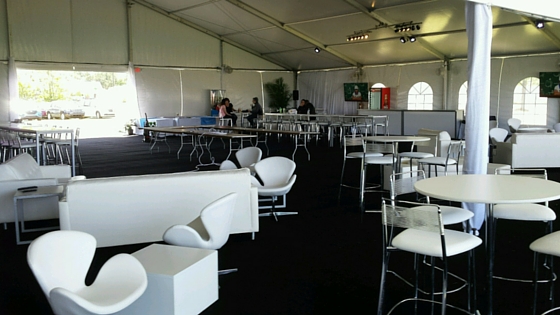 With luxury seating, HDTVs with continuous Masters coverage and all you can eat food and drink, the Gate 6 Hospitality tent is your one-stop place for an early morning or late evening after a round at the Masters.
Saturday Night Live
The first ever Bullseye Saturday Night Live at the Masters will feature an all-you-can-eat buffet, a premium open bar, luxurious lounge seating and a live Q&A with professional golfer and PGA champion John Daly.
The Saturday Night Live is a one-of-a-kind way to wind down after the first 72 holes, while simultaneously gearing up for championship Sunday. Get your exclusive Saturday Night Live tickets below.
The Food
Created by an all-star team of chefs featuring Aaron May and G Garvin, the Gate 6 Hospitality events will feature an all-you-can-eat buffet and premium open bar unlike anything you've ever seen.
The Bullseye Saturday Night Live will feature an out of this world menu, including:
Crab stuffed jalapeno  wrapped in bacon
Grilled and chilled shrimp rolls with green onion aioli
BBQ pork on mini brioche buns with Atlanta slaw
Kobe Beef Cheesesteak
Crispy chicken sliders
And much more!
The Price
While other hospitality events charge in upwards of $400, tickets to Bullseye's Gate 6 Hospitality is only $200 and includes free parking just two blocks from the gates to Augusta National. Check out the official Gate 6 Hospitality page for more information.