Completely redesigned with you in mind, the new BullseyeEventGroup.com introduces new packages and enhances your online experience.
So often in our digital world, your first interaction with any company is through a website or social media. So we designed the new BullseyeEventGroup.com to reflect our complete commitment to personalized customer service as well as our company's continuing growth. To that end, our home page now features big pictures, testimonials, hyperlinks to all our social media pages, the latest from our company blog, a way to request pricing, interacting with us instantly, as well as bright graphic links to the following: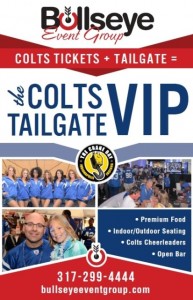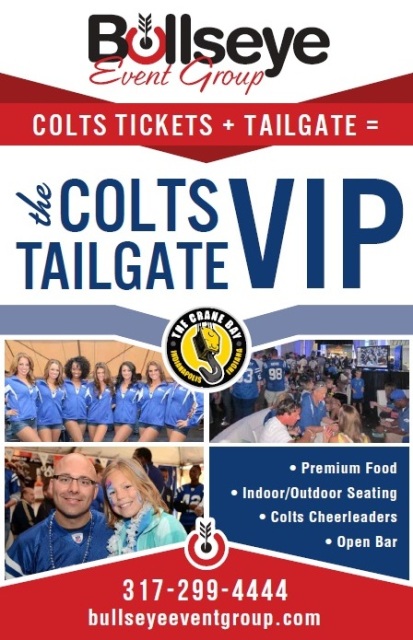 The Colts VIP Tailgate. In addition, as the Official Events and Travel Partner of the Indianapolis Colts, Bullseye Event Group is excited to be your host this season for The Colts VIP Tailgate as well as the premier source for Colts pre-season, season tickets and single-game seats for every home game at Lucas Oil Stadium. Colts fans can buy tickets to Colts away games through BullseyeTicketGroup.com. Find links to all these fabulous packages right on our home page, too.
100% Satisfaction Fan Guarantee. Bullseye Event Group pioneered the ticket and travel industry for over 25 years ago, providing sought-after Super Bowl and Masters travel packages, exclusive pre-game parties and other events that continue to give fans everywhere that unforgettable fan experience. We are regarded as the most cost-effective, user-friendly and customizable travel and ticket group in the industry, ensuring that you enjoy the best purchasing experience, deliverability and secure peace of mind when planning to attend these iconic events. It's our 100% Satisfaction Fan Guarantee – we pride ourselves on exceptional customer service and will speak credibly to any travel or travel option that interests you. Give us a call today!
About Bullseye Event Group
Bullseye Event Group is the Official Events and Travel Partner of the Indianapolis Colts. As one of the nation's leading Sports Travel package provider and event ticket companies, Bullseye Event Group is a secure, official source for travel, hotel, pregame parties and tickets, and a direct, dependable source for The Colts VIP Tailgate, Super Bowl XLIX packages, The Players Super Bowl Tailgate, The Masters and event tickets, delivering unforgettable experiences to fans nationwide.