"We started the evening off right and in style at the tailgate," says Kaitlin, who surprised her boyfriend Eric with tailgate tickets before the Colts season home opener. "The catering is from Ruth's Chris and we loved it! We both went up for seconds. We also made several trips to the bar and the bartenders were awesome and super helpful in suggesting drinks."
Colts Tickets + Tailgate = Colts VIP Tailgate
Kaitlin is the lucky winner of a recent Bullseye Social contest, receiving two tickets to the Colts VIP Tailgate, where guests can enjoy an all-you-can-eat, five-star buffet, a full open bar, a popular wine and beer bar and more. Kaitlin and Eric also attended the Monday Night Football game, where the Colts battled the Philadelphia Eagles. "Eric has never been to Lucas Oil Stadium for a Colts game. He was so excited and it was truly a surprise," Kaitlin says.
VIP Tailgaters also get to see live pre-game coverage as well as mingle with celebrity guests like the Colts Cheerleaders, former NFL players and ESPN 1070's The Fan radio personalities. Kaitlin says, "It was great listening to 1070 live and meeting all the guys. Eric sat by Michael Collins, who was a caddie on the pro golf tour, and he was star struck. As the tailgate was coming to a close, Michael gave Eric his bunnies card and said to call him if we ever came to where he lived; of course Eric was ecstatic!"
Bengals-Colts, Sunday October 19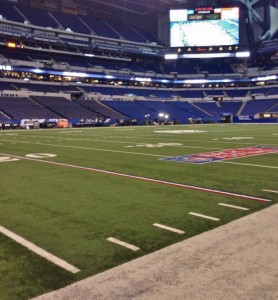 When the Cincinnati Bengals come to town Sunday, October 19, the Colts VIP Tailgate will be in full swing three hours before kickoff. Take it from Kaitlin, "Overall, the event is absolutely splendid and we couldn't have wished for it to go better. Thank you for all you did!"
Hosted by none other than the Official Events and Travel Partner of the Indianapolis Colts -your very own Bullseye Event Group- we invite you to celebrate with us as our Colts try and maintain their winning streak after the bye, setting their record at 5-2 for the season! Get your Colts VIP Tailgate tickets and tickets to the Bengals-Colts home game HERE and NOW!
About Bullseye Event Group
Bullseye Event Group is the Official Events and Travel Partner of the Indianapolis Colts. As one of the nation's leading Sports Travel package provider and event ticket companies, Bullseye Event Group is a secure, official source for travel, hotel, pregame parties and tickets, and a direct, dependable source for The Colts VIP Tailgate, Super Bowl XLIX packages, The Players Super Bowl Tailgate, The Masters and event tickets, delivering unforgettable experiences to fans nationwide. Contact us by posting a comment below or by calling 888-900-6564.
Follow Bullseye Event Group on Facebook and Twitter for more on our social contests!