Awesome Sauce!
We've just announced not just one, but two local celebrity chefs will be serving up a five-star dining experience at The 2015 Players Super Bowl Tailgate in Phoenix, host city of Super Bowl XLIX.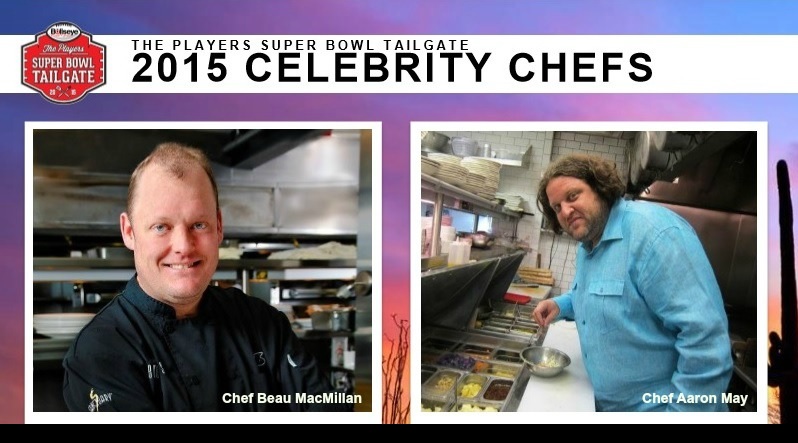 Chef Beau MacMillan and Chef Aaron May are collaborating on very gourmet and totally tasty dishes for our exclusive Super Bowl pre-game party. From small plates to dessert, we know what The Players Super Bowl Tailgate guests love – just look at what's scheduled to be on the menu:
PASSED SMALL BITES
Mini Beef Wellingtons with Béarnaise
Crisp Potato Pancake with Smoked Trout Mouse & Pickled Onion
Wild Mushroom & Goat Cheese Strudel with Thai Basil & Tomato Jam
BBQ Duck Spring Rolls with Chinese Mustard
Garlic Toast with Burrata Cheese & Roasted Pepper Relish

A sampling of recent gourmet fare at The Players Super Bowl Tailgate

Vietnamese Summer Roll with Daikon Radish, Carrot, Mint, Rice Noodle Peanut Sauce
IMPORTED & DOMESTIC CHEESE DISPLAY
Cured Meats with Grilled Vegetable Antipasto
RAW BAR
Selection of East & West Coast Oysters
Old Bay Poached Shrimp
Crab Cake action station
Lobster Roll action station
Half Shell Clams
Vodka Cured Salmon
Japanese Cucumber & Seaweed Salad
SANDWICH BOARD
Sesame Bacon Biscuits with Jalapeño Jelly
Smoke Fried Chicken Po Boys Spicy Pickles, Sriracha Aioli & Hawaiian Sweet Rolls
Pastrami Cured Pork Belly Sour Cabbage, Miso Mustard, Salted Pretzel Bun
Green Chile Macaroni and Cheese
CARVERY
Schezwan Sticky Ribs Toasted Cashews & Scallions
Kobe Tri Trip Fragrant Black Bean & Ginger Glaze
Green Chili Cheddar Grits with Chinese Broccoli & Moroccan Chorizo Broth
DESSERTS
Meyer Lemon Tart with Blackberry Merlot Sauce & Blackberry Sorbet
Chocolate Teardrop filled with White Chocolate Mousse & Fresh Berries
Banana Caramel Custard with Caramel and Chocolate Ice Cream
About the Chefs
Chef Beau MacMillan is most famously recognized for his defeat of Iron Chef Bobby Flay on the Food Network favorite, Iron Chef America. Since his victory, he makes his culinary home in Arizona as Executive Chef of Sanctuary on Camelback Mountain and his signature restaurant, elements. Fans praise him for his use of locally farmed produce and fresh products, as well as his unique, artistic food presentation.
Chef Aaron May makes a name for himself as an Arizona Culinary Hall of Fame "Chef Extraordinaire," recognized for his restaurateur savvy and ownership of several Paradise Valley eateries. He has been featured multiple times on both the Food Network and TLC, and has also been featured in national culinary publications like Food & Wine and Sunset Magazine.
Hungry for More?
Bullseye Event Group hosts The Players Super Bowl Tailgate on Sunday, February 1, 2015 from 11:00 a.m. to 4:00 p.m. in Arizona, prior to Super Bowl XLIX. This exclusive VIP Super Bowl pre-game party promises even more excitement than ever – including delicious eats courtesy of two local top chefs, food you will rave about for the rest of the year. We have more announcements in store, so stay tuned!
Get in on the excitement with your friends, co-workers or a special guest – whether you need individual tickets or a complete Super Bowl Travel Package (including a luxury hotel stay, access to the Tailgate, tickets to special events and end-zone tickets to Super Bowl XLIX), Bullseye Event Group can take care of you. Give us a call and speak with one of our customer service specialists about pricing and details.
About Bullseye Event Group
Bullseye Event Group is the Official Events and Travel Partner of the Indianapolis Colts. As one of the nation's leading Sports Travel package provider and event ticket companies, Bullseye Event Group is a secure, official source for travel, hotel, pregame parties and tickets, and a direct, dependable source for The Colts VIP Tailgate, Super Bowl XLIX packages, The Players Super Bowl Tailgate, The Masters and event tickets, delivering unforgettable experiences to fans nationwide. Contact us by posting a comment below or by calling 888-900-6564.