Described as the best pre-game event before the Super Bowl, the 2017 Players Tailgate at Super Bowl LI was the biggest and best event to date. We look back at some of the various outlets that covered the event, and what they had to say.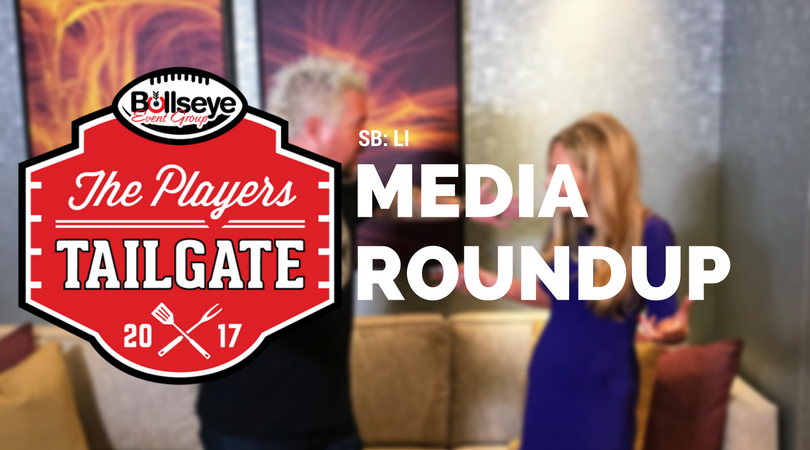 TMZ Sports
The guys at TMZ Sports talked to celebrity chef Guy Fieri ahead of the 2017 Players Tailgate at Super Bowl LI in Houston.
CBS "Tailgate Fan"
The NFL's biggest event of the year attracts some big-time pregame parties and this past weekend was no different. Host Nick Stevens and the crew of Tailgate Fan made the trip down to Houston to check out the local scene in the lead up to the big game. Read the full story here.
Eater.com
"In the middle of the sold-out kickoff party, Fieri explained the Super Bowl/tailgating conundrum: "At football games, you tailgate all year, then you go to the Super Bowl, and they don't allow tailgating… We didn't like that, so we thought we'd throw the best tailgate party anyone's ever seen." That bash included a BBQ Butts and Brisket station, as well as a Mac Daddy Mac N Cheese stand, and a dessert counter called the Flavortown Finale Ice Cream & Candy Bar. On the lighter side of things, the celebrity chef served ahi tuna poke, made with fish that was flown in fresh from Hawaii. Clearly, no expense was spared at this suped-up Super Bowl smorgasbord." Read the full story here.
PopSugar
"If anyone knows how to tailgate and throw the most epic Super Bowl party, it's Guy Fieri. He hosted the tailgate at last year's Super Bowl in San Francisco. Guy told POPSUGAR, "After that experience . . . I had such a good time. I said, 'Let's take it to another level.'" So he's headed to Houston for this year's Super Bowl (Patriots vs. Falcons) to throw the ultimate pregame party." Read the full story here.
Want to learn more about Bullseye Event Group's events such as the Players Tailgate at Super Bowl LII in Minneapolis, Gate 6 Hospitality at The Masters and more? Click here.