Bullseye Event Group is excited to announce that celebrity "Fit Chef" Eddie Jackson will be joining the star studded celebrity chef culinary crew for the 2017 Players Tailgate at Super Bowl LI in Houston, alongside chef Guy Fieri!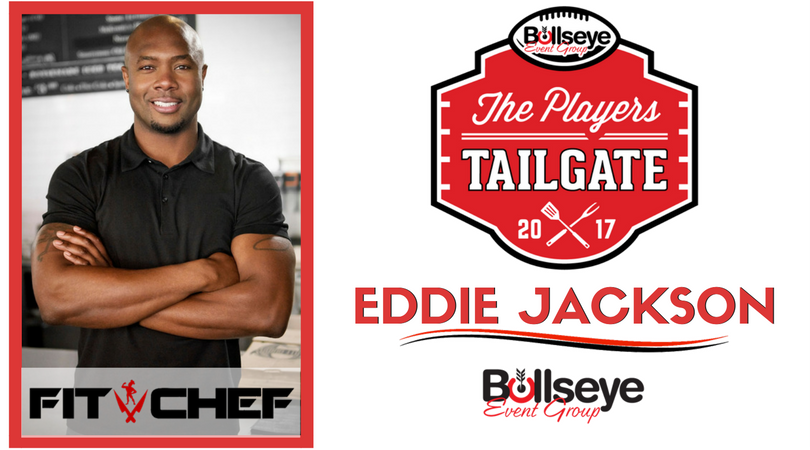 Season 11 winner of the "Next Food Network Star," Jackson has created a unique style of cooking that combines food and fitness, two of his passions. After retiring from a successful career from the NFL, Jackson took time to tirelessly hone his cooking craft, competing and finishing in the top 6 of Fox's "MasterChef" in season 4. Jackson can be seen on Food Network's "BBQ Blitz."
"We are so excited to have the 'Fit Chef' joining us for 2017 at Super Bowl LI," Bullseye CEO Kyle Kinnett said. "Between Eddie Jackson, Aaron May and Fieri, we're excited to see what kind of Texas-sized VIP menu these guys can come up with together."
Eddie Jackson will join Guy Fieri in creation of an exclusive VIP menu, available to all Players Tailgate VIP guests. Guy Fieri will be adding several more Celebrity Chefs to make this the best line up of Chefs assembled. The exclusive menu will be released in the coming weeks on BullseyeEventGroup.com. 
With over 25 NFL players and some of the biggest celebrities, Bullseye's 2017 Players Tailgate at Super Bowl LI will be the biggest and best pre-game tailgate in Houston. One of America's favorite chefs, Guy Fieri, will be returning to create the VIP menu, joined by chefs Eddie Jackson and Aaron May. Alongside Fieri at Super Bowl 50 in San Francisco, the 2016 Players Tailgate featured Fox Sports reporter and emcee Erin Andrews, Victoria's Secret model Adriana Lima, celebrity chefs May and G Garvin, all-pro NFL players and more. 
Tickets to the 2017 Players Tailgate at Super Bowl LI in Houston can be purchased directly from BullseyeEventGroup.com, or are included in all of Bullseye's Super Bowl LI Travel Packages.