The 2016 Players Tailgate wasn't just about the players and celebrities that attended the event. This year's tailgate was about creating a VIP experience for you, the guests! Aside from the five-star smorgasbord of food and the 30 NFL players in attendance, this year's Players Tailgate created a social experience unlike any other. The ability to have yourself broadcast on our first ever "Social Media Wall" and interact with players and celebrities gave guests the opportunity to get the official Bullseye VIP treatment. Let's look at some of the best posts from the 2016 Players Tailgate!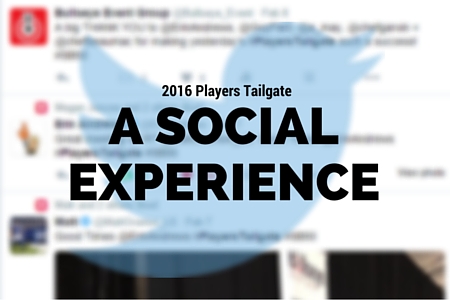 #PlayersTailgate (click to enlarge pictures)
Hanging out #PlayersTailgate pic.twitter.com/fTkRaLiKc1

— Seth Gold (@SethHCP) February 7, 2016
Seth and Les Gold of truTV's "Hardcore Pawn" were at the Players Tailgate, hanging out with guests and enjoying the great food! Seth called the Players Tailgate a "great event" and said he and Les would "definitely" be looking for us in Houston in 2017!
Hamming it up at the raw bar while my dude @chefbeaumac Killed it at the #playerstailgate for… https://t.co/voqNbRD1ip
— Aaron May (@a_may) February 10, 2016
Chefs Aaron May and Beau MacMillan hang out at the "Killer Raw Bar," just one of several delicacies Players Tailgate guests were treated to.
Chillin wit the gang #playerstailgate @mychalkendricks erickendricks54 @twentyate28… https://t.co/2Ys0P9ao05

— cameron jordan (@camjordan94) February 7, 2016
New Orleans Saints defensive lineman Cameron Jordan hung out beside the stage with the Kendricks brothers (Mychal of the Philadelphia Eagles, and Eric of the Minnesota Vikings), as well as pro bowler Allen Robinson Jr. of the Jacksonville Jaguars and Thomas Decoud, formerly of the Atlanta Falcons and Carolina Panthers.
Best damn #PlayersTailgate!! Let's go Panthers #KeepPounding pic.twitter.com/RqIEXTQ5zE
— DScrib/BlueChip (@Bluechiphospgrp) February 7, 2016
Carolina Panthers fans were on hand to #KeepPounding while enjoying the wonderful outdoor Players Tailgate patio!
Easily the best experience I've ever had #PlayersTailgate pic.twitter.com/DamyewNmOf

— katie (@katiesnook10) February 7, 2016
NFL fan Katie was able to snag pictures with some of her favorite NFL players, calling the Players Tailgate "the best experience I've ever had."
Adrian Grenier ! What's up Entourage 🙂 #PlayersTailgate pic.twitter.com/5NsQePHn8o
— andrea (@ama_dre) February 7, 2016
Entourage star Adrian Grenier snuck in to surprise unsuspecting guests!
Lionel Richie biopic? Nah its@ludacris #PlayersTailgate pic.twitter.com/LfWtCMy0hw

— Ryan Cameron (@therealrc) February 7, 2016
Some guests were able to grab a picture with rapper and Grammy-winner Ludacris while hanging out at the outside Players Tailgate patio!
I think @erinandrews created a monster with him on stage lol #playerstailgate #superbowl50… https://t.co/qyM0K6lbuE

— Instagram: geetacb (@geeta_c) February 8, 2016
In quite possibly the highlight of all the interviews, Desmond Bishop (Washington Redskins)'s son was brought on stage and became the instant star of the day.
The 2016 Players Tailgate was, by far, the most extensive and amazing pregame tailgate yet. For more on San Francisco's tailgate, be sure to check out the hashtag #PlayersTailgate to see plenty of guest pictures and posts! And don't miss your opportunity to hang out with us in Houston in 2017!