The countdown to Super Bowl LI in Houston is on! As you prepare for the big game with your Super Bowl LI Travel Package from Bullseye, we want to help get you ready for the days leading up to Super Bowl Sunday, by finding you some of the best bars in the Houston area.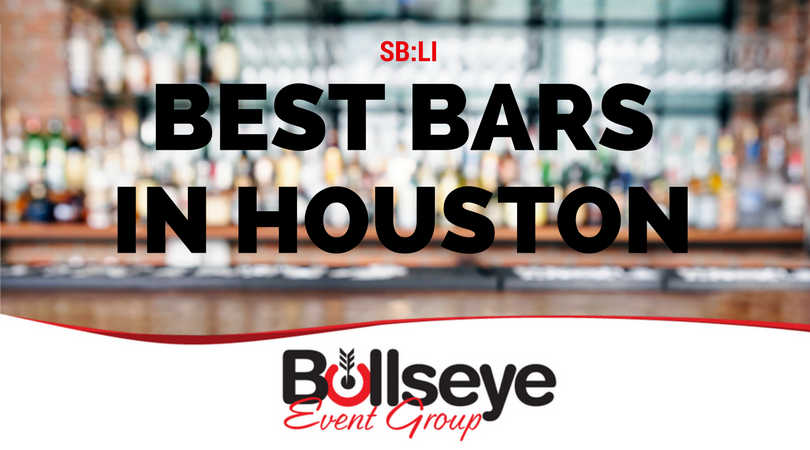 Moving Sidewalk (306 Main Street, Houston, TX, 77002)
"When a bar makes and sells its own crystal-clear, hand-carved ice to keep its cocktails flawlessly chilled, you know it's legit. Then, when it tacks on stuff like liquid nitrogen-chilled glassware and homemade bitters and syrups, you really, really know it's legit. Helmed by beverage director Alex Gregg (and with the admirable Leslie Krockenberger formerly of Treadsack and Canard joining the team), the program is a constant evolution of freak-out-worthy cocktails. In the menu's most recent iteration, the bar brought back its most beloved classics and re-mixed the drinks with a new, fresher perspective. Like the Sitar Wolf, a rum-based, mango-tamarind-curry cocktail that got "Dressed In Black" with the addition of coconut syrup and a tamarind-infused rum." – Thrillist.com
Axelrad Beer Garden (1517 Alabama Street, Houston, TX 77004)
"Axelrad bills itself as a "community-gathering place," and they ain't lying. The bar offers up an array of beer, wine and spirits, Luigi's Pizza is served up right next door and live music is a constant. Oh yeah, Axelrad also boasts a hammock grove, which makes it an ideal Sunday afternoon drinking spot." – Houston Press
MKT Bar (1001 Austin Street, Houston, TX, 77010)
"Come as you are to this no-frills joint located inside the beloved Phoenicia Specialty Foods market. Though it otherwise has all the atmosphere of your local Starbucks, the bar feels buzzy when a DJ or live band hits the stage, which is often, and gets packed when there's a concert or a basketball game at nearby Toyota Center. As a bonus, pretty much every wine on offer pairs well with the store's flaky baklava. Just saying." – Houstonia Magazine
Anvil Bar + Refuge (1424 Westheimer Road, Houston, TX, 77006)
"Houston's O.G. craft cocktail spot Anvil Bar + Refuge has been serving up some of the city's best libations since 2009. The recently-updated cocktail menu features killer cocktails that are perfect for sipping in the spring, like the Chuck Jones, a rum-based cocktail mixed with white port, egg white, lemon, and carrot." – Eater Houston
Petrol Station (985 Wakefield Drive, Houston, TX, 77018)
"Entering the scene way back in the harrowed days of 2007, this cool kid's watering hole was one of the first full-fledged craft beer bars in Houston. It remains one of today's best thanks to a solid library of interesting, hard-to-score suds that both beer nerds and regular Joe's can get behind. Just be warned: No one's looking to hold your hand here. You'll have to make your way through the list of "Younglings," "Padawans," and "Jedis" all by yourself. That's OK, the Rancor burger will be there to offer support." – Thrillist.com
Want to check the Super Bowl off your bucket list? Travel packages to Super Bowl LI in Houston are available now! Including some of the most luxurious hotels in Houston, a ticket to the 2017 Players Tailgate featuring America's favorite chef, Guy Fieri, and an all-star culinary team of chefs, ESPN SportsCenter anchor Jaymee Sire, and a ticket to the big game!