As the First Solar Countdown Clock in downtown Phoenix ticks down to 44 days until Super Bowl XLIX (the 13-foot tall timepiece is illuminated by more than 200 feet of lights in three, 55-inch ultra-bright LED displays and nine "Made in the USA" First Solar panels), we are wondering …
Do you know about SPIKE?!
SPIKE (the Super Ball) is the Arizona Super Bowl Host Committee's mascot who is attending events leading up to Super Bowl XLIX – dishing out high fives, posing for selfies and encouraging people to volunteer. SPIKE's local celebrity status began in 2008 for Super Bowl XLII -and now he's got a new look, with ten fingers, a headband, new sunglasses, a uniform with shoulder pads and pants!
SPIKE joined the football nation in Phoenix on Saturday, December 13 for the 4.9k Fun Run and kid's 49 Yard Dash, which marked 49 days until Arizona hosts Super Bowl XLIX -aka Super Bowl 49- at University of Phoenix Stadium. Hundreds of enthusiastic runners and supporters came out for the event as SPIKE, Arizona Cardinals cheerleaders, Big Red and the live bands, Second Shift and Rock Hawgs, pumped up the crowd. Proceeds from the 4.9k Fun Run benefit the Arizona Super Bowl Host Committee Legacy Grant Program, which invests in charitable organizations throughout Arizona.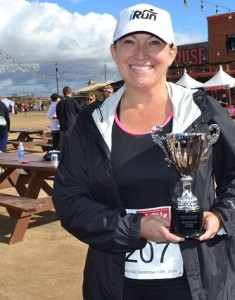 Christine Lisiak was the first woman to cross the finish line. The mother of two is now the proud owner of a shiny trophy and earned bragging rights, too.
"It was a very special event for me. I was so excited to tell all my diehard Packer friends back home how fun it was. I loved the venue and it was a very different scene for a run," she says. "To hear all the positive cheering while I ran was definitely a huge motivator to finish. I hope to run as well, or better, next month when my family and I participate in the NFL Alumni Association's Valor & Victors 5k Run."
Arizona Super Bowl Run Series
The Arizona Super Bowl Host Committee and NFL Alumni Association created the Arizona Super Bowl Run Series in keeping with the NFL's mission of health and wellness. In addition to the 4.9k Fun Run and the kid's 49 Yard Dash, the Valor & Victors 5k Run will be held on January 31, 2015. Those who ran in the 4.9k Fun Run can also run in the second race to receive a commemorative Super Bowl Run Series medal. For more information and to register, visit www.NFLAlumni5K.org.
About Bullseye Event Group
Bullseye Event Group is the Official Events and Travel Partner of the Indianapolis Colts. As one of the nation's leading Sports Travel package provider and event ticket companies, Bullseye Event Group is a secure, official source for travel, hotel, pregame parties and tickets, and a direct, dependable source for The Colts VIP Tailgate, Super Bowl XLIX packages, The Players Super Bowl Tailgate, The Masters and event tickets, delivering unforgettable experiences to fans nationwide. Contact us by posting a comment below or by calling 888-900-6564.