Super Bowl 50: A San Francisco Experience
June 18th, 2015 by Bullseye Event Group
San Francisco was chosen back in 2013 to have the honor of hosting the league's 50th Super Bowl. There's a certain symmetry to the selection, given that the first ever Super Bowl was also held in California – the NFL's owners nod to history. Usually, warmer weather states and stadiums have much greater chances of hosting the Big Game given their favorable playing conditions; California has hosted the Super Bowl on eight separate occasions. Finalists for this Super Bowl were the narrowed down to New Orleans' Mercedes-Benz Superdome, Florida's Sun Life Stadium, and the San Francisco Bay Area's Levi's Stadium in 2012. You can watch the San Francisco Super Bowl bid feature here. The Bay Area's 1.2 billion dollar stadium which opened in 2014 won out as Florida, the other finalist, wasn't able to pay for new renovations the NFL asked for.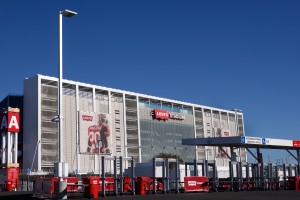 To end the 2015 football season in grand style, Super Bowl 50, or the Golden Bowl, will be a "spectacular" event. Groundwork for the extravaganza began over a year ago. Bay Area plans to showcase the best of the area's nine counties including, famous landmarks, food, arts, wine, tech, and of course, football. The Bay Area is planning construction of a fan village called the Super Bowl City which will be erected eight days before the Big Game. With Silicon Valley so near, organizers are placing an emphasis on technology and the immersive nature of the new Levi's Stadium. The interactive park, NFL Experience, will include games and a history of the football. Other events are planned for surrounding areas including Santa Clara and San Jose, as this is a celebration for the entire Bay Area. Venues, sponsors, and activates will continued to be planned throughout the year to prepare for the influx of football fans.
Super Bowl 50 will be played at the Levi's Stadium, home of the San Francisco 49ers, in Santa Clara California. The tentative date is February 7th 2016. If you'd like your own fan experience for this NFL season's Big Game. We offer Super Bowl hotel travel packages as well as Super Bowl ticket packages.