The Baltimore Ravens take to the field at Lucas Oil Stadium this Sunday, October 5 for one of the biggest match-ups … and storied rivalries- of the Colts' season.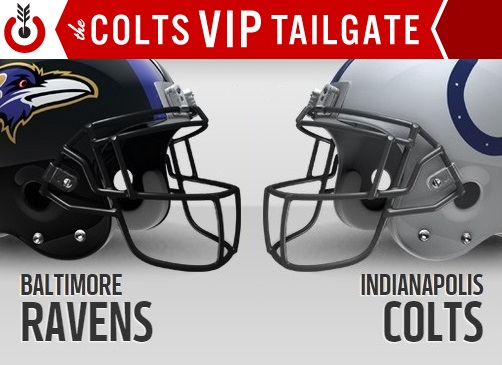 So, how do you like your eggs?
Yep, that's what we want to know … because as the Official Events and Travel Partner of the Indianapolis Colts, we invite you to treat yourself before the game at the Colts VIP Tailgate, known for serving up "the brunch of Champions," aka the best darn all-you-can-eat buffet before any NFL game, hands down!
Catered by Ruth's Chris Steak House and local favorite Another Broken Egg Cafe – you can have your eggs and a whole lot more:
Five-star fillets
Shrimp and grits
Kobe beef sliders
Caesar salad
Mashed potatoes
Macaroni and cheese
Adult beverages from Jim Beam, Miller, Coors and Heineken
Refreshments from Coca-Cola
Celebrity guests
Silent auction
Live radio show
Plus … we hear folks are loving our wine and beer bar – it's really a hit – BOOM!
Chance of Rain on Sunday? Tailgate indoors at The Crane Bay Events Center, just a couple of blocks away from Lucas Oil Stadium. The party starts three hours before the 1:00 p.m. kickoff. And if the weather gets nice, move the party outdoors on the patio! Treat your family, bring your friends or turn our tailgate into a corporate party for employees and co-workers.
Tickets on Sale Now!
Visit our discount ticket microsite right now for tickets to this Sunday's Colts VIP Tailgate, Ravens vs. Colts tickets or both!
About Bullseye Event Group
Bullseye Event Group is the Official Events and Travel Partner of the Indianapolis Colts. As one of the nation's leading Sports Travel package provider and event ticket companies, Bullseye Event Group is a secure, official source for travel, hotel, pregame parties and tickets, and a direct, dependable source for The Colts VIP Tailgate, Super Bowl XLIX packages, The Players Super Bowl Tailgate, The Masters and event tickets, delivering unforgettable experiences to fans nationwide. Contact us by posting a comment below or by calling 888-900-6564.