Who will be in top form for the first major of 2014?
It's still too early to know for sure, but what we do know is, Spring begins March 20, which puts the much anticipated Masters Tournament not far behind. The PGA has come up with a random list of who they call "20 players we think will have the best chance to slip their arms into the coveted green jacket come April." Whoever wins the Masters will earn one of four spots in the 2014 PGA Grand Slam of Golf in Bermuda!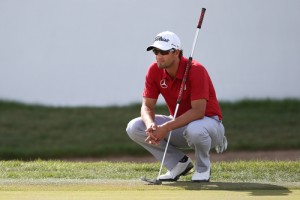 Adam Scott: The 2013 Masters winner, Adam Scott has finished in the top 15 in eight of his last nine majors.
Phil Mickelson: 3-Time Masters winner, "Lefty" has played in 21 Masters and he's finished in the top five in 10 of them.
Rory McIlroy: Already with two major titles under his belt, Rory McIlroy knows what it takes to win on golf's greatest stages. He also knows what not to do as well; only twice in 18 career rounds at the Masters has he shot even-par 72.
Jason Day: He's finished in the top 10 in six of 13 career majors, including three of four last year. In his first Masters in 2011, he tied for second, and last year he was the 36-hole leader before finishing third.
Brandt Snedeker: The 2012 FedEx Cup champion has finished in the top 19 in five of his last seven majors, and last year finished T6 at the Masters.
Matt Kuchar: Many consider Matt Kuchar the best player without a major title. He has back-to-back top-8s at the Masters, including a tie for third last year.
Dustin Johnson: Dustin Johnson started his 2014 season nicely with a confidence-building win at the World Golf Championships-HSBC Champions in November.
Justin Rose: The 2012 U.S. Open champion has never missed a cut in eight Masters tournaments, and three times held the lead after the first round (2004, '07 and '08).
Webb Simpson: Since winning his first major at Olympic Club, Webb Simpson in majors has two missed cuts, a tie for 32nd, a tie for 64th and a tie for 25th.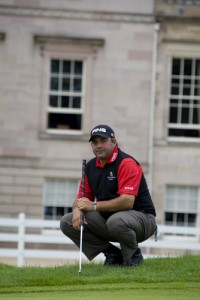 Jason Dufner: In 2012, Jason Dufner held a share of the second-round lead at Augusta National with Fred Couples, and has at least one top-5 finish in a major in each of the last four seasons.
Keegan Bradley: The 2011 PGA Champion and three-time PGA Tour winner has yet to shoot better than 69 in eight career rounds at Augusta National. Still, when Bradley gets on one of his hot streaks he's as good as anyone.
Angel Cabrera: In 14 career starts at Augusta National, the 2009 champion has seven top-15 finishes and nearly won his second green jacket and third major overall last year, when he lost to Adam Scott on the second sudden-death playoff hole.
Graeme McDowell: In the two times Graeme McDowell made it to the weekend, he has been solid with a T17 and a T12. With experience comes success at Augusta, and we predict the  major winner will put his to good use soon.
Steve Stricker: In 13 Masters, Steve Stricker has made the cut eight times but has but two top-10s. Still, he's a crowd pleaser.
Henrik Stenson: Capping his career-best PGA Tour season with a victory in the Tour Championship and FedEx Cup championship last fall, Henrik Stenson enters 2014 flush with confidence -and cash. He was a machine in his last seven events of 2013, bagging two wins, a second, a T2 and a third for $3.65 million.
Charl Schwartzel: The 2011 Masters winner picked up his ninth international win last January with an eye-popping 12-shot win at the Alfred Dunhill Championship and kicked off his 2014 campaign with a T4 at the South African Open.
Lee Westwood: In his last 17 majors dating back to the 2009 Open Championship, Lee Westwood 10 times has finished in the top 10. In his last four Masters, the Englishman has finished second, T11, T3 and T8. He knows the course. The time is now.
Ian Poulter: The dapper Ian Poulter's seventh-place finish in 2012 was just his second top 10 in nine career Masters, and he's broken par in just four of his last 12 rounds.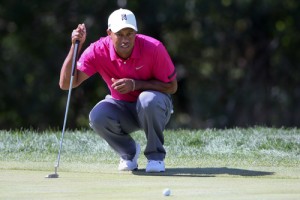 Jordan Spieth: This year marks Jordan Spieth's first appearance at the Masters, an invitation earned thanks to his first career PGA Tour victory at the John Deere Classic last July. Fresh out of his sophomore year at the University of Texas, Spieth made 18 of 23 cuts, had nine top-10 finishes, played in the 2013 Presidents Cup, finished the year No. 7 in the FedEx Cup and banked more than $3.8 million.
Tiger Woods: Jack Nicklaus once said that Tiger Woods would win more Masters titles than he and Arnold Palmer combined (10). The 4-time Masters winner hasn't added to his impressive green jacket collection since 2005; still -since 2006, only once has he finished worse than T6 at Augusta National.
Do you hope to be one of those lucky attendees to the next Masters Tournament?
With help from the Bullseye Events Group, we can easily turn that dream into a reality! We offer full travel packages with customizable hospitality options, Masters tickets  and the behind-the-scenes exclusives you can get with no other than with Bullseye Events Group!
Photo Credits: Adam Scott – Debby Wong / Shutterstock.com; Angel Cabrera – Mitch Gunn / Shutterstock.com; Tiger Woods – Debby Wong / Shutterstock.com