Spectators are known for their love of the game and creativity in showing team spirit. Super Bowl 50 will be as exciting as it will be hectic, which means you should start planning now. With that said, here are five things NOT to do during your Super Bowl weekend to make sure you get the most out of your experience. Check 'em off!
Don't go out the night before.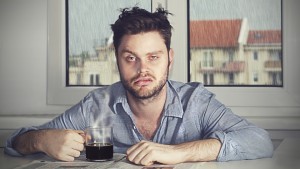 This goes without saying, but make sure you get up early to start the festivities. This means don't go out and celebrate prematurely. The bars can wait! The best course of action is to eat something that will get you to sleep at a reasonable time–like an entire chicken pot pie or a large bowl of mashed potatoes. Some crazy people are going to wake up at 5:30am to tailgate for the game at 6:30pm–a span of 13 hours. Super Bowl Sunday is a marathon, not a sprint. Take a play out of a marathoner's playbook, get your carbs in the night before, get rested, and prepare yourself for a full day! Not many people can sprint marathons, so plan accordingly.
Don't miss the kickoff.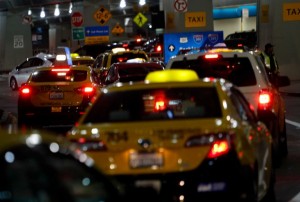 There are innumerable apps that can predict your commute time. However, with millions of people flocking to the field at the same time–travel will most likely be a nightmare. The best way to ensure that you don't miss kickoff is to be as proactive as possible. Take the commute time your app or uber driver tells you and add 30 minutes to an hour to make sure you get to your seats on time. Or take advantage of the pre-planned travel accommodations from your Super Bowl 50 package. Some will include game day transportation.
Don't go to the bathroom during halftime.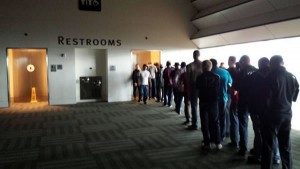 While halftime during regular season games is typically reserved for those long waits for the bathroom–break your "tradition" and get more strategic with your gameplan. Utilize the bathroom during media-scheduled time-outs to make sure you don't miss gameplay or the halftime show. Not only will you be forced to wait in a ridiculously long line, you'll miss the halftime show. Rookie mistake. No one wants to show up to work the Monday after the Super Bowl not knowing the "Left Shark" reference at the water-cooler.
Don't spill your beer.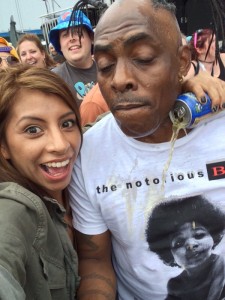 This one is pretty self-explanatory. Just don't spill your beer. Last year, your typical 16 fl oz beer set spectators back $12. Add the cost of a few beers over the course of the game and your pockets will not only feel a little bit lighter–your cab driver will start to cry as a result of the tip you shelled out upon your arrival at the hotel. 
Don't invest in body paint.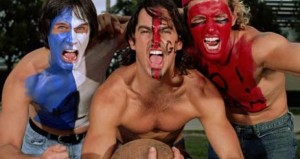 Sure, body paint seemed like a good idea while you were getting painted in the parking lot. However, as you get increasingly sweatier from yelling and begin to melt like Frosty the Snowman in April–you will without a doubt regret getting lathered up in your team's colors when you had a perfectly good jersey back in the hotel room. Stranger's Snapchat story: 1 – You: ZERO.
All of these tips could prove to be helpful for your Super Bowl 50 journey–but you need to get there first! Check out our Super Bowl Packages to reserve your one-of-a-kind experience!