"Generations of players have been inspired by the dream of sinking a winning putt on the 18th green at Augusta National. Now, an exciting opportunity exists to make that dream a reality."
–Billy Payne, Chairman of Augusta National Golf Club and the Masters Tournament Foundation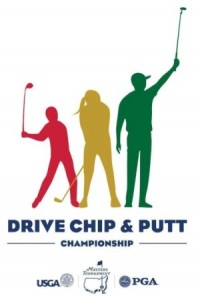 The all-new Drive Chip & Putt Championship is a free, nationwide junior skills competition that will culminate at the revered Augusta National Golf Club this April. In the inaugural event, boys and girls ages seven to 15 will compete in separate divisions in four age categories, advancing through local and regional qualifiers throughout the United States. The regional champions in each division and category will advance to the finals taking place at Augusta National on April 6, 2014 -the Sunday before the Masters Tournament. The Championship finals event will be produced and broadcast by Golf Channel.
"Among our many responsibilities as a governing body is finding creative ways to make the game more accessible to our nation's young people," USGA President Glen Nager says about the collective effort of the Masters Tournament Foundation, United States Golf Association (USGA) and The PGA of America to promote interest and participation in the game of golf. "The Drive Chip & Putt Championship is an exciting new opportunity to fulfill this role."
More Than 17,000 Opportunities to Compete
"The ability to successfully drive, chip and putt a golf ball are some of the basics to the enjoyment of the sport," PGA President Ted Bishop says, "and we believe this competition will motivate young players to work hard, practice these principle skills and learn to make golf a game of a lifetime."
An extensive network of PGA and USGA professionals, staff and volunteers are conducting the nationwide competitions. Local qualifying events are taking place at courses in 19 states and Washington, D.C., with regional qualifying events in Arizona, California, Florida, Georgia, Illinois, Massachusetts, New Jersey, Texas (2), Virginia, Washington and Washington, D.C., providing  more than 17,000 opportunities for young people to compete.
For more information about the Drive, Chip and Putt Championship, including official rules, qualifying sites or to register, please visit www.DriveChipandPutt.com.
Become Part of the Masters Tradition
The Masters Tournament at Augusta National Golf Club is an event like no other in the world, not to mention, in the golf universe, and Bullseye Event Group can help you secure your spot. Contact us today to reserve your Masters tickets and create your Masters Tournament Package!